One of the trickiest problems online poker sites faces in the early years of the Internet, was how to attract casual players that didn't have a huge amount of time to invest in the game. More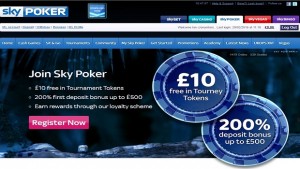 traditional forms of the game, such as Cash Table games or Multi Table Tournaments, can take many hours, days even, to run to a natural conclusion.
Of course, not many people with the pressures of work and home life, have that amount of time to devote to playing Poker. What was needed was a game where players could come, sit at the tables, play their game and then go in a short space of time; hence, the online version of Sit & Go poker was developed.
Almost all reputable poker sites now offer a Sit & Go service to their customers and if you read our fantastic Sky Poker review, then you will see that this popular site offers its players an extensive choice of options when it comes to Sit & Go games. In this article, we will take a closer look at what exactly is on offer.
Sky Poker Sit & Go – What poker do you prefer?
Once you have logged in to the Sky Poker site and have selected the Sit & Go tab, then the very first choice you make is what type of poker you would like to play. There are three different types of poker that Sky Poker offers Sit & Go games for:
Of the three different types of games, Texas Hold'em is by far the most commonly played of the three types of poker and as such, there is a far greater choice of games to play, and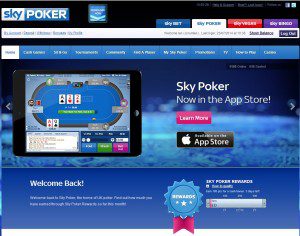 consequently a far greater number of Sky Poker customers playing them, than either of the two Omaha types of poker.
For both Omaha and Omaha Hi Lo, you can play three different types of Sit & Go games for a variety of buy in levels – Double Your Money, Heads Up and Six-Max
However, the vast majority of Sky Poker customers prefer to play Texas Hold'em and when you opt to play this version of the game, then you have a much greater choice of games to play at Sky Poker's Sit & Go tables.
Sky Poker Sit & Go – Texas Hold'em options for play
You can look for different types of Sit & Go games at Sky Poker two ways: The first is by the speed of the game, the second is by the type of the game. We'll examine each of these options in more detail below.
Speed of the Game
By the "speed" of the game, what this refers to is actually two different things. The size of the starting stack each player has at the start of the game and the time in between the blinds being raised. The 'faster' a Sky Poker Sit & Go game is, then the smaller the starting stack will be for each player and the faster the blinds will be raised when the game is in progress.
At Sky Poker on the Sit & Go tables, there are four different 'speeds' of games you can play:
Standard – Start with 2,000 Chips, blinds increase every 5 minutes
Speed – Start with 1,500 Chips, blinds increase every 5 minutes
Turbo – Start with 1,000 Chips, blinds increase every 2 minutes
Hyper – Start with 500 Chips, blinds increase every 2 minutes
Type of Game
There are essentially five different types of games you can play at Sky Poker in the Sit & Go category, namely:
Double Your Money – These cost from between £0.30 up to £220 per game to buy in to and each competition is contested between six players. The aim is to be one of the three players remaining at the table with any amount of chips when three players have been eliminated. If you can avoid being one of the three eliminated players, you will double your money once the third player has been knocked out. These are popular games on Sky Poker due to the higher probability of success and the wide range of buy ins available to suit all pockets.
Sky Head Hunter – Sky has been championing its Bounty Hunter poker game for a long time now and now you can play the Sit & Go version at the Sky Head Hunter tables. You can play from £1.10 up to £55 per game and your entire buy in is placed on your head as a Bounty for other players to win if they knock you out. If you eliminate another player, you get 60% of their bounty paid into your Sky Poker account and 40% added to your Bounty. In this game, you have to eliminate another player to win money, there is no prize pool to be won.
Six Max – Perhaps the next step on from the Double Your Money tables is the Six Max tables which is played like a small scale tournament. You can play from £0.35 up to £55 and only the final two players remaining at the table after others have been eliminated, the winner and runner up, take home cash prizes. The winner earns roughly 66% of the pot and the runner up the remainder.
Heads Up – This is a two-player game where you take on your opponent with the aim of winning their chips and taking home the prize pool on offer (which means you double your money). Heads Up games cost between £1.05 and £220 to enter depending on how much you'd want to play for.
Russian Roulette – This is a Heads Up game where instead of playing each hand as you would like, both players are dealt cards and placed "All In" immediately. The player that then wins the hand, wins the pot. Essentially, this is as close to a "random" poker game as you can play as you are totally at the whim of the cards dealt and there is no 'skill' element involved in deciding the outcome. If you are dealt the stronger hand when your hole cards and the community cards are combined, you win.
Of the above games, three games Six Max, Heads Up and Double Your Money games can be played at various speed levels too. So, you can play Six Max games at Standard, Speed, Turbo and Hyper levels too, which again adds another element to each game. Sky Head Hunter and Russian Roulette are played at Standard speed only.
As you can see, Sky Poker offers a comprehensive service for Sit & Go Poker fans across a wide range of games and across three different types of poker. Perhaps the only Sit & Go variant that the site doesn't offer at the moment is a version of Twister Poker.
That said, Sky Poker still has plenty to offer any Sit & Go fan and don't forget, all games are now available via the popular Sky Mobile app too.