Some time ago, Bet365 decided to introduce a new type of game onto their Bet365 Poker site. Initially, the game was scheduled to be simply a promotional item that would run for several weeks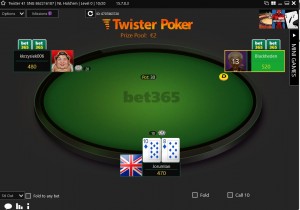 before being replaced by another promotion.
However, when Twister Poker was first released on the older Bet365 Poker client software, the game proved to be an almost instant hit with players on Bet365. So much so that there is now a version of Twister Poker available to play on almost every top poker site you can find.
What is absolutely certain is that Twister Poker is now one of the most popular versions of poker you can play on the Bet365 Poker site and it is now also available to play for mobile users too, thanks to the considerable upgrade to their software that Bet365 made a few months back.
However, to understand its popularity, we need to first learn a bit more about the game and why it has appeal for so many players. So let's start at the very beginning by assuming the reader doesn't know or has not yet played a hand of Twister Poker.
What is Twister Poker?
Twister Poker is a game played between three players, who are randomly assigned to a table after having paid the same amount as the other players to play. Before the game starts, the amount of money you are playing for is decided by a random spin of the prize wheel.
Once the prize is decided, the game begins with each player having a short stack of chips (500 with Bet365 Poker). The small and big blinds start at 10/20 but increase relatively rapidly which means that players, due to the rising blinds and the paucity of chips, are forced into acting more quickly than they would playing with deeper stacks.
Twister Poker sees players therefore play more hands, with a wider range of cards. It encourages players to act swiftly, so therefore bluffing is more common than perhaps in other games. It is, perhaps best viewed, as a version of Speed Poker, but in a three-player knockout tournament format.
What this means is that given the short stacks, small number of players and rising blinds, Twister Poker games tend to be considerably shorter than most poker tournaments and even Sit & Go games. With most tending to be finished within 10 minutes. This makes them an ideal game to play for people who do not have much time to devote to playing for longer periods.
As such, it is perfectly feasible for a player to play several games of Twister Poker within a 30 minute, 1 hour period. And given that there are only three players at each table, the chances of winning are much higher than if you were in a MTT or even a six-handed Sit and Go game.
What stakes are available and how much can I win?
You can play at Bet365 Poker for stakes of €1, €2, €5 or €10 per game and the prize money you can win ranges from 2x your stake, up to a maximum (and rare) top prize of 1000x your stake. This means you can be playing for as little as €2 if you play the lowest stake game for double your stake, or as much as €10,000 if you manage to hit the biggest possible multiplier on the largest stake game.
Is there a strategy to follow for Twister Poker?
As Twister Poker is a relatively new game, the optimum strategy for playing it is still developing and it is fair to say that there isn't a universally acknowledged strategy that could be said to work assuredly most of the time when playing.
Part of that may be because the nuances of the game have not yet been ascertained, but also because the fact that players are forced to act so quickly, as compared to other forms of the game, that the element of luck within the game plays a far greater role.
While that is undeniably true, what is also certainly true is that a strong understanding of basic poker strategy and skills will give you an undeniable edge compared to a player who plays more on the luck side of things. Knowing when to make your moves and perhaps more importantly, understanding what the sizing of bet can mean and knowing how to size your bet in certain situations and when to make it, are key strategic considerations in the game.
Of course, position is also important, though with only two other players, it isn't as key a consideration as when playing against more players in a longer format.
In general terms, a solid approach is to play aggressively when you have the cards, of if you think your opponents will fold, or when you are forced by the size of your stack to go all in. Timing this right can see you pick up some easy pots as other players fold, but always be wary of going all in with someone playing a monster hand slowly.
Why is Twister Poker proving so popular?
So what is it about this version of the game that has taken the poker world by storm?
Well, there are several different elements that make Twister Poker so attractive and these are:
You stand to win at least double your stake, or up to 1000 times your stake. This gives each game an added sense of excitement as the prize is decided at the start.
The random selection of players means that you can't be a target of poker sharks seeking to exploit less experienced players as you cannot select who your opponents are at the table.
The speed of the games make it much easier for all players to play, regardless of how much time you have available.
The cost of the games from between €1 and €10 means that it is affordable for all players
The fact that it is short stacked and players play more hands adds to the element of luck and means players of a lesser ability would stand a better chance against more experienced players than they would playing at a cash table or in an MTT.
Players win more often playing Twister Poker as there are only three players at the tables, winning more often is obviously a good thing as this will encourage players to play more.
If you'd like to try your hand at Twister Poker, then Bet365 Poker is certainly a great place to start. You can play via the poker download available from your PC, or via a website as well as on your mobile via the Apple and Android compatible downloadable apps.