Fans of football may call Rugby "egg chasing" but there is no denying that the sport is every bit as dynamic, exciting and engaging as its more famous counterpart. Although the sport is generally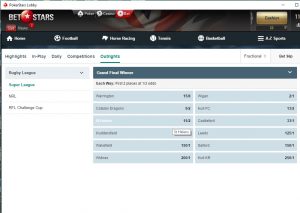 played in just a relatively few pockets around the world, it is hugely popular there and as such, is a good option for punters.
Knowing that the UK, and England in particular, is a country where not just one, but two codes of the game, Rugby League and Rugby Union, co-exist quite happily, BetStars ensured that when they set up their Rugby betting service, both sports were available for punters to bet on.
In this article, we are going to take a closer look at the different types of rugby betting you can find across both codes at BetStars, starting first with Rugby League and then moving onto Rugby Union.
To enjoy betting on these markets you will need to join BetStars and its easy to do so if you follow the instructions on our detailed BetStars review page.
Rugby League betting on BetStars
In the Rugby League section, you can bet on a number of different types of coupons. The Highlights coupon brings you details of any forthcoming matches that are due to be played and from here you can click on the game and look at the different markets available for that match.
There is also an In Play section for betting on matches while they are in progress while the Daily section lists any matches that are being played that day.
It should be remembered here that Rugby League games tend to be played at stated times during the week (predominantly over weekends, although there are some midweek games) and that there is a defined season for Rugby League which runs from February, though until the Grand Final in October.
When there are a number of fixtures in Rugby League you can sort matches into various tournaments using the Competitions tab, while the Outrights section is the one that is most readily available for bets, with the ability to bet on the winner of the major Rugby League events throughout the year.
These include the Super League Grand Final Winner, the NRL (Australian) National Rugby League Grand Final Winner and the winner of the famous Challenge Cup Final which is played every year at Wembley Stadium.
Rugby Union betting on BetStars
The good news for betting fans is that BetStars have set up their Rugby Union page so that it mirrors exactly the way that things are set up on the Rugby League page, so rather than repeat myself and go through the same options as outlined above, let's take a look at what is different.
Obviously, being a different code of the game, there are different competitions in operation here and BetStars offers a range of betting across the top Rugby Union competitions in Europe.
The first of these is the Aviva Premiership, which is the main Rugby Union competition for teams in England.  The site also offers betting on other leagues such as the Guinness Pro 12 league (which consists of top teams from Scotland, Wales, Ireland and Italy.
You can also place bets on matches in the French Top 14 league, which hosts many of the top players in world rugby.
In addition to this, the site will also run plenty of additional betting on specific domestic and international competitions, such as the Champions Cup (the final of which was played last weekend) as well as huge international rugby events such as the Six Nations series, the Rugby World Cup and the Rugby Championship  which sees the four southern hemisphere giants, New Zealand, Australia, South Africa and Argentina compete against each other annually.
In short, there is plenty of outstanding Rugby betting to enjoy, whatever your preferred code, at BetStars.