Did you know that your SkyBet account offers you the chance to try and win money completely free of charge? Of course, you may already be well aware of the Sky Fantasy Football competition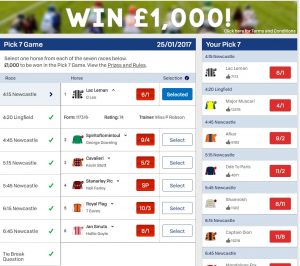 that you can access, as well as the weekly Soccer Saturday Super 6 game that runs every Saturday during the football season. There's also the Fantasy Six A Side competition why is free to enter when selected matches are played in the Premier League.
Of course, all these promotions are completely free to enter and all are based on football, which is great news if you are a football fan, but not much use if you aren't into football and prefer to wager on other sports, such as Horse Racing.
Well now there is some fantastic news for SkyBet account holders. Due to SkyBet being owned by the same company that owns the Sporting Life brand, SkyBet customers can now take part in a fantastic new daily competition.
It's called the Sporting Life Pick 7 and every day there is £1,000 to be won and you can enter every competition completely free of charge using your SkyBet account.
How do I find the Sporting Life Pick 7 promotion?
Just Google the phrase Sporting Life Pick 7 to locate the promotion, or you can easily navigate to it direct from the SkyBet website. Simply load up the website and at the top of the screen you will see links to a number of Sky promotions. The Sporting Life Pick 7 promotion is listed here towards the right hand side of the screen. Click on this to be taken direct to the Sporting Life Pick 7 entry page.
What is the Sporting Life Pick 7 promotion?
To play in this promotion from Sporting Life, what happens is that each day that the promotion is running (which tends to be almost every day of the year that there are racing meetings), Sporting Life will pick a selection of seven races from all the meetings being held that day.
For each race, a list of the runners will be displayed and all you need to do is select which horse you think will win each of the seven races. To help you decide who to pick, the current odds for each of the horses running is displayed along with the colours and the jockey of the horse and on a drop down button, you can also see its form, its current rating and the trainer.
To make your selection once you have perused the runners, simply click on the "Select" button in the right hand column for the horse you want to pick. Then click on the next race and make your next selection in the same way. Repeat this for all seven races and then you need to complete the Tie Breaker question.
The tie breaker is used in the event of more than one punter successfully predicting all seven winners. For the tie breaker, you need to select the distance that the winner of the first race will win by and you can select from the shortest distance (a nose) up to a maximum of 35+ lengths.
Once you have completed this, simply click the "Submit Entry" button and your selections will be entered into the competition. As with the other SkyBet Account promotional games listed above, there is no charge to compete in this promotion and you can even see how you are performing against other punters using the Leagues and Leaderboard systems, very similar to those that you find on the Super 6 and Fantasy Football games.
What happens if I am a winner?
If you manage to pick all seven winners in the selected races and you either win the tie breaker or there is no need to have a tie breaker question, then you will win a prize of £1,000 cash.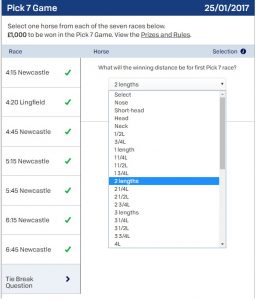 The only change to this occurs on a Saturday when instead of the usual £1,000 prize, there is a special Saturday Jackpot competition run. The process to enter is still the same, to pick the winner of the seven featured races, but on Saturday, the prize is a £25,000 jackpot prize.
For Saturday's big event, if you are unlucky enough to pick all seven winners, but lose out on the top prize due to the tie breaker question, then you will receive a special consolation prize of £1,000 if you were the first player out of all those that picked seven winners but didn't win the jackpot prize, to submit their entry that week.
For midweek competitions, if no player wins the £1,000 top prize then there is a consolation prize of £100 worth of free bets will be awarded to the top performing player. This will usually mean a player selecting six winners and having one of their selections placed.
Furthermore, in the terms and conditions of the offer, Sporting Life state that they can at their discretion offer additional prizes on any game whenever they choose to do so, probably in a similar way to the way Super 6 occasionally will offer a jackpot prize of £1,000,000, as opposed to the usual £250,000 weekly jackpot on offer.
I don't really know anything about Horse Racing, is it worth me entering?
If you are not a massive fan of horse racing or simply don't bet on horses, then you may wonder if it is worth entering the competition. The answer to this is simple, it is an absolute no-brainer that you should enter this (and indeed any other) free to enter competition.
Even if you don't follow the horses you can use the form guide provided, the jockey and the odds to make a decision based on which horses to pick and who knows, with a little lady luck on your side, your picks may well do better than those of a punter who bets on the horses regularly.
The main reason to play however is that this offers you a free chance to win £1,000 every day, plus a £25,000 jackpot each Saturday, with consolation prizes of £100 worth of free bets plus £1,000 available on Saturdays. Entering the competition can take just a few seconds to complete, costs you nothing and could see you £25,000 better off.
So why not give the Sporting Life Pick 7 competition a try today, all you need to play is your Sky Bet Account log in details and your passcode.