One of the most exciting aspects of being a customer with SkyBet or Sky Poker is that you get a lot of additional fringe benefits. Last week we told you how you could win £250,000 every week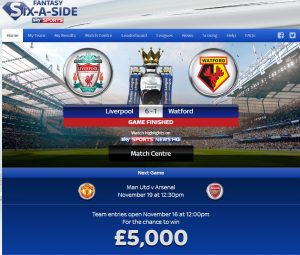 as part of the free to enter Super 6 competition and in the past we have also reminded you how Sky Poker customers can play in Sky Sport's Fantasy Football game, with cash prizes available.
What this shows is that there is a lot more on offer as a Sky customer than simply a Sky Poker no deposit bonus, or the opportunity to earn a free bet or two as part of the Sky Bet Club. As further evidence for this, you only need to take a look at Sky's exciting new competition, which is available to be played when selected live Premier League, English Football League or El Clasico games are shown on Sky Sports.
This brand new promotion offers any SkyBet account holders (and that includes any player who has joined any Sky site) the chance to play for £5,000 in prize money every time the promotion is held and whatsmore, you can play this coming weekend in the big Manchester United v Arsenal match up.
Let's learn a little more about what the Fantasy Six-A-Side promotion is and how it works.
What is Fantasy Six-A-Side?
At its heart, Fantasy Six-A-Side is a type of fantasy football game where people enter the competition and pick a team of six players based on the two teams of players competing in a live football match from the Barclays Premier League, English Football League or El Clasico (Real Madrid v Barcelona) shown on Sky Sports.
The aim is to pick the players that will score the most points for you during this live game. Players are awarded points for completing a number of tasks successfully, such as completing a set number of passes, scoring a goal, saving a goal, making a tackle, winning a penalty, creating a goal or similar. Defensive players can earn points additionally for tackling, blocking and keeping clean sheets. Goalkeepers can also earn points for saving penalties and making saves.
Each individual player playing in the game will earn themselves a number of points based on their performance in the match and these points are added to your team total. If your team total is the highest out of all the entries for that game, then you will win the top prize.
It sounds very simple, but there is a little more to it than simply picking a team.
Fantasy Six-A-Side key rules
The first key rule for Fantasy Six A Side is that for each competition (or Game Round), Sky Sports will allocate four Elite Players. These tend to be the players that have, over time, proven to be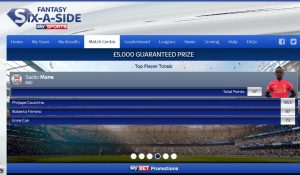 the highest scoring fantasy players for the teams involved.
You can pick just one of the elite players for this team, so you need to pick this choice wisely. Your remaining five picks can be players from either team that are not elite players pick and you can base your picks on one team moreso than the other.
In addition to the Elite Player selection, players also have to select a Power Play time zone during the match. These zones are split into 15 minute periods: 00:00 to 14:59, 15:00 to 29:59 and 30:00 to Half Time, 45:00 to 59:59, 60:00 to 74:59 and 75:00 to Full Time. During your selected Power Play, all points earned by your players during this period will earn you double points.
Of course, it is possible that two or more players will end up with the same number of points at the end of the game at the top of the leaderboard. To decide the winner, you also must enter your prediction for the Golden Goal in the contest. This is the minute of the first goal in a game and the player closest to this out of the top scoring teams will win the top prize of £5,000 cash.
What restrictions are there on picking players?
If you are used to Fantasy Football in regular terms then you will know that in this game, players have a value and you can't pick a team that has a total value of over a certain amount. In Fantasy Six-A-Side however, players have no value attached to them. The only restrictions on picking players is that you must pick one elite player and five from the pool of other players.
Teams also do not have a positional requirement, so you can pack your team with strikers, defenders, midfielders as you see fit.
However, it should be noted that points are awarded for defensive play as well as attacking play. The highest points award is for scoring a goal or a goalkeeper saving a penalty (both 35 points). Goalkeepers keeping a clean sheet and that play at least 75 minutes will score 30 points, while a defender doing likewise will earn 25 points.
There are smaller points values on offer for other incidents in the game, such as making a save, creating a chance, blocking a shot, intercepting the ball, earning a free kick, winning a header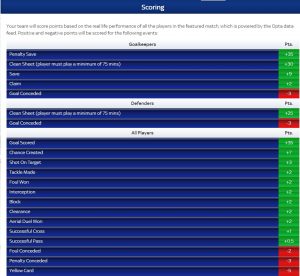 and so forth.
Of course, not everything a footballer does is a positive, so there are also minus points available for players that concede fouls or concede penalties. Earning yellow or red cards also earns you minus points as does scoring an own goal or missing a penalty. Defensive players also earn minus points if their team concedes a goal.
How do I enter the next Fantasy Six-A-Side competition?
All you need to do is head on over to the Fantasy Six-A-Side site at Sky Sports and log in using your Sky Poker or Sky Bet account details. Once you have entered your username and passcode, you will be admitted to the site and you can then click on the game you want to pick your Six-A-Side team for.
Sky usually open the competition for entries a couple of days before the game, meaning that you have plenty of time to pick your team.
Once on the site, simply head to the My Team section and then you can pick your elite player plus five others to represent you. Once you are happy with your team, click the submit button and your selection will be entered into that round.
You can then sit back and watch the match unfold live on Sky TV in the hope that you could be the one walking away with the £5,000 top prize.