Can you think of a better way to celebrate Christmas than by entering a competition completely free of charge, simply by using your SkyBet account log in details, and then finding out by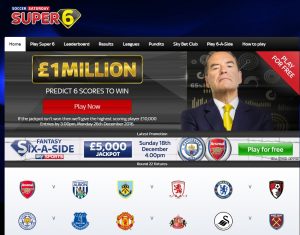 teatime on Boxing Day that you are £1,000,000 better off?
That would make opening January's credit card bills much more palatable, wouldn't it?
Well thanks to the hugely popular Soccer Saturday Super 6 offering a festive bonus round, instead of the usual £250,000 up for grabs, for the six Premier League fixtures selected as part of Boxing Day's coupon, correctly predicting the six scores would earn you a cool £1m instead.
Let's learn a little more about the competition and why Boxing Day's biggest round offers customers a top prize of four times the amount that you can win on an average weekend.
What is Super 6?
Super 6 is a prediction game that is run in conjuction with the Gillette Soccer Saturday TV show. On this show, host Jeff Stelling and his panel of football experts provide updates and analysis of live Premier League matches as they are played from 3pm each Saturday.
As part of the preamble for the show, each game is previewed and the four panellists, plus Jeff all give their views on what the final score of each game will be.
Sky developed this into a competition which SkyBet account holders can enter. Each game week during the season, six matches are selected and competitors can log into the site and pick what they think the score will be for each of the six games on the coupon.
The aim is to correctly predict the exact score of each game. For every game you do, you will earn 5 points. If you predict the wrong score of the game but get the right result, for example if you predict Arsenal to beat West Brom 2-0 and the Gunners actually win 2-1, then you would score two points.
If any player correctly predicts all six scores correctly, then they win the weekly jackpot, which is usually £250,000. If nobody wins the jackpot, then the highest scoring player in terms of points will win a cash prize, usually of around £5,000, but Jeff has been known to increase the value of this prize on occasion. For the Boxing Day competition however, the consolation prize has also been increased to £10,000.
If more than one player wins the consolation prize, the Golden Goal prediction tie-breaker is used to determine the winner. This is only used in the event of a consolation prize being won. If two players or more correct all six results correctly, the jackpot prize is shared.
What is special about the Round 22 fixtures on Boxing Day is that Sky have designated this as a special offer week and when this happens, the prize on offer is increased from £250,000, to an incredible £1,000,000.
Best of all, if you are a SkyBet account holder it is completely free to enter the competition each and every week it is played, including for the bigger cash prizes.
What are the fixtures that have been selected for the Boxing Day game?
So of course, now that we know you can enter this event for free and that there is £1,000,000 up for grabs for the lucky winner, you will no doubt want to know what the fixtures are for this weekend's Super 6 coupon:
Arsenal v West Bromwich Albion
Burnley v Middlesbrough
Chelsea v AFC Bournemouth
Leicester City v Everton
Manchester United v Sunderland
Swansea City v West Ham United
All you need to do to enter the competition is visit the Super 6 site and then click on the Play Super 6 tab at the top of the screen. This will automatically load up the current Round selections and you can then enter your choice of scores for each game using the arrows to increase or decrease the amount of goals you think each team will score.
Finally, enter in your prediction for the Golden Goal tie breaker. The Golden Goal is the time at which the first goal in any of the six games listed above will be scored.
Is any help available to help me make my selections?
If you decide to leave your predictions until later in the week, then you can have some guidance on how the matches might pan out as a number of experts from Sky will add their predictions for each of the six games to the site.
The likes of Matt Le Tissier, Charlie Nicholas, Phil Thompson, Jeff Stelling and Paul Merson will all add their predictions for the final scores of each of the games and you can see what they feel and use this as a guide to help formulate your own predictions.
Although of course, you are also completely free to put in any scores you like .
If you enter this, you may wish to try Sky's Fantasy Six-A-Side competition too:
Fantasy Six A Side
There is no doubt that the Super 6 competition this week will be hugely popular with SkyBet customers as indeed it is every week, but with £1,000,000 up for grabs, you can expect a larger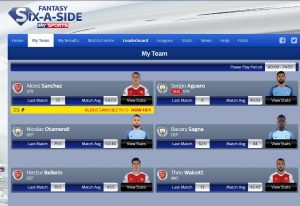 than average participation in this free to enter event.
However that is not the only freebie on offer from Sky over the festive period as you can also participate in the Fantasy Six A Side competition when there is a big match being shown live on the Sky Sports TV Channel.
Simply visit the Sky Sports Fantasy Six a Side page and pick your team of six players, consisting of one elite player (from four available) plus any five other players likely to be involved in the game. You then pick a PowerPlay time period when your team will score double points and finally enter a tie-break time of when you think the first goal will be scored in the game.
Once you have entered your team, this will be confirmed by the site and you can then sit back and watch the match unfold.  If your team is the highest scoring team for that competition, then you can win a top prize of £5,000.
The competition is free to enter if you hold a SkyBet account and you can log in to the site using the same login details you use for SkyBet and the Super 6 site.
There are many top Premier League live games being shown over the festive period on Sky Sports and this competition is usually run once per day that a live Premier League game is being broadcast. Games that this offer will run for will include:
Monday 19th December – Everton v Liverpool
Monday 26th December – Hull City v Manchester City
Tuesday 27th December – Liverpool v Stoke City
Wednesday 28th December – Southampton v Tottenham
Friday 30th December – Hull City v Everton
Sunday 1st January – Arsenal v Crystal Palace
As you can see, your SkyBet account offers you much  more than simply poker, casino and sports betting opportunities, so why not take up the Super 6 and Fantasy Six A Side challenge and who knows, this could be the best Christmas ever if you manage to land a big cash prize.