Did you know that your Sky Poker account gives you access to all other Sky sites, as well as a number of other features, including two free to enter competitions with a host of top prizes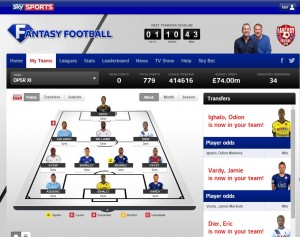 available? We've already taken a look at how you can play the Soccer Saturday Super 6 prediction game each week so in this article, we are going to take a look at how you can use your Sky login to enjoy some top quality Fantasy Football.
Remember though, you do need to be a Sky customer to play. Click here for the latest Sky no deposit bonus information and you can be signed up and ready to pick your fantasy team in no time at all.
What is Sky Sports Fantasy Football?
Sky Sports Fantasy Football is Sky's version of the popular Fantasy Football game that first sprang to prominence in the United States a while back for American Football. It was soon adapted for soccer in the UK and gained increasing popularity from the 1990s onwards. Since then it has become a favourite pastime for many as they compete against friends, workmates and thousands of others across the country in a host of different competitions.
Most top newspapers run their own Fantasy Football League and Sky's is an online version that is simple to play and that can be accessed using the same log in details you use to access your Sky Poker account.
In Sky's version of the game, you pick a team of 11 players that accrue points for you each week when they achieve a notable football related feat. That can be keeping a clean sheet (for defenders and goalkeepers), creating a goal, scoring a goal or similar. Minus points are also awarded to individual players for other negative events (such as receiving a red or yellow card or for defensive players, conceding a goal).
Every week each individual player on your team earns a set number of points based on their real life performance on the football field. The points for all eleven of your players are added up to give you your weekly team score and these points then accrue over the weeks and months and eventually the entire season to give you a weekly, monthly and season-long view of how your team compared to the others in your league.
Depending on what leagues you choose to enter (there is a choice of leagues available), you can win prizes if you are the highest scoring player each week, month or the player with the most points accrued for their team over the course of the season.
Best of all though, Fantasy Football is completely free to play, all you need is a Sky account with any Sky-related site (SkyBet, Sky Poker, Sky Casino or similar)
How do I pick a team?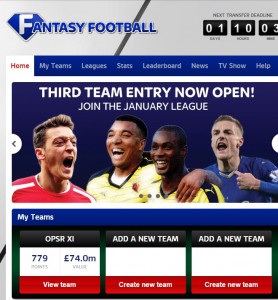 Once you have logged into the Sky Fantasy Football site, on the hope page you will see a box with "My Teams" listed. Simply click on the "Create new team" tab and this will take you to the team selection page.
When this page loads up you can then select your players by scrolling down the lists on the right hand side of the screen. You need to pick one goalkeeper but you can then also set your team out in one of a number of formations (such as 3-4-3, 4-3-3, 4-4-2, 3-5-2 and similar).
Players are listed by their positions in one of four groups, Goalkeepers, Defenders, Midfielders and Strikers and each player has an assigned value. You can spend up to £75m on your team but you must ensure that it is of 11 players.
As you add a player to your team, the value of the player is deducted from your £75m budget. One nice touch is that as your budget decreases in size, any players you can no longer afford are greyed out, leaving only the ones you can afford to select from.
Once you have selected your team you are automatically entered into the major Sky Fantasy Football league, though you can search through other leagues available to join, or you can create your own league (or join a league) with friends, family and work colleagues. You can of course enter the one team you select in multiple leagues.
Is it worth joining as the season has already started?
One good question people ask when considering joining a Fantasy Football league is whether it is worth joining at any time other than the start of the season as it means that the later you join, the less chance you have of winning one of the bigger season prizes available.
That is true, but what makes it worthwhile joining is that there are a number of weekly and monthly prizes available which are also well worth winning and which you can try to win regardless of when you join the site, even if it is late on in the season.
How can I give my team a better chance of success?
So you have picked your team and now you just have to watch how your team performs over the course of the coming weeks and months to see if you stand a chance of winning a prize. However, there are some key strategies you can use to help pick a team that stands a better chance each week of landing a top prize.
First off, each team you create is giving 40 transfers per season and you can use these to replace players in your team each week. This allows you to replace players that are injured (especially long term), suspended or perhaps not playing in the first team each week (and thus, not scoring you points) with players that can score you points.
Another great strategic tip is to watch the Fantasy Football Club program which gives you hints and tips about which players to target and add to your team, as they have seemingly favourable match ups in the forthcoming game week.
Finally, another key strategy is to keep abreast of the latest football news. You can use any reputable website for this (Sky Sports is perfectly fine) and keep a close eye on injuries or news involving any of the eleven players in your team and if a player is injured or not selected, you can move quickly to replace them. It is a good idea to do this on Saturday afternoon in the final hour or so before games when teams have been made so you can make any last minute changes necessary.
Other tips for strategy include picking defenders and midfielders that score and create goals as well as keeping clean sheets (especially defenders that take penalties or free kicks), making your captain your most consistent high points scoring player (captain's score double points) but changing the captain if there is one player that has a potentially favourable match up.
Fantasy Football on Sky is a fun game to play and is completely free to enter with the chance of winning some great prizes across some of the different leagues available. Simply use your Sky Poker log in to gain access and start playing today.