You may remember that last week we brought you details on how Sky Poker have given their weekly Main and Mini Tournament schedule a bit of a revamp. In addition to a Wild West/Movie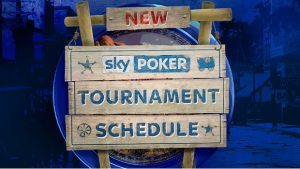 theme, Sky Poker has also introduced a number of other weekly and daily tournaments for their customers to enjoy.
Remember, you can join Sky Poker now and claim your free Sky no deposit bonus when you do to give you a taste of what the site has to offer by clicking the previous link to get the process started.
So if you join, what have you got to look forward to in terms of the Main and Mini events each evening? Last week we brought you the renewed schedule, this week we are bringing you details of what type of tournament each of the nightly Main and Mini events at Sky Poker are.
Remember, the Main and Mini events take place every night of the week with the Main kicking off at 8pm UK time and the Mini half an hour later at 8.30pm UK Time. The famous Final Table Jackpot bonus is still available for players that manage to reach the final table of both the Main and Mini event in a single evening.
Here's the seven days of tournament action on Sky Poker in a bit more detail
Sunday Night Main Event – The Sunday Major
Sky Poker's biggest prize of the week is up for grabs every Sunday night at 8pm UK time with a guaranteed prize pool of £15,000. Buy in to this event direct is £110 in total, and for that you receive 10,000 starting chips with blinds increasing every two minutes.
It is possible to satellite into the Sunday Major in a number of ways throughout the week at Sky Poker, which costs considerably less than paying the full buy in. Late registration in this tournament is open for two hours and up to 1000 players can be accommodated.
This is a standard no limit hold'em tournament and it is a freezeout event meaning if you are eliminated then you cannot buy back in. Five minute rest breaks are scheduled every 55 minutes of play.
Sunday Night Mini Event – The Mini Major
If you can't satellite your way into The Sunday Major, then half an hour later the much more affordable Mini Major kicks off with a buy in of just £11 and a guaranteed cash prize of £2,500.
Monday Night Main Event – Marksman
What better way to start the week than with £10,000 up for grabs in Sky Poker's Monday Marksman multi table tournament. With a £33 buy in, this event is a Bounty Hunter event where players not only earn cash for progressing in the tournament, but also by knocking out other players from the event, thus claiming their bounty for themselves.
Monday Night Mini Event – Mini Marksman
If you want to play for a smaller amount of money then on Monday evenings the Mini Marksman event offers you a chance to play for £2,500 guaranteed all for a buy in of just £5.50.
Tuesday Night Main Event – Iceman
Tuesday night's big Main Event is the £8,000 guaranteed prize Iceman event. The name given due to the fact that this is a freezeout event. Each player starts with 5,000 chips and the blinds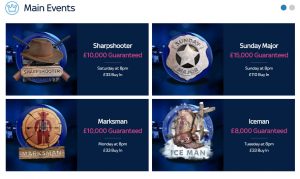 are increased every 12 minutes.
Late registration into this event is open for 96 minutes after the start and you can buy in direct for a total cost of £33, although satellites into this tournament are also available.
Tuesday Night Mini Event – Mini Iceman
Running in conjunction with the Main Event, you can tune in for cheaper MTT poker at Sky Poker on Tuesday night for the Mini Iceman which has a prize pool of £2,000 guaranteed and a buy in of just £5.50.
Wednesday Night Main Event – Predator
It is back to Bounty Hunter-style gaming for Wednesday night's big Main Event with the £10,000 guaranteed Predator taking centre stage. Starting with a buy in of £33, your contribution is split 50/50 between the prize pool and your bounty which is placed on your head.
Eliminate other players to claim 75% of their bounty for your bank account and 25% which gets added to the bounty on your head. Late registration for this popular event is open for 96 minutes and you start with 5,000 chips and 12 minute blinds.
Wednesday Night Mini Event – Mini Predator
Following the same format as the main event, the Mini Predator has a prize pool of £2,500 and you can play in this tournament from 8.30pm UK Time every Wednesday night for just £5.50 buy in.
Thursday Night Main Event – Hitman
Once again it is a Bounty Hunter event on Thursday night with the Hitman tournament being another £33 buy in offering you a chance at a share of a £10,000 guaranteed prize pool. The same rules for this bounty hunter tournament are in operation as the Predator event the night before.
Thursday Night Mini Event – Mini Hitman
Another alternative to the Hitman event is the £5.50 buy in Mini Hitman which starts half an hour after the first tournament but which operates under a very similar tournament rules and structure.
Friday Night Main Event – Avenger
Round off the week with the best value Main Event of the entire schedule of tournaments. Kick off the weekend in style with the Avenger Bounty Hunter tournament, which is available to buy in to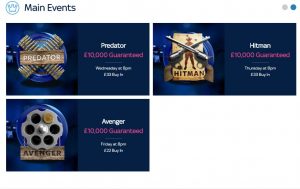 for just £22 and which still offers a fabulous £10,000 prize pool available to be won.
Friday Night Mini Event – Mini Avenger
As per usual, you can join in for the fun for a smaller buy in with the Mini Avenger Bounty Hunter event, for a buy in of just £5.50. Remember these weekend events are always popular with players and can be heavily subscribed compared to some of the other events during the week.
Saturday Night Main Event – Sharpshooter
Book yourself a place in the Saturday night Sharpshooter tournament with another £10,000 prize pool guaranteed all for a £33 buy in. The event is another Bounty Hunter event, with players earning money for eliminating players as well as their final place in the tournament, if they finish in the money.
Saturday Night Mini Event – Mini Sharpshooter
If the £33 buy in for the Main Event on Saturday is a bit much, then you can enjoy a very similar tournament for just a £5.50 buy in with a £2,500 prize pool guaranteed.