For a long time now, Sky Poker has run a number of events at 8pm and 8.30pm every day of the week. These are the sites Main and Mini Events, the highlight of the evening's poker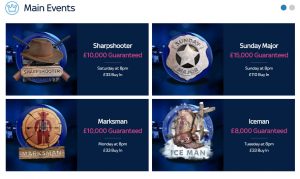 entertainment and there is even a special bonus, the Final Table Jackpot available for players who reach the final table of both tournaments in a single night.
These events have indubitably proven popular at Sky Poker over the years but it had been a little while since the company had reviewed the competitions on offer. With several companies now offering many different forms of poker, Sky Poker have taken the wise decision to give their two headline evening tournaments something of a facelift.
The result is a brand new Tournament Schedule, which features a number of brand new events over the course of the week. In this article, we are going to give you an overview of the different schedule now in place at Sky Poker and the different games played each night. However, we will also take a look at each of the main events in a bit more detail in forthcoming articles too, so keep your eyes peeled for that.
Of course, to play in these tournaments each night, you need to be a Sky Poker customer. Click on our Sky Poker promo code page to get the latest information on how to sign up and enjoy a superb starter bonus as a new customer with Sky.
The new Sky Poker Weekly Tournament Schedule
For whatever reason chosen by the Sky Poker management, Sky Poker have decided to go with a western theme for their newly revamped promotions with the names of the new tournaments all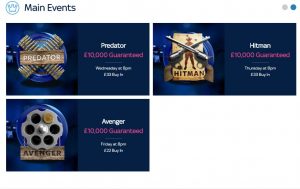 based around this same theme (and the graphics supporting them also based on the theme too).
The Main Events each week start at 8pm every night and there are the following tournaments now available:
Sunday – The Sunday Major – £110 buy in – £15,000 Guaranteed
Monday – Marksman – £33 Buy In – £10,000 Guaranteed
Tuesday – Iceman – £33 Buy In – £8,000 Guaranteed
Wednesday – Predator – £33 Buy In – £10,000 Guaranteed
Thursday – Hitman – £33 Buy In – £10,000 Guaranteed
Friday – Avenger – £22 Buy In – £10,000 Guaranteed
Saturday – Sharpshooter – £33 Buy In – £10,000 Guaranteed
In addition to these main events, each night sees a Mini event of the same name taking place. Buy in to these Mini events is the same price (£5.50) from Monday through to Saturday, but for Sunday's Mini Major, the buy in is £11. Each of the seven Mini Tournaments has the same guaranteed cash prize available of £2,500.
We will bring you details of the different types of games played in each of these new tournaments when we review the tournaments in more detail in a future article. For now you can click on the Sky Poker website or app to discover more details about each tournament, how it is played, your starting stack and whether you can rebuy into the event or not.
Is The Final Table Jackpot still available to be won?
As far as we can understand it, the Final Table Jackpot prize is still running on the new tournament schedule games, at least for the time being. The offer remains active on the Sky Poker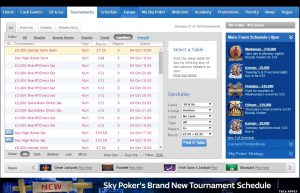 website and the company is still promoting this offer even though the tournaments that it is based on have changed.
As such, it seems relatively safe to assume that this offer is currently still running, although if this changes we will of course let you know.
More Daily and Weekly Events to participate in than ever before
In addition to the revamped schedule for the Main and Mini events outlined above, Sky Poker has also looked at some of the other offerings for its tournament poker schedule and these too have been given a revamp.
There are now a number of other Daily Events that will run each day at certain times and in addition, there are also four other big tournaments that will be scheduled to take place at the same time each week in addition to the Main And Mini Events listed above.
The four Daily events that will take place every evening every day of the week are the following:
At 8.45pm – Gold Rush – £11 Buy In
At 9.30pm – Reload – £11 Buy In
At 10.30pm – Quickdraw – £55 Buy In
At Midnight – Midnight Express – £21 Buy In
Alongside these four Daily Events, the following weekly events will also take place during each week at the stated times.
Every Saturday through to Thursday at 9pm each day – Sheriff – £55 Buy In
Sunday at 7pm – Super Rebuy – £55 Buy In
Tuesday at 9pm – Sky High Roller – £220 Buy In
Friday at 9pm – Summit – £110 Buy In
It is clear that these four new tournaments are clearly aimed at the Sky Poker player who wants to play in more exclusive tournaments where the buy in levels preclude smaller stakes players from playing (unless they can earn a place in the event by winning a satellite event and earning a seat that way).
Can I satellite my way into these higher buy in new events at Sky Poker?
So far, Sky Poker have confirmed that you can satellite your way into the Sky High Roller event held each Tuesday at 9pm in a number of ways (including playing your way through, or earning a seat via chance in an All-In tournament).
In addition, the site is also listing extensive satellite options for the Sheriff event taking place from Saturday through to Thursday, in addition, you can also satellite into the Main Event each night on Sky Poker now too.
So extensive is the satellite schedule on Sky Poker now that it seems likely that smaller stakes players will have the chance to satellite their way into the Main Event tournament and the higher stakes weekly and daily tournaments outlined above.
However, it may not be possible to satellite into the smaller buy in events (such as the Mini Events each evening).
It may have been a little while in coming but Sky Poker's newly revamped tournament schedule does offer a nice mix of poker for fans of all types of multi table tournament poker. Keep your eyes peeled for our next article on the new tournaments where we will examine the different types of games available in each.