Goalless draws are sometimes a let down for football fans. Goals are the lifeblood of the game and it is what football fans, players and teams strive to achieve. So when a game ends without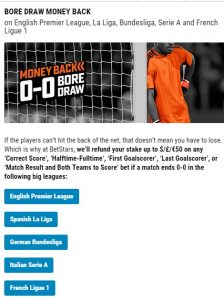 either team finding the back of the net, there can be a feeling of anticlimax.
Typically, in any particular league in any particular division, goalless draws occur between 7 per cent and 14 per cent of the time, depending on the league in question. That is a significant number of games which, if you have had a bet on and assumed there were going to be goals, could end up costing you money in the long run.
Fortunately, that may now be a thing of the past thanks to BetStars exciting and fan-friendly Bore Draw Money Back special offer.
If that name sounds familiar, then that is because it is shared by a very similar offer from Bet365 Sport.  Let's find out a bit more about BetStars version and what it offers punters that elect to place their bets with the new sports betting company.
Remember though, in order to take advantage of the offer, you do need to be a member of BetStars Sportsbook, click the link for details on how to join and for additional information on the BetStars new player offer.
How does BetStars Bore Draw Money Back Offer work?
BetStars Bore Draw Money Back offer is a relatively simple offer which is applied to any football match from the top divisions in the following five competitions:
The English Premier League
Spanish La Liga
German Bundesliga
Italian Serie A
French Ligue 1
If you then place a bet on any match from the above competitions on any of the following markets:
Correct Score
Halftime-Fulltime
First Goalscorer
Last Goalscorer
Match Result & Both Teams to Score
And your chosen match finishes in a 0-0 draw, then BetStars will refund your stake in full as a free bet (on bets of between £1 and £50). Bets greater than £50 will see £50 of the stake returned (but the remaining stake will be forfeited).
If I earn a free bet from the offer, are there any conditions attached to my Free Bet?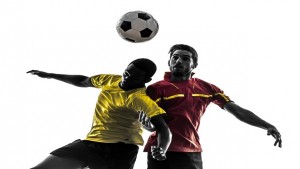 Yes there are some key terms and conditions for the free bet when you receive one. Firstly, your free bet will be credited to your account, if earned, within 48 hours of the result of your game. Furthermore, you can only use your free bet on a single selection bet with odds of 2.00 (even money) or greater.
You also have a time limit of seven days within which you must use your free bet, otherwise it will expire and will be removed from your account.
Your free bet can only be used on a win bet, each way bets are not allowed.
If your free bet wins, then your free bet stake is not returned with any of your winnings. So for example, if you earned a £10 free bet and backed a selection at 6/1, and that selection won. Then you would receive back £60 winnings, but not your £10 free bet stake.
What happens if I place more than one bet that qualifies for the offer?
If you place more than one bet on a match that qualifies for the offer, then all your bets that qualify for the free bet will be accumulated into a single free bet up to a maximum of £50. So if you had two £20 bets on a match in one or more qualifying markets and the game finished 0-0, then you would receive a £40 free bet.
Is there value in the BetStars Bore Draw Money Back offer?
Given that between 7 and 14 per cent of matches finish in a goalless draw, there is value in this offer, however its real value is felt by punters who regularly bet on matches in those divisions, in those markets over the course of the season. It is a good bet that this offer will end up giving these customers free bets at several points throughout the year.
That said, even occasional punters can pick a drab goalless encounter to bet on and as such, it is never a bad thing to think you've lost a bet, but find out you still have a free bet to that value waiting for you in your account.