A couple of weeks ago we brought you the lowdown on how Bet365's Euro Soccer Bonus offers punters an outstanding deal when it comes to placing accumulator bets with the company, offering you the chance to perhaps double your winnings for a successful bet.
However, it is fair to say that the Euro Soccer Bonus is not the only offer and promotion at Bet365 that helps the site draw in soccer punters from all over the world. There are a number of other offers and promotions run by the site regularly over the course of the season which makes betting with them such great value.
In this article, we are going to take a look at some of the other regularly available football betting offers you can access at Bet365 which help punters get even better value when betting with the company.
Let's begin with a simple offer that is available on every football match upon which Bet365 offers a chance to bet on any of the Correct Score, Half Time/Full Time or Scorecast markets with; the Bet365 Bore Draw Money Back offer.
Bore Draw Money Back
One of the simplest offers to access on Bet365 is the sites Bore Draw Money Back offer. Simply place a bet on any football match from any league anywhere in the world on either the Correct

Score, Half Time/Full Time or Scorecast markets and if the game you have bet on finishes in a 0-0 draw, and your bet loses, then you will receive your stake back as a free bet.
Given that depending on the league in question between 7% and 12% of the games played each weekend in that competition will end in a goalless draw, this is a very good insurance-type offer that is available across every football match that you can place one or more of the above bets on.
There's no special button to click to opt in to the offer either, simply place your bet on any of the above markets with Bet365 and your bet is automatically covered.
In Play Betting Offer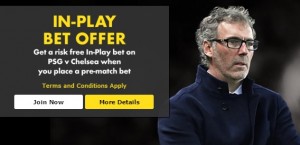 Although not available every day and only offered on selected big matches, Bet365 does offer relatively frequent In Play Betting offers that give punters the chance to enjoy a completely risk free In Play bet on the stated match.
In Play offers are usually only previewed a day or two before the allotted match is due to take place, so there isn't a lot of advance warning about when one will be available, but as a general rule of thumb, when there is a big game in the Premier League or perhaps a huge game in La Liga (such as El Clasico between Real Madrid and Barcelona) or a big Champions League week, then there is a strong chance Bet365 will be running the offer at least once, if not more times in that week.
To participate in the offer Bet365 will select one of the feature games taking place and you will need to place a pre match bet on that game.
When the selected game kicks off, log back in to your Bet365 account and then place your first In Play bet on that match as it is in progress. If that bet wins, then you take your winnings however, if the bet loses, then Bet365 will refund your stake on that In Play bet up to the value of your pre-match bet. (The maximum refund payable is £50).
For example, if the offer is available on a match between Liverpool and Manchester United, you would place a pre match bet to qualify for the offer. Say you place £50 on Manchester United to beat Liverpool at odds of even money.
When the game kicks off, you log into your Bet365 account and place an In Play bet of £50 on Wayne Rooney being the next player to be booked in the game at odds of 2/1.
In this example, if Wayne Rooney is the next player booked, then you would receive £100 in winnings, plus your £50 In Play stake back for a total return of £150.
However, if your bet loses and another player is booked instead of Rooney next in the game, then you would trigger the In Play offer and you would then receive your £50 stake back as a free bet. This is because your pre match bet of £50 qualifies for the full refund. If your pre-match bet had been just £25, then only £25 of your £50 In Play bet would be refunded.
Essentially, this offer is giving you a completely risk free In Play bet on the game as you will either win your bet and end up with more money than you started with, or if your bet loses, you will have your stake returned to you as a free bet.
These offers are only available a day or two before the kick off of the game in question, so it is always advisable to check back onto the Bet365 Sports site to see if there is an In Play offer running on any of the scheduled games for matches being played within 48 hours.
Each Way First Goalscorers
There is perhaps nothing more annoying than backing a player to score the First Goal in a game, seeing him fail to do this, but then go on to score at a later point in the game. However, with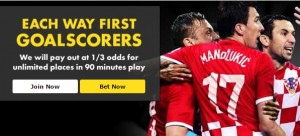 Bet365, this doesn't necessarily have to be a losing bet if you elect to back him as an Each Way First Goalscorer.
In this bet, you can back a player at the stated odds to score first in the game, but you then also place a second bet on the player to score at any time in the game at 1/3 of the odds.
So, for example, if you placed a £10 Each Way First Goalscorer bet on Chris Smalling to score first in a game between Manchester United and Chelsea at odds of 6/1, then your total stake would be £20 and would be placed on:
£10 on Chris Smalling to score the first goal at 6/1
£10 on Chris Smalling scoring at any time in the game at 2/1 (1/3 odds of 6/1)
If Smalling scores the first goal at 6/1, then you win both bets. This equates to a £70 return on the first goalscorer bet and a £30 return on the Each Way part of the bet for a total return of £100.
However, if Smalling didn't score the first goal but scored later on in the game, you would only receive back the £30 for the successful each way part of the bet.
On The Move Bonus
Don't forget too that Bet365 Sport are offering punters who place their first bet via a mobile device up to £50 in a 100% Matched Bet offer. Simply place your first bet via a mobile device with Bet365 on any sporting market (of odds better than 1/2) and when you do, Bet365 will give you a free bet to the same value, up to a maximum of £50.
If you have not yet tried mobile sports betting then this offer makes it an ideal time to try as you can essentially get yourself two bets for the price of one simply by using your mobile device, rather than a PC to place your bets.
Bet365 offers some superb football bonuses throughout the season, and it is well worth your time investigating these offers a little more closely.