BetStars Sports: A Review Of The New UK Betting Site
When Amaya bought BetStars back in June 2014, many people felt that the online gambling giants would soon start to diversify the BetStars brand beyond its initial poker room.
The BetStars Casino soon followed and recently the BetStars Sports Betting platform has also been released and it is this latter platform we are going to look at in this review.
We're going to focus on how the new site looks, its features, what betting options and markets are available, what promotions are available, how easy the site is to use and any other key features that enhance the site before we draw our conclusion about how BetStars' newest addition matches up in the competitive world of online sports betting.
So without any further ado, let's begin by taking a look at how easy the new BetStars Sportsbook is on the eyes and fingers.
Click here to join BetStars Sports today.
BetStars Sports site design and features
If you are accessing the BetStars Sportsbook from within the UK, then you'll need to download the UK-compatible version of the software.
This is automatically prompted when you try to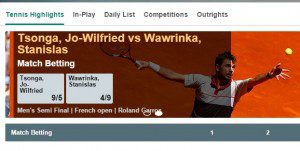 log in, if you have not already got the UK version downloaded.
Once you have downloaded the UK-friendly version of the BetStars 7 software, then the new front end will load up.
You find the sports betting option by clicking on the 'Sports' tab at the top of the page and when you do, a rather basic home page loads up.
The tabs across the top of the page list the available sports on BetStars Sports at present and underneath are the betting highlights for the coming day and week. Along with in play match betting, featured bets as well as top coupons and the most popular bets people have made on the site.
Your bet slip sits to the right of this page and you add selections to the slip in the same way as on many other sites, by clicking on the odds of the bet that you wish to make.
You can alter the odds format between American, fractional or decimal to suit your needs and clicking on the In-Play tab on the top section of the screen takes you to a dedicated In Play betting section.
The site is clearly still being developed and is still very much in its infancy with just the key betting markets available (the A-Z only lists six sports for example; on some other sites it is closer to 30 or sometimes 40 different sports). However, because there isn't much to navigate through, it is generally quick and easy to find your markets to bet on.
As designs go, the site looks ok, but the white background does make it appear as if the site has been cobbled together quickly and it does look somewhat drab, compared to other sports betting sites available on the web or via mobile.
Betting options at BetStars Sport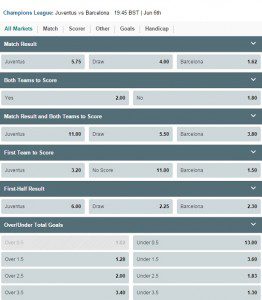 As we've stated in the previous section, at present there are only six different sports available that you can bet on at BetStars Sports:
Football
Tennis
Basketball
Rugby Union
Handball
Ice Hockey
Although in the A-Z list, there is a note at the bottom which says that more sports will be added to the list "very soon."
One glaring omission here for sports betting fans that is immediately apparent is the lack of some key sports, most notably horse racing and greyhound racing, but also sports such as cricket, motor sports and golf that are equally popular for sports betting punters to bet on. One can only hope that BetStars will address these omissions "very soon."
The good news is that for each of the six sports that are currently available at BetStars Sports, they generally have a great selection of markets when you click on the tab. Certainly all the key markets for each sport are there as are a number of less commonly bet upon markets. This level of detail is welcome given the scarcity of sports on the site.
So in short, while there are not yet a lot of sports to choose from on BetStars Sport, the options available for the sports the site does include are generally pretty good, so if you are a football, tennis, basketball, rugby union, handball or ice hockey punter, you'll find plenty to occupy you here.
Promotions and bonuses available to UK punters
Note that you use the same account for BetStars Poker and BetStars Casino as you do for BetStars Sports, so you could join by using the BetStars Poker Free £20 offer (deposit £10 required) using the bonus code 20FOR10.
This would give you additional bonus money for poker, and you could use your deposit for sports betting. It is unclear if your £20 free can be used for sports betting as well as poker, though it does say that BetStars may withhold any bonus if they suspect "it has not been made with the intention of using it to play real money poker games."
The site is also offering free BetStars Sports bets. Place your first sports bet of at least £10 and BetStars will credit your account with a free £20 bet, which must be used within 7 days.
Ease of use
Given that there aren't a huge number of options on BetStars Sports, it is generally an easy site to use. Navigating to your chosen betting market is quick and easy, clicking on the odds transfers the bet to your betting slip on the right and you just click the blue Place Bet button to make the bet.
There isn't a massive amount to navigate through to get to anywhere, so in terms of ease of use, BetStars Sports is a simple site for anyone to use.
Other options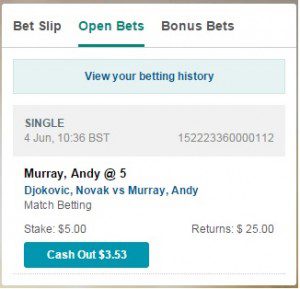 Although BetStars Sports very much has the feel of a sports betting site that's been hurriedly 'tacked on' to a well-established poker site, it does have some other options available.
In Play betting is available, which is impressive given the number of sports on the site. And the In Play markets available are extensive, especially for Football and Tennis.
There is also a Cash Out facility (pictured) offered on qualifying bets, which allows users to cash out their bet for the stated amount at any time prior to the result of that bet being decided.
The use of coupons to navigate the site also makes it easier to find the most popular bets for the more popular sports and the Bonus Bets section of your bet slip makes it easy to see if you have qualified for any free bets with the site.
Conclusion
It is fair to say that BetStars Sports is a somewhat limited sports betting site that does have the look of a hurriedly put together add on to the more established poker site. It certainly doesn't compare with the best sports betting sites around, such as Bet365 Sport.
However, if you predominantly bet on the few sports it has available, then BetStars Sports offers an excellent choice of markets for these sports in a quick and easy to use site that has some good features (notably In Play betting and the Cash Out feature) which enhances the experience still further.
As a site still in development, BetStars is not quite up with the best of the best yet, but it is a promising start, although the omission of a dedicated horse racing service in particular does limit its appeal in the UK in particular.
That said, if you enjoy soccer and tennis betting in particular then BetStars is a solid choice, the odds offered broadly match the best sports betting companies in the UK tend to offer and the extensive range of markets make it a perfect choice for the keen poker player, who may like the occasional bet now and then.
Company overview

BetStars is the largest online poker site in the world – with over 50 million players globally it is the dominate force in the online poker market with an estimated market share of 66%.
BetStars was founded in 2001 by Isai Scheinberg who, at the time, was a senior computer programmer for IBM in Canada.
During the late 1990's, the growth of online gambling was beginning to gain popularity and Scheinberg's aim was to program and develop a poker site. Development began and on September 11, 2001 the BetStars beta site went live.
The beta site did not offer real money wagering, but in December 2001 the full BetStars site went live, offering real money wagering for the first time. Scheinberg chose to base BetStars in Costa Rica, Central America where a number of online gambling companies had set up due to Costa Rica's gambling-friendly laws.
Scheinberg formed a company called the Rational Group and recruited his son Mark Scheinberg to look after the business. In 2005, the Rational Group relocated to the Isle of Man due to attractive taxation rates and that the Isle of Man allowed gambling companies to accept bets from customer from within the United States.
Online poker grew steadily in popularity in the early 2000's, and in 2002 BetStars launched the World Championship of Online Poker (WCOOP). The WCOOP has now grown to be the largest online poker series tournament in the world which now offers over $60 million in annual prize money.
In 2003, online poker and BetStars made headlines around the world with Chris Moneymaker winning the World Series of Poker (WSOP). The WSOP is regularly the largest poker tournament by prize pool money in the world and attracts competitors from around the globe, all aiming to make it to the final table.
Moneymaker was an amateur poker player from the US who entered the WSOP through an $86 satellite tournament on BetStars, progressing through the tournament before eventually reaching the main event final table in Las Vegas.
Moneymaker defied the odds and won the WSOP and the $2.5 million prize fund with his feat becoming global news. Overnight, amateur players worldwide began to sign up to online poker sites, in particular BetStars, as they looked to emulate the feat of Chris Moneymaker which became known as the 'Moneymaker Effect'.
As BetStars' revenue and profit continued to grow, Scheinberg began to look into the possibility of floating the company on the stock market or selling the company. Industry experts put a price of $2 billion on BetStars and there appeared to be no shortage of interested parties.
Other poker sites such as PartyPoker had successfully floated on the stock market and it was felt that this was a natural progression for the company. This was all to change in 2006 when the United States government implemented the Unlawful Internet Gaming Enforcement Act (UIGEA).
This new law made it illegal for any US bank to process banking transactions on behalf of US residents that related to online gambling, including poker. Through this law being implemented, a number of online poker sites ceased to accept US customers but Scheinberg decided to take on the US government, arguing that poker was not gambling but rather a game of chance.
Unlike casino games like roulette and blackjack that have a house edge, poker has no house edge. The players compete against each other with the cards they are dealt; BetStars merely facilitate and provide the means to do this.
With the uncertainty over the UIGEA, Scheinberg decided against a stock market flotation and continued to allow US customers to use BetStars. Legal arguments ensued for a number of years but BetStars continued its growth in revenue and profits.
Worldwide BetStars events were held and BetStars launched a number of country-specific BetStars sites. In 2009 BetStars held the largest online poker tournament when almost 150,000 competitors battled it out.
In 2011 events with the US Government came to a head when, on April 15, the BetStars website was shut down by the US Government and a number of individuals, including Scheinberg, had criminal charges including money laundering and bank fraud filed against them. With this new legal development, BetStars finally decided to stop accepting US customers.
Five days later, BetStars reached an agreement with the US Justice Department to allow them to regain use of the website to begin to facilitate withdrawals to their US customers.
Over the next few months, legal battles continued between BetStars and the US Justice Department as both sides looked to come to an accord. In 2012 it was announced that an agreement had been reached.
In the settlement, BetStars agreed to pay $547 million to the US Justice Department and also $184 million to the clients of rival online poker site Full Tilt Poker who had yet to receive their monies owed. Through this payment to the clients, BetStars acquired the assets of Full Tilt Poker.
The agreement also left the door open for BetStars to return to the US market as and when legal processes allowed. BetStars also did not admit to any wrongdoing in the final settlement.
Despite losing the ability to access the lucrative US market, BetStars was still the world's largest online poker site and in June 2014 it was announced that the Canadian online gaming and gambling company Amaya Inc. had agreed on a deal to purchase the Rational Group for $4.9 billion.
In the deal, both Isai Scheinberg and Mark Scheinberg left the Rational Group and Amaya set the target of reintroducing BetStars into the US market on a state by state basis. Amaya Inc. is now listed on the US stock exchange the NASDAQ, meaning that US citizens can buy and sell share trades in BetStars the company but still as yet cannot use BetStars' product.
Legal negotiations are ongoing as BetStars looks to receive the licensing that would allow them to offer services in the US states that currently allow online gambling – Delaware, New Jersey and Nevada.
Aside from poker, BetStars now also offer a full casino site offering a wide variety of classic casino games and slots and a sports betting site offering a varied number of international events and betting markets.
Technology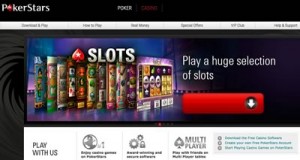 Players wishing to play on BetStars are required to download software, both Windows and Mac compatibility are available.
For mobile customers, BetStars have a number of apps for both Apple and Android devices.
The main app is the BetStars Mobile Poker App which allows players to connect to and play in a number of events and tournaments through their mobile phone or tablet. BetStars also have a dedicated app called BetStars TV which broadcasts live streams of tournaments as well as featuring interviews and the latest poker news.
In addition there is also a dedicated app for the European Poker Tour which brings all the latest news from the BetStars European Poker Tour.
As the leading online poker site, BetStars have been at the forefront of both connectivity and technological advancement as they look to ensure the smoothest operating system available. A large scale operating system update was announced in 2014 as BetStars looked to continue the security and playability of their site.
With online events and tournaments attracting a large number of participants, BetStars has invested highly in technical infrastructure to ensure that their server capability is adequate to manage the immense amount of web traffic that these tournaments attract.
Sponsorship
The main area of sponsorship that BetStars involves itself in is the sponsorship of poker tournaments and events and the sponsorship of professional poker players.
With player sponsorship, BetStars look to utilise the professional players profile to attract customers to their site through them being in the mainstream media and by featuring in televised tournaments.
BetStars also utilise a number of brand ambassadors to market the global BetStars brand. At present the highest profile BetStars brand ambassadors are the Portuguese and Real Madrid footballer Cristiano Ronaldo and the Brazilian and Barcelona footballer Neymar.
Appearing in advertising and marketing campaigns, brand ambassadors also make appearances in PokerStar events and tournaments.
Operating locations
BetStars is a registered legal business in the Isle of Man.
The Isle of Man is a British Crown Dependancy and is located in the Irish Sea between the United Kingdom and Ireland.
Regulation and reputation
BetStars is licensed and regulated by the United Kingdom Gambling Commission – Licence number 000-039108-R-319334-001.
Aside from this main regulatory licence, BetStars also complies with a number of country-specific licensing requirements for a number of European countries including Germany, France and Spain.
BetStars is a validated member of the Interactive Gaming Council (IGC). The IGC is a not for profit organisation that aims to bring together and improve all areas of the interactive online gaming industry. It looks to establish guidelines and best practices for its members and to also provide an impartial dispute resolution service between members and their customers.
With the well-publicised issues between BetStars and the United States government, at present BetStars do not have any licence to accept customers from the US. BetStars have commented however that there is a high possibility of them receiving a licence to offer online services within the state of New Jersey by the end of 2015 and hope that this may be expanded on a state-by-state basis into 2016.
BetStars company timeline and milestones
2001 – BetStars website goes live offering real money poker games.
2002 – BetStars launches the World Championship of Online Poker.
2003 – Chris Moneymaker wins the World Series of Poker after qualification through a BetStars satellite tournament.
2004 – BetStars launches the European Poker Tour.
2006 – The US government implements the Unlawful Internet Gaming Enforcement Act (UIGEA). A number of leading online poker sites choose to withdraw from the US market but BetStars opt to continue to offer services to US customers.
2006 – BetStars launches the first weekly online tournament to offer a prize pool of $1 million.
2009 – BetStars hosts the largest ever online poker tournament with almost 150,000 players taking part.
2010 – BetStars becomes one of the first online poker companies to be granted a French operating licence.
2011 – Poker's 'Black Friday' as the US Justice Department shut down a number of online poker sitesincluding BetStars and file federal charges against PokerStar executives.
2012 – BetStars launch their dedicated mobile app on for both Apple and Android devices.
2012 – BetStars reaches a financial agreement with the US Justice Department with no admit of any wrongdoing. Through the agreement, BetStars takes control of the it's rival Full Tilt Poker.
2014 – The Rational Group is taken over by Canadian company Amaya Inc. in a deal worth $4.9 billion.
2014 – Amaya Inc. is listed on the US Stock Exchange the NASDAQ.
BetStars has also won a number of industry specific awards throughout its history and in February 2015 was named as the Best Online Poker Operator for the third consecutive year at the International Gaming Awards.
The International Gaming Awards are run by the iGaming Post who are the major online daily gaming industry newspaper.
In November 2014 won the eGaming Review (EGR) Operator Awards for both Poker Operator of the Year and Mobile Operator of the Year. This was added to in June 2015 when BetStars received two awards at the (EGR) Operator Marketing and Innovation Awards, winning the Online Gaming Brand of the Year and the Best Tablet App of the Year.
EGR is the leading magazine and website for the online gambling industry and publish an annual top 50 of the leading e-gaming industry operators.
Financial history
Having posted revenue figures of $1.1 billion for the year ended 2013 and a gross profit of $420 million, BetStars figures are now incorporated into the quarterly figures released by their parent company Amaya Gaming.
For the fourth quarter of 2014, Amaya Gaming announced revenue figures of $368 million with a pre-tax loss figure of $27 million, the loss figure due to the acquisition of BetStars. Financial forecasters predict that total online gambling revenue will reach $38.7 billion this year, with poker making up 10% of this total.
With BetStars being the leader in their field, increased revenue and a return to profits are highly likely in the future.
After the acquisition of the Rational Group by Amaya Inc., Quebec's security regulator the Autorité des marchés financiers (AMF) made it known in December 2014 that they were investigating the takeover deal, specifically with regards to possible insider trading.
As of July 2015, no charges have been filed.
Charitable endeavours
BetStars regularly undertake a number of charitable endeavours through their parent company Rational Group and their Helping Hands corporate charity programme. Through Helping Hands, and in conjunction with CARE International, BetStars and its players have donated to a number of charitable causes through the years.
CARE is a major humanitarian relief charity that was founded in 1945. It now focusses on international development projects and delivering emergency relief. This year CARE have provided emergency relief for, amongst other things, victims of the Vanuatu Cyclone and the Nepal Earthquake.
BetStars highlights the relief efforts on their site to ask their customers for donations and also pledges to match any customer donation. BetStars and their players have an admirable history of raising money for emergency relief efforts, with the company and its players raising over $560,000 for victims of the Philippines Typhoon in 2013.
Through CARE International, BetStars are able to update their players on where and how their donations are directly used.
BetStars also regularly organise charity tournaments and events around the world in which both celebrities and normal players donate winnings to various charity organisations. In addition to direct appeals, and charity tournaments and events, BetStars also allows players to use their player rewards points to make donations to both CARE International and Cancer Research UK – a United Kingdom-based charity which is the largest independent cancer research charity in the world.
Key executives
With the takeover of the Rational Group by Amaya Inc. in 2014 which led to Isai Scheinberg and Mark Scheinberg leaving the company, BetStars is now under the control of the executives of Amaya Gaming.
Amaya Gaming CEO – David Baazov
David Baazov oversaw the takeover off the Rational Group by Amaya Inc. in what was one of the boldest financial takeovers in recent years.
Amaya Inc. were a small gaming company with revenue of only $150 million, but through Baazov's vision and negotiations he secured the financial backing and security to launch and successfully take over the Rational Group, a company with annual revenues of over $1 billion.
Following the successful takeover, Baazov has overseen the floatation of Amaya Inc. onto the NASDAQ and is now aiming to reintroduce BetStars back into the lucrative US market.
[toc]