How would you like the chance to earn up to £525 in bonuses every week in January simply by enjoying a host of top quality casino games and slots at one of the UK's best sites? Well, if that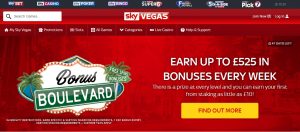 sounds like an opportunity that you would be foolish to miss then you need to take a look at the latest promotion currently available at Sky Poker's sister site Sky Vegas.
The promotion is called Bonus Boulevard and the offer is available to all Sky Vegas customers (and don't panic if you joined Sky via SkyBet, Sky Casino or Sky Poker, you still qualify as a Sky Vegas customer through your account). To register for the promotion, simply visit the Bonus Boulevard promotional page on the Sky Vegas site and click on the yellow Opt In button.
It is important that you do this before starting to play any games at Sky Vegas as it is only after you have clicked on the Opt In button will your play count towards realising the bonuses available as part of the offer.
How does the Bonus Boulevard promotion work?
Once you have opted in to the promotion then when you play with real cash on a variety of games at Sky Vegas, then you will earn a number of points. The points you can earn are as follows:
For every £1 in cash wagered on eligible slots or instant win games, you receive 1 point
For every £5 in cash wagered on eligible tables games, such as Roulette, you receive 1 point
For every £10 in cash wagered on eligible card games, such as Blackjack, you receive 1 point
Over the course of the qualifying week, the number of points you earn accrues and as you reach a certain number of points you attain a new level on the Bonus Boulevard reward scheme. As you progress through each level, you can earn an additional reward (the rewards on this bonus are cumulative, so if you finish the end of the week on Level 5, you will earn the rewards for Levels, 1, 2, 3, 4 and 5, not just the reward for Level 5).
Once a qualifying week (which runs from Monday through to Sunday each week of the promotion) has been completed, the points total for every individual resets to 0 and they can start working their way through the levels once again on the next qualifying week.
What are the Levels and Bonuses I can achieve and how many points do I need to unlock each level?
Outlined in the table below is the list of each Level of the promotion and the different bonuses unlockable when you collect enough points to reach each level. Remember, all bonuses are cumulative, so you will receive the bonus for the Level you reach, plus all the levels beneath your level.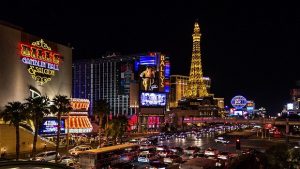 | | | | |
| --- | --- | --- | --- |
| Level | Points Required | Bonus | Cumulative Bonus |
| 1 | 10-49 points | £1 Free Scratchcard | |
| 2 | 20-249 Points | 5 Free Spins on Selected Slots | |
| 3 | 250-499 Points | 10 Free Spins on Selected Slots | |
| 4 | 500-999 Points | £5 cash bonus | £5 |
| 5 | 1,000-1,499 Points | £5 cash bonus | £10 |
| 6 | 1,500-1,999 Points | £5 cash bonus | £15 |
| 7 | 2,500-4,999 Points | £10 cash bonus | £25 |
| 8 | 5,000-9,999 Points | £20 cash bonus | £45 |
| 9 | 10,000-19,999 Points | £30 cash bonus | £75 |
| 10 | 20,000-29,999 Points | £50 cash bonus | £125 |
| 11 | 30,000-49,999 Points | £150 cash bonus | £275 |
| 12 | 50,000+ Points | £250 cash bonus | £525 |
The bonus rewards are awarded within 48 hours of the player reaching the level. Usually this means if a player reaches a level on the Monday, they will likely receive their bonus some time on Tuesday.
How long will the Bonus Boulevard promotion run for?
Sky Vegas have announced that the Bonus Boulevard promotion will start on Monday 9th January 2017 and will run through until the final date of Sunday 26th February 2017. That means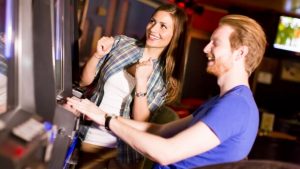 there are seven individual promotional weeks that are part of the promotion:
Week 1 – Mon 9th to Sun 15th January
Week 2 – Mon 16th to Sun 22nd January
Week 3 – Mon 23rd to Sun 29th January
Week 4 – Mon 30th January to Sun 5th February
Week 5 – Mon 6th to Sun 12th February
Week 6 – Mon 13th to Sun 19th February
Week 7 – Mon 20th to Sun 26th February
Each promotional week begins at 00:00 on the Monday of the stated week and finishes at 23:59 on the Sunday of the stated week.
Are there any other rules or regulations that I need to know about?
To participate in this offer, all points can only be earned by players using real cash for their wager. Money that has been claimed as a bonus, awarded as part of an offer or held funds cannot be used for the offer.
Any winnings earned from the Level 1 reward of a £1 scratchcard, will be subject to a 5x wagering requirement and you have to play through your wagering requirement on selected Instant Win games.
Similarly, any winnings earned from Level 2 or 3 of the promotion (free spins) will have a 1x wagering requirement placed on them. Furthermore, you can only use the 5 or 10 free spins on any of the following slot games:
King Kong Cash
Slots O' Gold
Count Duckula
Deal or No Deal: What's in your box?
All cash bonuses that a players earns between Levels 4 and 12 are credited as non-withdrawable bonus cash and must be wagered through once before you can withdraw any cash attributed to the bonus. What this means is if you earn £10 as a bonus, you need to wager that £10 on Sky Vegas games before you can withdraw any winnings attributed to it.
Once you have been awarded a bonus, you have seven days from the date that the bonus was credited to your account to use it, otherwise the bonus will expire.
The Bonus Boulevard is a great way to potentially earn up to £525 in cash bonuses, plus free spins and a free scratchcard simply by enjoying a number of top quality games at Sky Vegas. Why not log in today, Opt In and see if you can be one of Sky's customers earning themselves a juicy New Year bonus.