In the run up to Christmas 2016, Bet365 Poker ran a number of missions-based promotions throughout the month of December and one of these was the €3,000 MTT Missions offer, which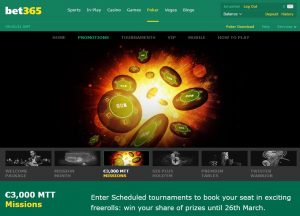 offered players the chance to play for a total prize fund of €3,000 over the course of a week by completing two relatively simple missions.
One mission was a weekly mission to be completed once the other was a daily mission that could be completed each day of the promotion.
Well it seems that these missions proved to be a huge success over December so much so that Bet365 have opted to extend the promotion during both January and February, right through until the 26th March 2017.
As with the last mission, there are just two missions players can complete a Mini Mission (which is the equivalent of a daily mission) and a High Mission (which can only be completed once per week).
The process of the offer remains the same. Complete the Mini and High Missions each week to earn yourself a place in freeroll events held each Sunday with a total of €3,000 in prize money up for grabs in these All In events each week.
Let's learn a little more about how this promotion will work.
Bet365 €3,000 MTT Missions offer explored
The good news is that the two missions that players can complete for this offer will not change for the duration of the promotion. As such, you can simply complete these missions every week of the promotion repeatedly to earn tokens into each of the two big Freeroll events held on each Sunday of the promotion.
The missions that you can complete as part of the offer are outlined below:
Mini Mission (once per day) – Play three scheduled tournaments with a buy in of €10 or less and you will earn a €500 MTT Mini Mission tournament token
High Mission (once per week) – Play three scheduled tournaments with a buy in of more than €10 and you will earn a €2,500 MTT High Mission tournament token
You are allowed to enter any single €500 MTT Mini Mission tournament a maximum of four times in a single week using four different Mini Mission tournament tokens, however you can only enter the €2,500 MTT High Mission tournament a maximum of once per week, meaning all players have the same chance of earning a cash prize from this event.
The tournaments that you can qualify for are played each Sunday in the promotion through until Sunday 26th March. The Mini Mission tournament gets under way at 6pm GMT, with the High Mission tournament starting 15 minutes later at 6.15pm GMT.
The weekly qualifying period for each of the two tournaments begins at 18:00 GMT each Sunday until 17:59 the following Sunday.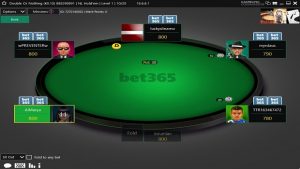 Once you have earned a tournament ticket, then you have 14 days from the time it was credited to you within which to use it, or the tournament ticket will expire.
What can I win in the weekly tournaments?
Both the €500 and €2,500 weekly tournaments are what is termed "All In" events. What this means is that on every hand in the tournament, every player is placed "All In" with the hand that they are dealt. The winner at each of the tables is then decided and a new hand is dealt and once again all players are placed "All In" at the table. This continues through the tournament until a single winner is declared.
This means that you do not need to actually play in the tournament or even be present online when the tournament kicks off as you are automatically placed "all in" on each hand anyway. All you need to do to make sure you participate is register for the tournament using the token(s) that you have earned and if you win a prize, then it will be credited to your account automatically, usually within 24 hours of the event finishing.
The prizes on offer in each tournament are very simple to understand. In the €500 Freeroll, there are 50 prizes of €10 worth of tournament tokens on offer for the top rated 50 players in that tournament. In the €2,500 Freeroll, there are 50 prizes of €50 worth of tournament tokens up for grabs.
These tournament ticket prizes can be used to enter any scheduled tournament or sit & go with the corresponding buy in amount, or you can use them to enter cheaper tournaments though you will not receive back the balance from the tournament ticket.
For example, if you win one of the 50 €10 tournament token prizes on offer in the €500 MTT Missions freeroll in one week, then you can enter a scheduled tournament or sit & go game with a €10 buy in. You could also enter one for a buy in of €5, but you would lose the remaining €5 value on your tournament ticket.
Other Missions Tournaments currently available at Bet365 Poker
Remember too that in addition to the €3,000 MTT Missions promotion at Bet365 Poker, there are two other missions based offers currently running on the site.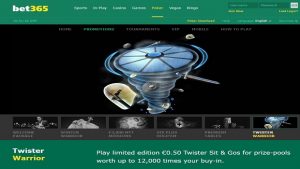 You can try your hand at the ever popular Twister Poker cheaper than ever before thanks to Bet365's Twister Warrior promotion, which is offering the chance to participate for just a €0.50 buy in and where you could be a lucky winner of either a €5,000 holiday, or two €500 value top tech prizes.
Don't forget too that Bet365 Poker is also running another of its successful Mission Month promotions. This offers you a new series of missions which you can complete throughout January to earn yourself a number of prizes including the chance to participate in a daily €1,000 freeroll, as well as a weekly €20,000 freeroll.
This promotion utilises different missions for each of the qualifying weeks of the promotion with each mission you complete offering you either a Mission Month tournament ticket, or a Premium Steps buy in at Step 3 (worth €2.50).
So remember to tune in to Bet365 Poker and tackle a wide range of missions available for you in the first few months of 2017.