For the vast majority of people, having a flutter online at SkyBet is something that they can both control and enjoy in a responsible manner, but that doesn't mean that there aren't any
dangers associated with gambling.
There are certain people who can develop problems with gambling if they are not encouraged and reminded to gamble in a responsible way and the Gambling Commission in the UK has made it clear to any site offering any form of wagering that they should always encourage and actively promote responsible gambling.
In addition, they should also offer guidance, advice and support to people who may feel they have a gambling problem.
So the question is, with SkyBet being one of the biggest betting sites in the UK, how does it ensure its customers gamble responsibly? Also, what does it offer those punters who may feel they need support to deal with gambling-related issues and problems?
In order to find this out we need to first identify what both responsible and irresponsible gambling is and then take a closer look at how SkyBet deals with the latter.
What is Responsible Gambling?
Perhaps the strangest thing about gambling responsibly is that while there are plenty of guidelines about what irresponsible gambling looks like, there are not quite so many indicators as to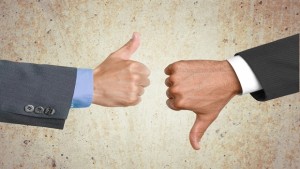 what responsible gambling is.
However, there are some simple indicators that you can use as a guideline to check whether you are gambling responsibly, some of the most common being:
You only ever gamble with money you can afford to lose.
You never 'chase your losses' by making additional bets after a bet has been lost
You don't immediately re-bet all your winnings from a successful bet on other bets
You can stop betting at any time and don't feel a pressing need to make another bet
You don't hide your betting habits from friends and family, nor how much you spend
You budget effectively for your bets and once your budget is used up, you will stop betting
You see betting as a form of fun or leisure activity, not something you have to do
You view a winning bet as a nice bonus, rather than a necessity to enjoy betting
However it is not just your behaviour that determines how responsibly you gamble, but your attitude too. Both of these factors combine to ensure you either have a healthy, positive and balanced relationship with gambling, or whether it has the potential to be more problematic.
How can I tell if I'm gambling irresponsibly?
Of course, looking at the list above, it is relatively simple to understand that if you are doing the opposite of what is stated in each statement, then you could have an issue with problematic gambling.  Key indicators of problematic gambling include:
Underestimating how much you spend on gambling in terms of time and money
Keeping your betting spending a secret from friends and family, or lying about it
Feeling like you must place a bet
Feeling like your bet must win if you are to enjoy it
Reacting angrily when a bet loses (and placing a knee-jerk reaction bet as a result)
Spending more than you can afford to lose on betting
There are other behavioural and emotional indicators too, such as feeling that you have to place a bet to get through the day, or that you must place a bet to try and win money to pay for important items.
How can SkyBet help me to gamble responsibly?
In the Help and Support section of the SkyBet site, there is a section entitled Keeping Gambling Fun which deals with how SkyBet can offer help to people who think they may have, or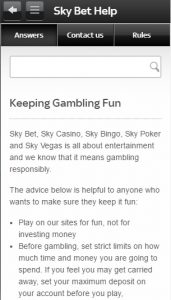 have developed an unhealthy relationship with gambling.
In this section, SkyBet details a list of helpful hints and tips which if followed, will ensure that you use the SkyBet site (or indeed any betting or gambling site) sensibly. These include plenty of practical advice such as installing filtering software on your PC to limit access to sites for minors, or setting deposit limits to use on the site.
Across its range of sites Sky also offers its customers a Gaming Reality Check service. This is a service that monitors the amount of time you spend on any or all of the Sky family of betting sites and when a certain amount of time has expired, a notice will pop up on screen on the site you are betting on, to remind you that your stated amount of time has passed.
Sky also offers links to organisations that can help people that have developed problematic gambling habits including GamCare and Gambling Therapy.
What else can I do to ensure I gamble sensibly?
In addition to following the guidelines at SkyBet and using some of the features on the site to help curtail negative gambling habits and enhance the positive, you can also take several practical measures yourself to ensure you remain a sensible, responsible gambler.
Firstly, don't gamble when you are bored or angry. In situations like the latter, your judgement can be impaired and it is much easier to place a bet that you may well later regret.
In addition, do keep any other hobbies or past times that you enjoy going alongside gambling and devote a fair and proportionate amount of time to these too.
A sensible piece of advice to follow is work out exactly how much disposable (and it must be disposable) income you have available each week/month to spend on gambling and budget to spend that across the week/month. Be strict with those budgets and never exceed them. If you win, then withdraw the money and treat you or your friends and family so you can enjoy the fruits of your success, rather than simply re-investing your money on more bets.
What happens if I recognise I am at risk of having a gambling problem?
If you have read through this article and feel that your behaviour or attitude towards gambling means that you could have, or be at risk of developing, a gambling problem then you have already taken the first step towards making a positive move and that is by recognising that fact.
At this point, depending on how serious you feel the problem is, you can use some of the features on the Sky sites to monitor your gambling and take some of the steps and guidance outlined above to help you nurture better and more positive attitude to gambling.
If you feel you are beyond that and your gambling problem is more serious, then follow the links to receive specialist support at GamCare and Gambling Therapy. It may also be a wise move to contact all betting providers you have to suspend your account for the time being while you seek this support.
How big is the risk of irresponsible gambling?
Fortunately, irresponsible gambling affects just a small percentage of people who bet regularly online, but it is such a problem for the individual that sites need to actively discourage problem gambling behaviour and encourage responsible gambling whenever possible.  Fortunately, if you bet at SkyBet, that is precisely what you will see on every site in the Sky family.