How do you tend to use the BetStars service? Are you someone who uses a smartphone or a tablet to access the site and place bets or perhaps play some casino games or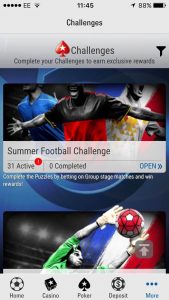 poker, or alternatively, are you someone who is usually sat at a PC when they log in to the BetStars website or client software?
Of if, like many customers, you own at least two if not three of these devices, which one of them offers you the best experience when using BetStars? Is the site easier to user and more accessible on a mobile device, or does the client software on offer on a PC still have the upper hand?
In this review, we will take a look at BetStars on two mobile devices, a smartphone and an iPad and in addition, we'll review the desktop version of the site. Before coming to a conclusion as to which way offers the best way to bet.
Remember, you do need to be a BetStars customer to play, so why not download any of the software outlined below and you can sign up today and get the latest BetStars new player offer to help kick start your betting on the site.
BetStars Mobile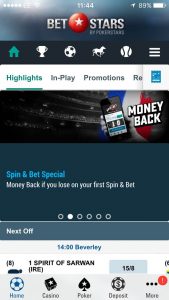 We have used BetStars extensively on an iPad pretty much since the site first came into being and we have also downloaded and used the site on a smartphone so in this review, we are referring to both devices, unless we specifically mention a difference between the two.
Downloading the BetStars software is relatively easy. You simply visit the App Store on an iOS device to download the software, while on Android or similar just visit the BetStars site from a browser to see what is available to download, or whether you prefer to use a mobile-compatible site to bet with.
On both tablet and smartphone, the BetStars software is relatively easy to locate and quick to download and install. Registering or logging in is quick and easy and the good news is, all the items you can find on the desktop version are present and correct in the mobile, including all offers (such as the Spin & Bet offer for example).
Navigating the site is slightly easier on a tablet, as it allows lateral movement sideways, on a mobile phone with a small screen, the list of items is presented as a scrolling menu up and down, which takes a little longer to find everything you want, but does make it easier to keep the details you want on screen.
Placing a bet is quick and easy and you can also access all the bets you would find on the standard website, plus you also can access the other BetStars sister sites, Casino and PokerStars direct from within each app.
There's little difference between each of the apps on mobile or tablet, but we did think the extra screen size made using the tablet slightly better, although mobile users won't find any problems if they choose to use the site on their handheld.
BetStars is excellent for mobile users, iPad/tablet users probably get slightly the better deal but the difference is minimal – Overall Rating: 8/10
BetStars Desktop
Initially, BetStars was only available as part of a client software download from the BetStars site and you had to run this software on your PC to access the BetStars site (as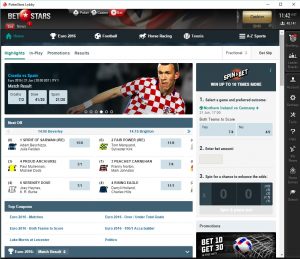 well as Casino and PokerStars). However since a big revamp recently, you can now log in to BetStars.UK a brand new site which allows you to bet without needing to download the software if you prefer.
However, it should be noted that this browser-based site isn't as flexible as the client software and as such, we didn't really use it for this review as we felt that the client software was still by far the most flexible and preferable option on a desktop.
Logging in on the software is simple as is downloading and installing it. You can easily click through each of the three sites and all the usual promotional items are presented on the screen in a simple and easy to follow style. Finding items is also quick as the BetStars client software has been designed very much with the end user in mind.
There is a lot to like about this site for the end user. Everything is in a logical place and if you have a decent sized monitor and expand the screen, then you can see all the items very clearly, yet even on a smaller screen all the key information is available.
Placing a bet is quick and easy, although sometimes the bet slip does tend to not quite align correctly which is an annoyance and requires you to move the screen up to rectify the situation. In play betting too is as easy on a desktop as it is on a mobile device.
It's a close run thing but at the moment, even though we love the client software, the bet slip glitch is a nuisance and that just brings it down that crucial half mark – Overall Rating 7.5/10
Conclusion
Although we've rated the mobile software for BetStars just a smidgeon better than the PC version, the difference is tiny, down to one small glitch which will likely be addressed in the next (regular) update from the site. What is true however is that regardless of whether you are using BetStars on your mobile, or on your PC, you will be accessing a top class site and an excellent sports betting service.