One of the best things about signing up with Coral sports betting service is that you get a choice of starter offers available to you. Unlike other sites, which only have one offer, with Coral you can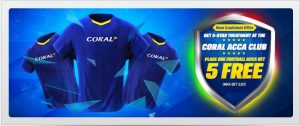 choose the offer which suits you best, whether that is for casino, slots, sports betting, or even a specific type of sports bet.
That's because new players at Coral can now take advantage of a fantastic new bonus deal that is exclusively designed for punters that enjoy placing football accumulator bets.
It's called Coral Acca Club and if you are one of the millions of punters who throughout the season enjoys a little bit of football accumulator betting, then this is an offer you should pay close attention to.
Before we take a closer look at the offer, let us examine precisely what form of betting we mean when we talk about football accumulator bets.
What are football accumulators?
Football accumulators are bets where a number of selections from the same market (usually, but not always, the Match Result market) are combined into a single bet of two or more selections.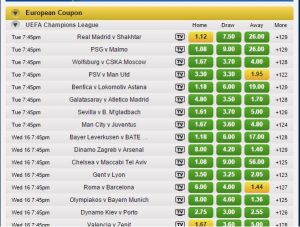 Bets of two and three selections are most often called "Doubles" or "Trebles" with bets of four or more selections called "accumulators".
These are examples of low risk/high reward betting where a punter generally bets a small amount of money and, if their selections all win, they can take home a considerable amount of cash. As a result of this, and due to the nature and popularity of football, these forms of bets have become one of the most common and popular placed at sports betting sites.
A football accumulator works in the following way; let's say our customer places a £10 bet on a four-fold football accumulator, the selections are priced at 2/1, even money, 3/1 and 11/10. As each of the selections wins, the projected return for that win is used as the stake on the next selection, thus it accumulates size with each win.
If at the end of the bet, the customers four selections outlined above have won, then for a £10 stake, they will earn a total return of £504, £494 profit.
It is precisely for this reason that accumulator bets, especially on football matches, remain so popular with punters around the globe and it is this popularity Coral hope to cash in on with their Coral Acca Club promotion.
How can I qualify for Coral Acca Club?
Coral Acca Club is a promotion that is available as a bonus for new customers to the Coral Sport site only, which unfortunately means that current Coral members cannot enjoy this bonus.

However if you are yet to sign up with Coral then you can take full advantage of this great value offer.
The offer is available to residents in the UK and Republic of Ireland that open a Coral account via mobile or desktop, and they must register with Coral through the Coral Acca Club promotional page link (with the big green Register Now button) in order to receive this bonus.
Once you have registered with the site and deposited some cash into your account, you can then make your qualifying bet. To earn your bonus, you must place a qualifying bet of up to £20 on a fourfold or more accumulator that has odds greater than 1/2.
After this bet has been placed, Coral will reward you with five free accumulator bets to the same stake as your opening bet (up to a maximum of £20). So if you make your first qualifying bet a £10 accumulator, you will receive five free accumulator bets from Coral worth £10 each.
You receive your free bets in succession. You'll receive your first free bet immediately after placing your qualifying bet. Your second free bet comes seven days after, your third 14 days after, fourth bet is 21 days after and the fifth and final free bet is issued 28 days after your qualifying bet.
You have seven days within which to use each of the free bet tokens.
For the purposes of this offer, you cannot use the Cash Out feature on either your qualifying bets, nor the free bets. All bets must be run to completion. Furthermore, if any of your free bets win, then the stake is not included in any of the returns.
You must make your initial bet to qualify for Coral Acca Club within seven days of opening your new Coral account, any later than this and players will no longer be eligible to receive the free bet offer.
Tips for maximising the benefit of the Coral Acca Club offer
Football Accumulator bets are popular as they offer a large reward for a small outlay and the temptation for new punters is to add more selections to their slip to increase the size of their potential win hugely. However, the more selections you add to the slip, the more difficult it is to land a winning bet.
So top tip one for this bonus is to ensure that you place the minimum number of selections permitted with the bet to qualify, which is four selections.
Also when it comes to selections, remember that longer odds selections, while tempting as they'll greatly increase the value of your return, are longer odds for a good reason, that being they are not likely to happen.
Therefore, the next tip is to ensure that you pick selections which have a solid chance of success, even four even money selections, if placed as a fourfold accumulator bet of £20, would return you £320, for a total profit of £300. Do that for each of the five bets and you will be very happy indeed.
Another useful tip is to look for value by adding one or maybe two draw selections to your coupon. You can get good money on predicting the draw option in a match and with draws occurring regularly frequently in football, you can get great value by adding one or more draw selections to your slip.
The final tip is arguably the most sensible, don't expect to win all the time. Accumulator bets, while hugely popular, are always very difficult to win, even with just four selections. So treat any win as a bonus and you'll develop the right attitude towards this fantastic way to wager.