The one thing that every poker player agrees upon is that you can always improve your skills. It doesn't matter if you are a top quality tournament professional with millions in earnings, such

as Phil Ivey or Viktor Blom, or if you are a relative novice to the game with limited experience. Poker is a game that can always teach you new things.
Sky Poker recently announced Neil Channing as their new Poker Ambassador and it seems that Neil has been busy thinking of ways he can not only offer Sky Poker players the chance to win big money as part of a promotion, but also how to improve their game markedly
The answer has been to announce a brand new promotion for February; Up Your Game and to sweeten the deal, Sky Poker have set aside £60,000 in prize money to tempt players to give this innovative new promotion a go.
If you have not joined Sky Poker yet then remember you can get all the latest Sky no deposit bonus information you need by clicking on this link.
The aim of the Up Your Game promotion
If there is one thing that all top players agree upon, it is the fact that in order to improve your poker skills at the table, then you need to increase the amount of poker that you play. Of course, if you are playing one table at a time and are playing to what most people feel is a generally sensible strategy of only playing the top 15 to 20% of hands you receive, then that does mean a lot of sitting around.
Now not everybody is in the position to be able to play one table of poker for a long time every day. Many poker players work and just don't have the time available to devote many hours each day to playing.
Fortunately, there is a way to play more poker in the same amount of time and that is by playing at two or more tables at once.
Explaining the decision for Sky Poker to run this new promotion, Neil Channing said:
"One of the most dangerous habits in poker is playing dodgy starting hands because you want some extra action.
A great way to satisfy the desire to get stuck in without playing all those bad cards is obvious; open another table and you'll get twice as many pocket pairs and suited connectors. Luckily Sky Poker are rewarding you for doing this in February making this a great month to Up Your Game."
The Up Your Game promotion explained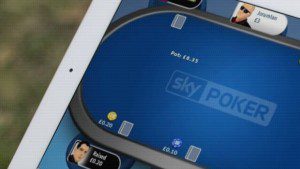 The general aim of the Up Your Game promotion is to encourage people to earn more Sky Poker Points in February than they did in January and by doing so, earn themselves entry into up to three fantastic freeroll events, scheduled to take place early in March.
In order to gain access to the freerolls, players need to increase the amount of Poker Points that they won on Sky Poker in January by a certain percentage.
If you increase the amount of poker points earned in February compared to January by 25%, then you will gain access to a £10,000 freeroll.
If you increase the poker points won by 50%, then you'll gain access to both a £10,000 and a £20,000 freeroll.
Finally, if you double the amount of poker points earned in February compared to January, then you'll win access to all three March freerolls for £10,000, £20,000 and £30,000.
If you earned less than 80 poker points in January 2015, then you need to earn 100 points to gain access to the £10,000 freeroll, 150 points for access to the £10,000 and £20,000 freeroll and lastly 200 points for access to all three freerolls.
Players can log into the Sky Poker site and check how they are doing at any point by clicking on the Poker Points and League section, within the My Account tab on the site. Here you can see how many points you earned in January and you can work out how many points you need from here.
The March freeroll dates
As you play on Sky Poker throughout February and start to qualify for each of the freeroll events then obviously you will want to know when these events are scheduled to take place in order to participate in them.
The freeroll events are scheduled to take place at the same day and time over a three week period starting on Sunday March 8th at 7pm when the £10,000 freeroll will take place.
The £20,000 freeroll will then be held on Sunday March 15th at 7pm and the final and most prestigious £30,000 freeroll will take place on Sunday March 22nd at 7pm.
There is a cap of 2500 players for each of the freerolls, so while places are not exactly limited, it is possible that they could be snapped up very quickly, especially for the cheaper freeroll events.
The 20,000 Sky Poker Points bonus
If you are a Sky Poker player who earns more than 20,000 Sky Poker points through February then the good news is that regardless of how many points you earned in January 2015, you will receive entry into all three freerolls.
Boost your Sky Poker Points Awards each weekend in February
If you tend to play your Sky Poker games of a weekend then the great news is that you can earn your Sky Poker Points at double the speed when you play Cash Table Games or Sit & Go games on any weekend throughout February.
From 5pm on each Friday in February, through until 10am on the following Monday, all players at the Cash Tables or playing in Sit & Go games will have the amount of points they earn from their play doubled, meaning you earn points twice as fast, or half as cheaply!
Mobile friendly?
It is also worth noting that you can participate in this promotion in full direct from your mobile device. Sky Poker's mobile apps offer access to all the games and tables you need to play in order to accrue the desired number of Sky Poker points.
The only problem you may find when using the app is that you cannot see a record of how many Sky Poker Points you have earned from within the app, however if you visit the mobile website version of the site via a browser, rather than the app, you can see how many points you have earned this way.
With £60,000 up for grabs across three great freerolls this March, will you be trying to up your game on Sky Poker to a new level this February?