Football betting, alongside horseracing, is without doubt the most popular form of betting, especially in the UK. Indeed, there are thousands, some would say millions of punters around the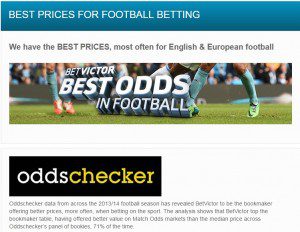 globe who spice up the weekly football by having a bet on the outcome of a match, or some other football-related market.
As a result, the clamour to attract football betting enthusiasts between sports betting companies is great. Plenty offer them lots of incentives to join. Some, such as the Bet365 Euro Soccer Bonus (which we took a brief look at in this article last year) are well known for offering punters who bet on the accumulator market a very decent bonus.
However, while this bonus is great for punters who want to make accumulator bets on games from the top European Leagues and Champions League, there are plenty of punters who find each weekend that their bet doesn't qualify for such an offer, or is placed in a market for which no offer exists.
In these circumstances, getting the best value odds on your choice of soccer market is paramount to maximising your returns from a successful bet.
Now the way most people do this is to visit an odds comparison site, Oddschecker (which is now owned by SkyBet) is a perfect and popular example of this type of site where all the odds from a wide range of bookmakers across a wide range of markets are shown for users to compare.
The only problem with this is that if you are a punter who wants to place several bets across the course of a weekend, it can be very time consuming to compare each market for every bookmaker. Then you have to visit several bookmakers, opening several different accounts, in order to try and get the best value for your chosen bets.
It would of course be so much easier if there was one bookmaker that you could rely on to give you the best prices across a wide range of football betting markets every week.
And that is precisely what BetVictor does.
Check out our full review and the latest BetVictor bonus codes by clicking on the link and get ready to enjoy a whole new football betting experience.
BetVictor Best Odds in Football statement
How can BetVictor back up this claim? Well they used the Oddschecker site to collate their data. They checked the prices offered by 17 of the top bookmakers in the UK and the analysis of the data showed that BetVictor are the bookmaker that offer the best value on Match Odds market for football for around 71% of the time.
In addition, the data revealed that punters betting on Premier League, Championship, FA Cup, Champions League and Europa League games would generally receive better odds with BetVictor than with the other 17 leading bookmakers.
The upshot of this is that if you don't want to spend lots of time each weekend checking for the best odds on your chosen football market, but just want a company that tends to offer the best odds across almost ¾ of the most popular football markets, then BetVictor is arguably your best choice.
Other notable BetVictor football promotions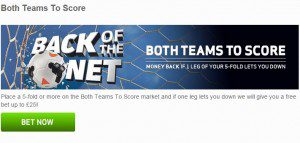 In addition to their best odds guarantee, BetVictor also run a couple of other promotions that are of real interest to the regular soccer punter.
The first of these is the Back of the Net Promotion, which is available with BetVictor throughout the year, This promotion is based on accumulator bets in the Both Teams to Score market and states that if you place a bet of five selections or more on this market, and just one of your selections lets you down, then BetVictor will return your stake as a free bet.
There's several positive points about this offer compared to others, say with Betfred or William Hill. For example, with Betfred, you get enhanced odds on their Both Teams to Score coupon, however you have to bet on both teams scoring. With BetVictor you can bet on both teams scoring, or not.
Additionally, with William Hill, they offer you money back on 6-team accumulator bets or more if one leg lets you down, however with BetVictor, the number of selections the offer kicks in from is 5.
In contrast to Bet365's Euro Soccer Bonus, there's no bonus payout compared to Bet365, however Bet365 bonus is only paid on matches selected from the top four leagues in Europe (Serie A, Premier League, Bundesliga and La Liga) plus the Champions League, which means you cannot make selections from any other league and qualify for the bonus.
With the BetVictor Back of the Net promotion, you can back any game across the globe provided it is on the coupon (and the vast majority of games are – even international games and non-league games).
Furthermore, if you place your football bet with BetVictor between 10am and 11am on a Saturday morning (traditionally a peak time for football bets to be placed), then you will receive 10 free spins in the BetVictor Casino completely free as part of the BetVictor Weekend Happy Hour promotion.
Instabet
Another reason to bet with BetVictor on football is their Instabet app. This additional download is available to download from the App Store or from the BetVictor mobile site for Android devices. The app will reveal a number of enhanced odds bets each day from a variety of sporting events that are available for a short time only.
You can elect to place a bet on this enhanced odds market in the period and if you do, you'll receive the far better odds on offer for the bet than the typical odds available on the BetVictor website.
When it comes to football bets and betting on this most popular of world sports, then BetVictor's range of promotions and best odds promise mean that you are unlikely to find a better combination of offers and odds available with any other bookmaker.
Add to this the Instabet app offering even better value odds on selected markets and you have arguably the best site you can find online for betting on almost every football market you can place a bet on.