Bingo is a fantastic game that enjoyed a rich history long before it became a hugely popular online game. Beguilingly easy to play, the game has moved from bingo halls to the digital realm with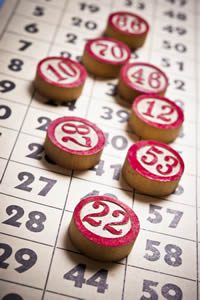 consummate ease and has become one of the most popular online past times, especially for women in the 18 to 45 age range.
Not only that, a recent study by Southampton University has shown that bingo helps elderly people maintain strong mental health.
So if you've been pottering around Bet365 Sport, Bet365 Casino and Bet365 Poker and not been tempted to give Bet365 Bingo a try, then there's plenty of compelling reasons, aside from the above, why you should do so.
Listed below are just five reasons why you should head on over to Bet365 Bingo to see what the fuss is about.
5. Outstanding introductory offer for new Bet365 Bingo players
The first reason to join Bet365 Bingo is a simple one; the introductory offer. With Bet365 Bingo you receive an offer that has three separate bonuses which are all available to you when you join the site and then deposit and spend your first £10 on bingo tickets.
First up is £1,000 worth of free bingo, which allows you the chance to play for over £1,000 in prizes completely free of charge for seven days after you register on the site. You don't even need to make a deposit to gain access to this offer; simply join Bet365 Bingo and create a Chat Name and enter the Welcome Party room.
In the Welcome Party room all games are completely free of charge and the room is open to newly joined users for seven days after they join. The Welcome Party room opens at 13:00 and then again at 19:00 UK time, so you'll have plenty of options as to when to play.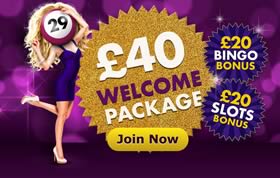 Then when you have decided to make a deposit and spend £10 on bingo tickets, you qualify for a further two bonuses:
First up is a £20 slots bonus, which gives you double the amount of money you spend to play any of the fantastic slot games available direct from within Bet365 Bingo.
In addition, you'll also receive a £20 bingo bonus, which gives you £20 to spend on bingo tickets. Claiming is simple, you'll receive an email with an offer code ending BBFTB and enter this code in the Offers section in the Members part of the site, this will free your £20 bonus giving you £30 to spend on Bingo, plus £20 to spend on the slots, all for a £10 deposit.
4. A fantastic range of monthly, weekly and daily promotions
If you are somebody who gets great value for money from playing on Bet365 sites thanks to the number of offers and promotions available, then you will be delighted to hear that on the Bingo site, there are a huge number of promotions run every day, week and month.
Some examples of regular bonuses include the chance to Double Your Money when you play bingo on your mobile or tablet, with any winnings you have during the stated week, doubled come the end of the week.  There is also the Mojo Lucky Dip promotion at 21:00 UK Time on Monday, Wednesday and Friday each week and the daily Breakfast Club promotion where you can win your share of £2,500 while eating your cornflakes.
There's also big bingo celebrations every weekend with hundreds of thousands of pounds up for grabs for lucky players across the weekend, not to mention smaller events during the week with prize funds of £20,000 and £50,000.
There are also specialist promotions offering more than just cash prizes. Currently the site is offering a Reggae Reggae Bingo promotion that offers a seven-night all-inclusive stay at a prestigious Jamaican spa resort as a top prize.
Indeed, it is fair to say that of all Bet365 sites, Bet365 Bingo offers arguably the largest selection of promotions every day, week and month meaning there is always great value on offer when you play.
3. Fully automated service
Are you worried that the speed at which the numbers come out will render you unable to mark off the numbers in time, especially if you want to play the maximum number of cards in any one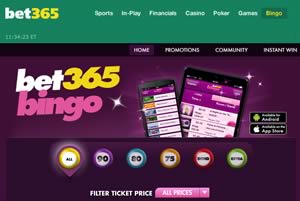 game?
Well don't fret, you don't need a bingo dibber to play the online version! The great news is that when the game is in progress, the software actually marks off the numbers from all your cards for you as the numbers are called, meaning you will never miss a number and your cards will be 100% accurate all of the time.
That's not all though, when your card wins either a line, two lines or a full house, the software automatically calls 'house' for you and your winnings are also automatically credited to your account.
With Bet365 Bingo you can buy your tickets and sit back and enjoy the different aspects of the game, which are mainly social based and for that you need to understand  a little about one of Bet365 Bingo's other big attractions. The chat bar.
2. Bet365 Bingo chat bar
The social side of the game of bingo cannot be underestimated and at Bet365 Bingo, the chat bar when the game is in progress is the key to this element of the game. You can use this chat bar as you would any other only chat system, to chat to other players playing your game, but there are also other uses.
One such use is Chat Games. These are run by Chat Ops, employed by Bet365 Bingo, and can be conducted at any point, in any room where a Chat Op is available. There are a huge number of chat games that can be played and often , the player who wins the chat game will receive a bonus prize of extra bingo tickets for a subsequent game, or cash added to their account.
You can also use the chat bar to let other players know how close you are from winning and to congratulate or commiserate with other players, or just to join the general banter of the room.
1. Big money to be won every day of the week
We've already mentioned that there is big money to be won throughout each week via promotions on the site, but there are also lots of other games which offer big money prizes for the lucky winners.
A good example of this is the Daily Bingo Linx games, of which there are three each day offering a minimum of £10,000 in prize money across the three games.
You can also win several hundred pounds for a full house on Deal or No Deal Bingo, but there is a wide range of games available with prize ranging from just a few pounds up to several thousand all run in different rooms throughout the course of the day.
In short, whether you want to pay just pennies for your ticket, or you want to play for larger prizes at a higher ticket price, you'll find all you need at Bet365 Bingo.
So why not get your eyes down there today? Get the latest Bet365 sign up bonus information for Bet365 Bingo by clicking on the link.