If you are a sports betting enthusiast then you will know the importance of finding value for your bets. Even from the very first days of legal bookmaking, ostensibly on racecourses, part of the enjoyment of placing a bet was finding the best value on the course. It is something that many race-goers still enjoy today.

Of course, nowadays most people don't actually attend a horse racing meet, or a different sports event, to place a bet. We used to place bets in bookmaker shops, but now a growing number of bets are placed online, either via a PC or increasingly, via a mobile device or handset.
The advent of the digital age meant that bookmakers needed to be more flexible and offer users something additional to entice them to their site. In the early stages of the digital revolution, bookmakers began to trade online and punters would have to log into each site and compare them individually to find the best value odds.
This was naturally time consuming and not the most productive way to get the best value on your chosen sports bet.
Soon though, people realised that there was a quicker way to do this and soon cross-referencing odds checking sites were developed, which listed the odds for any given market across a wide range of bookmakers. The Sky Bet owned Oddschecker is a great example of this.
This software looked at the chosen market and compared the odds for that market across all the major bookmakers offering prices on that market. You could then decide which bookmaker offers the best value and place the bet with them, or indeed any other that you liked the look of.
It seemed that these new odds comparison tools were the punters best tool to ensure they got the best price for any selected market. So what could sites do to make their odds, if they were not the industry best as listed on the comparison sites, more appealing to punters?
Well with Sky Bet, what they have done is to take a look at some of the most popular betting markets on any given day and they then offer special enhanced prices on one or more markets for the stated event. These are called Sky Bet's Price Boosts.
We have already published an article that looks at the basics of Sky Bet's Price Boost deals so we are not going to repeat what we look at in this article. You can consult this article for more information about this type of bet.
Instead, we are going to look how you can get added value by using these bets by giving you a simple example of how a Price Boost with SkyBet can potentially win you more than betting with a competitors site.
However, we are also going to show you that sometimes it still pays to shop around, even with a price boost available for Sky Bet.
Sky Bet's Price Boost in action
Let's use a real life example of how Sky Bet's Price Boost offers you a good deal when it comes to placing a bet on a selected market.

This past weekend West Ham United played Hull City in the Premier League and I liked the look of the Price Boost bet on Andy Carroll scoring at any time for West Ham United, plus West Ham winning the game.
With Sky Bet the price boost available had seen the odds increased on this bet from 2.38 to 3.5
This meant that instead of receiving back £26.25 if the bet was successful, I'd receive back £35, a price boost that was worth £9.75 in additional cash if the bet won.
So this seems a great deal and to be truthful most of the time it is, however there is a proviso here and it is perfectly illustrated by taking a look at what other prices are on offer with other bookmakers, especially those who have a proven track record at offering the best odds for soccer matches in particular.
Why you should always still check the best odds available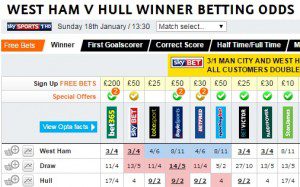 No doubt there's many punters who will see the Price Boost offer outlined above and will have taken the 3.5 available with Sky Bet, thinking they have a got a great value price. However, dig a little deeper and you will be quite surprised at what you find.
Outlined here are two screenshots from the Oddschecker website and what you need to pay attention to here are the two markets for Sky Bet and BetVictor (one of the sites we review on here from time to time).
As you can see from the markets shown, the price on offer for a West Ham win with both sites is the same (an industry leading 3/4) but the prices available on Andy Carroll scoring first on Sky Bet and BetVictor are very different.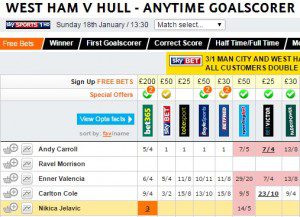 With SkyBet (and these odds take into account the Price Boost option), you get odds equivalent of even money on Andy Carroll scoring any time in the match. However, with BetVictor, the odds on Andy Carroll scoring at any point are much greater at 7/4
What this means is that with Sky Bet, even with their price boost, a £10 bet will earn you £35 in total if your bet wins.
However, place the same bet as a double with BetVictor at odds of 3/4 on a West Ham win and 7/4 on Andy Carroll scoring first and the same £10 bet would return you a total of £48.12.
That is a somewhat astonishing £13.12 more than you would receive back than with Sky Bet, even with the Price Boost option taken.
What is the lesson to be learned here?
What this illustrates quite clearly is that sometimes even enhanced prices with a reputable bookmaker, which Sky Bet certainly us, are not necessarily the best price you can find on a market.
It is important to note that in some cases, the Price Boost on offer from Sky Bet most certainly WILL be the best value you can find on the market and that if you are a punter seeking value bets, using these often is a good way to increase the money you win, if your bet is successful.
What we have shown here however is that it is not ALWAYS the case that price boost deals are the best option. Sometimes, just a little digging around the sites available can produce a significantly better value bet.
In terms of soccer, BetVictor is always a great place to start as statistics show that this company tends to offer the best prices for football markets most of the time.
The great news is that both Sky Bet and Bet Victor are excellent choices for sports betting fans, price boost or not. Click here for the latest Sky no deposit bonus information, or click here for the latest information on which BetVictor opening bonuses are worth a look.