How would you like the chance to play for a total prize fund that is guaranteed to be at least £1,000,000? Better still, how would you like to earn your entry meaning not only do you receive the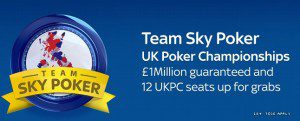 £1,000 buy in free, but that you also receive free accommodation and clothing?
If you have ever fancied living the life of a sponsored top poker professional, such as Daniel Negreanu or Phil Ivey,  even for just a couple of days, then you should enter the fantastic new Team Sky Poker promotion.
The new promotion comes hot on the heels of two exciting promotions on Sky Poker in December and means that throughout the month of January, fans of tournament style poker on the site have plenty to keep themselves occupied over the weeks.
How to win a Team Sky Poker UK Poker Championships package
Every week from the 1st January through until the 28th January, Sky Poker are running a series of three competitions, so there are total of twelve competitions in total to compete in throughout the month.
A new set of competitions starts each week on the 1st, 8th, 15th and 22nd January, so you should still have plenty of time to enter the competition if you choose to do so.
The reason Sky Poker are running three competitions each week is to allow fans of all three different types of poker games, cash table games, sit & go tournaments and tournament games have an equal chance of winning themselves a seat in the big event this February.
What will you win?
If you manage to win one of the three weekly competitions (and we'll explain how to do this in more detail below) then you'll win yourself a fantastic Team Sky Poker package. There are 12 packages available and included in each package is:
One seat in the £1,000,000 UK Poker Championships Main Event Final, held at the Dusk Till Dawn Casino in Nottingham, England
Two night's accommodation in a local hotel, with breakfast thrown in for good measure
A load of Team Sky Poker clothing so it is clear to all playing that you are member of Team Sky Poker
A chance to meet and greet with Sky Poker's new ambassador Neil Channing
In addition to the above as the top prize in each of the three weekly competitions, there is also a guaranteed cash fund of £4,000 available for each of the three tournaments every week. The cash prizes will be allocated out for the players finishing 2nd to 100th in the competition and the prizes are thus:
2nd – £500
3rd – £450
4th – £400
5th – £350
6th – £300
7th – £250
8th – £200
9th – £150
10th – £100
11th to 50th – £20
51st to 100th – £10
Thee players have already earned their place on Team Sky Poker from Week One of the tournaments, so see if you can join Tournament winner SJspanky1, cash winner STYLE2737 and Sit and Go winner NUTTER5932 as part of Team Sky Poker.
How to earn a place on the team
You earn your place on the team by winning one of the three weekly tournaments taking place on Sky. Let's look at the details for each of the three weekly tournaments:
1. Tournament Games

You win your top prize to the UKPC playing tournament games by playing in either the 8pm Main Event or 8.30pm Mini Event (or both) each day and then by placing inside the top 20 of the event.
Those who finish inside the top 20 of the event will earn points. The amount of points you win ranges from 30 if you win the Main Event (20 for winning the Mini event) down to 1 point in both events for those players who finish in 16th to 20th positions.
The more of these points you accumulate over the course of the week then the higher you go up the table of other players competing. Finish with the most points in any given week and you'll receive the top prize.
2. Sit & Go Games
To earn a place via Sit & Go games then you need to play in the Team Sky Poker Sit and Go events. These are Heads Up and Double Your Money events and buy ins cost either £5.50, £11 or £22. Win a £5.50 buy in event and you'll win 15 points, win a £11 buy in event, you'll win £30 and lastly win a £22 buy in event and you'll win 60 points.
The points awarded for TSP Heads Up events are awarded on the same scale.
3. Cash Table Games

The Cash Game prize are also won by earning points, though with cash table games there is a difference in how you earn the points.
As most Sky Poker players will already know, playing on the Sky Poker cash tables sees you earn poker points as part of the Sky Rewards program. Simply earn the most player points in a single day and you'll finish top of the league and earn yourself 50 League Points for doing so.
Keep playing throughout the week to earn more Sky Poker points and the higher up the table you finish each day, the more League Points you'll earn and at the end of the week, the player with the most league points will win the top prize.
League Points are awarded on the following scale:
1st – 50 League Points
2nd – 45 League Points
3rd – 40 League Points
4th – 35 League Points
5th – 30 League Points
6th – 25 League Points
7th  to 10th – 20 League Points
11th to 25th – 15 League Points
26th to 50th – 10 League Points
51st to 100th – 5 League Points
You can opt to play in just one tournament type, or attempt to win through in all three, though it is most likely for you to be successful and finish higher up the leaderboard if you focus all your efforts in any one week on a single tournament.
Good luck and hopefully we could be watching you live on Sky Poker TV, representing Team Sky Poker as you attempt to win yourself a share of £1m guaranteed prize money!