Basketball is one of those unusual games that is actually far more popular around the world than many people in the UK realise. We may be aware of the Harlem Globetrotters and that it is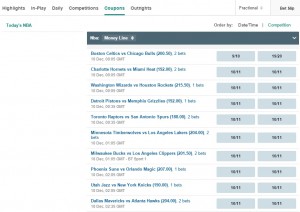 hugely popular at collegiate and professional level in the United States (as the NBA) but in addition to that there is a burgeoning Basketball scene growing across the goal in Europe, Oceania, Asia and South America.
So the question is, how does PokerStars Sportsbook stand up when its Basketball service is analysed? Well the good news for punters and fans of the game is that PokerStars service for Basketball is outstanding.
Basketball sections
On PokerStars Sports, the Basketball betting service is split into sections. There is a Highlights tab which outlines the biggest forthcoming matches and bets. There is an In Play tab to allow you to bet on matches as they are ongoing.
In addition, the Daily tab lists the forthcoming Basketball games for the week ahead, you can click on the respective day to bring up a list of games across the globe being played on that day that PokerStars Sports offer betting on (including In Play betting).
The Competitions tab brings you a comprehensive list of countries where PokerStars Sport offer Basketball betting. The list is extremely comprehensive with bets taken on competitions in the following countries:
Argentina
Australia
Brazil
Czech Republic
Denmark
Finland
France
Italy
Latvia
Lithuania
Philippines
Poland
Slovakia
South Korea
Uruguay
In addition, when there are international basketball games, these matches are also listed here too.
There is also a Coupons tab which will bring together a selection of games on one coupon (such as the Today's NBA Coupon) and the Outrights tab which lists bets on outright competition winners, rather than the games taking place each day (such as which team will be crowned Euroleague Winner or the NBA Championship winners
Basketball bets available
When it comes to the different types of Basketball bets available across the wide range of games on offer at PokerStars Sport, there is a choice of several different types of bets these include:
Money Line Bets – Where the punter bets on which team will win (with no handicap). This can see one team heavily odds on if they are the obvious favourites to win and their opponents in contrast long odds.
Point Spread Bets – This is where teams are given a handicap of plus or minus points which is then added to their score in the game to determine the result. The greater the handicap for the team, the greater this can influence the odds.
Total Points Bets – These are bets on whether there will be over or under a stated number of points scored in the game by both teams.
3-Way Bets – This is similar to soccer bets on the Win-Draw-Win market in that you can back either team to win, or a draw.
On higher profile games a number of other bets may also be included for punters such as:
Odd/Even Points Scored betting
Winning Margin bets
Which of the four quarters will be the highest scoring
Which team will win the First Half and Second Half in terms of points scored
Bets on what will happen in the First Quarter of the game
Conclusion
In conclusion, PokerStars Sports offers an outstanding collection of Basketball betting that will likely meet the needs of any punter who enjoys a flutter on this popular sport. In addition to a wide range of pre-match markets for games, particularly in the top leagues, the site also offers a wide range of In Play betting available across a number of different matches around the world.
Given the variety of leagues that the site offers to bet on, combined with a solid choice of different betting markets, if you enjoy Basketball betting then you are likely to find all you need to enjoy betting on the sport at PokerStars Sport.