For many people, especially those who are more traditionalist poker players, cash table games remain the most pure form of the game. In this article, we are going to look at what makes cash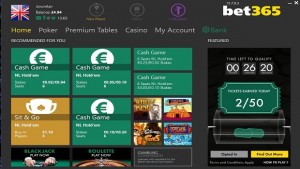 games such a different form of poker compared to Sit & Go games or Multi Table Tournaments, as well as taking a look at the different options for cash table fans at Bet365 Poker.
Remember, if you haven't already joined Bet365 you can do so today. Simply click on the link to sign up and don't forget to enter your Bet365 Poker bonus code in order to qualify for an outstanding new player start up bonus.
The Basics: What are Cash Games and how do they differ from other types of tournament?
Cash games are the oldest and most traditional form of poker and the main reason for that was that they were so flexible. In a cash game, players can come and go as they please, they can sit down at the table with variable amounts of money, can play for as little or as long as they like and can leave the table having lost all their money, or when they have made a healthy profit, or anywhere in between.
A cash table game can be played for minutes, hours or even in some cases days. On sites like Bet365 Poker for example, a cash table may be open for days, weeks or even months on end provided that players keep sitting down at the table and playing. Of course, it is not the same players playing all the time, but that is another appeal about cash games in that players can change but he table will remain, especially in an online environment.
The first thing to note about cash table games that marks them out as different to both Sit & Go games and Multi Table Tournaments is that at the cash table you are not seeking to eliminate opponents. Cash Table play is about the accumulation of chips (cash) from other players over a period of time. Not about eliminating players so you are left as the only player at the table with all the chips.
Of course, if you can take another players cash, then that is all well and good but it is not the overall aim of the cash player. A cash player is seeking a long-term profit, not elimination of opponents and this subtle but important difference has a huge effect on how players will approach a cash table game compared to a Sit & Go or a MTT.
The first key difference is that at a cash table, players are generally more patient. At a cash table, the size of the blinds remain the same for the duration of the table and do not increase as time goes by. This combined with the fact that most cash game players will sit down with relatively deep stacks, means that there isn't the pressure on players to accumulate chips by taking more risks than there are in Sit & Go or MTT games.
Serious cash table players will also play for considerable period, often many hours and during that time they will try to elicit as much information as they can about the players they are facing to help them develop a strategy to allow them to eke out as much cash as possible from that player.
You can play cash tables for a variety of blind levels ranging from €0.02/€0.04 (at Bet365 Poker) and upwards, although it is recommended that players start with at least 50 to 100 big blinds (if not more) as the cash they are sitting down with at the table (in this case that would be between €2 and €4 (though on the Bet365 micro stakes tables you can sit down with between €1 and €5).
What Cash Game variants are available at Bet365 Poker?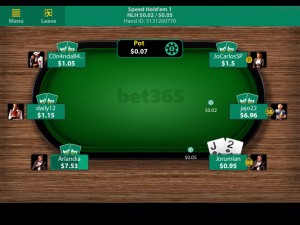 There are different Cash Games available at Bet365 Poker, including some that have been designed expressly to be played at a quicker pace than traditional cash games which are generally slower-paced affairs than other forms of the game.
In terms of tables, Bet365 Poker offers cash games for the following poker variants: Texas Hold'em, Omaha, Omaha Hi-Lo, 7 Card Stud, 7 Card Stud Hi Lo, 5 Card Stud and Razz. Of all the games, Texas Hold'em is by far the most popular and you can play this No Limit, Pot Limit or Fixed Limit depending on your choice.
The cost of sitting down at the tables depends on the size of the blinds. The blinds range from €0.02/€0.04 up to €5/€10 (although there are equivalent tables for UK players who want to use the British Pound as their base currency). The min/max buy ins at the tables therefore range from €1 to €5 for the Micro Stakes tables at the lower end of the scale to €200 to €1,000 on the higher stakes games.
In addition to this, you can also play Speed Poker. This is a variation of a cash game where as soon as you fold out of hand, you are dealt immediately into another hand with other players playing at the same stake level as you. This is a game where you play many more hands per hour than traditional tables and as such, is ideal for the cash game player who wants to play a lot of hands in a small amount of time.
When it comes to the organisation of the cash tables at Bet365 Poker, there are the traditional Cash Tables (which contains players from all over the iPoker network that Bet365 is affiliated with) and the Premium Tables (which contains players just from the Bet365 site).
It is these second type of tables which may be of most interest to cash table players at Bet365 and we'll explain why below.
What are the Premium Tables at Bet365 Poker and how do they differ from other cash tables?
At first glance there seems to be no difference between the Premium Tables at Bet365 Poker and the other cash tables and in terms of opposition, choice of tables etc, there isn't. But where there is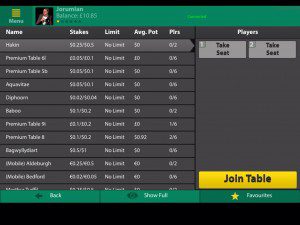 a key difference comes when you are trying to activate a promotion on the site.
Given that Bet365 earns more from its Premium Tables than the other cash tables, this means Bet365 wants to encourage players to use these tables ahead of the other cash tables. It does this by offering players that play on Premium Tables incentives when certain promotions are being run throughout the year.
In general, if you can earn points or coins by playing at cash tables, you tend to earn them twice as fast on the Premium Tables. This means it is considerably cheaper for the player to play at the Premium Tables when participating in an offer, than it is for the cash tables.
For example, a recent promotion saw players playing at the cash tables earn 1 coin for every 2 Merit Points earned at the tables. Merit Points are earned at cash tables every time you contribute something towards the house's rake from the pot by adding cash to the pot.
However, at the Premium Tables, you earned a coin for each Merit Point you earned. You earn Merit Points at the rate of 10 per £1 contributed in rake, so at the Cash Tables, you would earn 5 coins towards the promotion, however on the Premium Tables, you would earn 10 coins.
In all other aspects, the Premium Tables at Bet365 Poker offer the same challenge to cash players as the other cash tables, but when a promotion like that mentioned above is on, they offer Bet365 customers far greater value.
Having read this, you are now ready to explore the different cash games available at Bet365 Poker. Why not log in now and see if you can start to build your bankroll today?