Beach Volleyball has come a long way from the time it was merely something people did at the seaside to unwind, through a memorable appearance in the film Top Gun, to the point now where it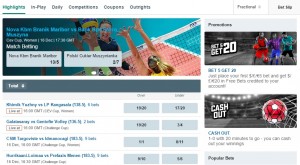 is not only a recognised sport, but an Olympic one at that.
Of course, for most PokerStars Sportsbook UK customers, they are not likely to be too used to betting on the game, or even recognise who are the top performers in what has become a global sport, keenly contested at international level.
It's also a seasonal sport, which means that there may be times of the year when it isn't readily available, so we have decided to pair the sport up with its more commonly played indoor game and investigate the betting options available for both on PokerStars Sport.
Volleyball / Beach Volleyball Betting
Of the two, it is Volleyball which has by far the largest number of betting markets available most often and these markets can be defined as one of three types of bet.
Match Betting – This is a simple enough bet where a match between two teams is contested and the odds for each team to win are displayed. Simply click on the odds shown to add the selection to your slip. You can of course make accumulator bets and other multiple bets using selections like this on PokerStars Sports.
Handicap Betting – This is not quite so widespread or available but occasionally matches between two teams can be made available with close to even odds for each team, with a handicap in place for either team (either positive or minus points depending on the relative strength of each team).
Total Points Betting – Each Volleyball game sees a number of points scored in it across the sets played. With the Total Points bet, you are betting that there will Over the stated amount, or under the stated amount scored in each game. The stated amount for that game is shown in brackets next to the fixture.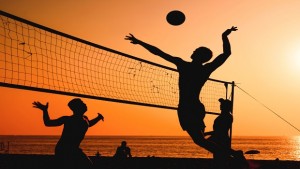 So for example, in the match illustrated between CSM Tagoviste and Idmanocagi, you can see that the points total set for this game is (183.5). Using half a point eliminates the possibility of a tie and thus a null bet, hence you can only win or lose the bet.
The two selections are then for over that point total to be scored (184 points or more) or fewer (183 or less).
In addition, for some of the higher profile Volleyball matches, you can click on the additional bets available tab and bring up a list of all the available bets for that match. This can include additional markets to those outlined above such as Correct Set Score betting, 1st set Handicap betting, 1st Set Total betting and more.
PokerStars Sport offers a wide range of volleyball and beach volleyball sports bettings from a wide range of countries including Brazil, France, Italy, South Korea and Sweden, as well as a number of betting markets for International games such as the CEV Cup, the women's CEV Cup, the Challenge Cup (men and women) and the Champions League.
Furthermore, you can bet In Play on a wide range of volleyball games as they happen with a number of different betting markets available for each.
One last thing to note, a recent update has seen PokerStars Sport change its name to Bet Stars. We'll bring you any information about this change as soon as we can find out a bit more about it, so keep your eyes peeled for more information about this name change in the New Year.