When it comes to the types of offer available at Coral Sport, then without doubt Acca Insurance offers are one of the most popular. In this article, we are going to take a look at the different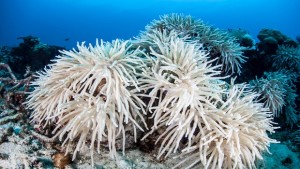 types of Acca Insurance bets that you will commonly find on Coral Sport throughout the year.
Remember, if you want to use any of the offers outlined below, then you need to be a Coral Sport customer. Click here for the latest Coral sports betting offer that will give you a nice starter bonus when you join up as a new customer.
Let's start at the beginning by defining exactly what an accumulator bet is, before we then go on to look at the variety of acca insurance betting offers you can find throughout the calendar year on Coral Sports.
What is an Accumulator (Acca) bet?
An accumulator bet is when a punter puts together a list of different selections, usually from the same type of sport and from the same type of betting market, and backs them all to win in a single bet. An accumulator can, in theory, have a limitless number of selections, but most often they are of between four and twelve selections in length.
A two-selection accumulator bet is called a Double and a three-selection acca bet is called a Treble.
After this acca's are known by the number of selections followed by the word "fold", so a four selection acca bet is known as a four-fold, or fourfold.
In order for an accumulator bet to win, all selections contained in the bet must win. If one or more selections does not win for the punter, then the entire bet loses, regardless of how other selections performed.
An accumulator bet is a good example of a low-risk, high-reward form of betting where the punter can generally risk a small amount of money and potentially win a much larger amount, but the odds of doing so are generally small and with the higher the number of selections on the acca bet, the odds continue to shrink.
What Are Acca Insurance Offers?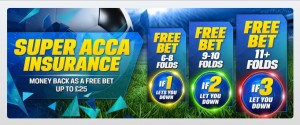 As has been outlined above acca bets are generally longer odds bets which means that punters generally don't stand as much chance of landing a successful bet as compared to single bets. It is a risk most punters are willing to take because the rewards offered potentially far outweigh the loss of the stake, in much the same way people play the National Lottery every week.
However, bookmaking sites have quickly realised that one way to keep punters happy even if they don't win their acca bet, is to offer them at least a chance of earning back their stake as a kind of 'consolation prize'. This is where the Acca Insurance offers come in.
Generally, these offers state that if one of your selections let you down in an accumulator bet either over or of a certain number of selections, then Coral will refund your stake as a free bet as a consolation prize.
This means that if one selection doesn't let you down, you don't quite 'fall off the cliff' straight away into loss, but you can earn your stake back as a free bet if all your other selections still come in.
What Acca Insurance Offers Do Coral Generally Offer
Coral tend to offer a number of Acca Insurance promotions throughout the year, although what is available does depend very much on the time of year that you visit the site. In the winter, for example, Football, American Football and Basketball offers are available whereas at other times of the year you will find Tennis and Golf Acca Insurance deals available.
Indeed, depending on what is happening in the world of sports, Coral may choose to offer Acca Insurance betting on any sporting event, so it does always pay to check into the site and see what offers are available.
Let's begin with the most comprehensive and readily available Acca Insurance deal from Coral and that is offered on football.
Coral's Football Super Acca Insurance Offer
This is by far the most comprehensive acca insurance offer available on Coral, chiefly because this type of betting is particularly popular on football matches and so will likely appeal to more customers.
This insurance offer is unique because it allows punters, depending on the number of selections on their coupon, to get up to THREE selections wrong and still earn their money back as a free bet.
The maximum refund you can get for your bet on any Acca Insurance offer with Coral is £25, and this applies to this offer too. Here's how it works
For 5-fold acca or below the offer is not available
For a 6-8-fold acca, if one selection loses, you will receive your stake back as a refund.
For a 9-10 fold acca if up to two selections lose, you will receive your stake back as a refund
For 11-fold + acca bets, if up to three selections lose, you will receive your stake back as a refund
To qualify for this offer all selections must be made on football matches and in the Match Result market only.
American Football, Basketball, Golf and Tennis Acca Insurance Offers
These offers are available when the season for each of these sports is ongoing and there are enough games for punters to make accumulator bets on in each. The specific terms and conditions for each offer may vary due to the different sports, but the general gist of the promotion is the same.
That is, place a four-selection accumulator on the bet of up to £25 and if one selection from your four loses but the other three win, then you will receive your stake back as a free bet.
You do need to check for each sport as to which competitions and betting markets the acca insurance is available on. Not all competitions and betting markets are included, so it is wise to check up on this for each sport first before you place your bet.
Coral Acca Club
If you are a new customer and want some great value free acca betting, then you can sign up to Coral Acca Club and receive up to five free acca bets of up to £20 each when you join.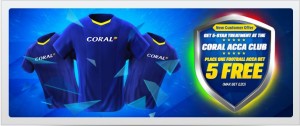 Simply sign up to Coral Sport, join the Coral Acca Club and make you first bet on your new Coral Sport account of a four-selection or more football accumulator bet of up to £20.
When you do, Coral will give you an additional FIVE free acca bets up to the same value as your first bet. This is a fantastic value offer for punters who enjoy acca betting and want to get great value from their Coral Sport account from the moment they join.
Coral is certainly one of the best sites for punters who enjoy acca betting across a wide range of sports, so why not see what Coral can offer you by joining up today?