Sports betting can be a huge amount of fun and sites like Coral Sport (which you can join by clicking on our extensive Coral Sport review) offer a great interface, both for PC and mobile

device users, which allows you to peruse the betting markets and place your bets with ease.
Indeed, online betting has never been easier or more enjoyable and part of the reason for this is that sites like Coral Sport offer an extensive range of utilities, features and promotions all of which enhance the betting experience for the individual.
So if you are a customer at Coral Sport, what are these features that can make your experience on the site easier and more enjoyable? We've provided a useful list of just some of the top features available, together with a brief explanation of what they do, to help you get the most out of your betting with Coral Sport.
Live Streaming
One of the most important innovations for the online punter has been the advent of live streaming. While TV rights deals may not allow the biggest sports events to be streamed online in some sports, there are still plenty of high quality events that can be streamed online both to desktop PC's as well as mobile devices.
At Coral Sport, you can stream to both types of device with no problems across a wide range of sports including Football, Tennis, Snooker, Darts, Hockey, Volleyball, Handball, Rugby and Basketball.
All you need to do to watch these sports is log in to your Coral Account and have a positive account balance, provided your account is in credit you can watch all sporting events for these sports free with your Coral Sports account.
Horse Racing & Greyhound streaming
In addition, if you place a bet of £1 or more on any horse race taking place in the UK, Ireland or South Africa, or any UK greyhound race, then you can view a live stream of that race on your PC or mobile device. Simply tune in to the live stream a few minutes before the race starts and you can click on the link to view the race.
Live Scores
If you don't want to view a live stream of an event, but would prefer simply to know what the current score is, then you can use the Live Scores option. This means you don't need to leave the Coral site in order to keep tabs on how your selected teams or individuals are getting on in a current sport. Simply click on this tab and you'll be shown all the latest scores across a wide range of sports, all constantly updated.
Results
Want to check up on how one of your selections has performed, or just want to see the latest results across a wide range of sports? Well Coral Sports Results service offers you everything you need across a wide range of sports all in one place.
Statistics
If you are a punter that likes to take time to formulate their bets, then one thing you will need to do is take a look at the statistics pertaining to your potential selection and their opponents. The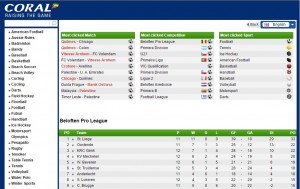 good news with Coral Sport is that you can do this across a wide range of sports, at a wide variety of levels, thanks to the Coral Stats section.
There are a huge number of sports that statistics are available for ranging from the most popular sports, such as soccer, tennis and darts, right the way through to some less well known sports such as Floorball, Bandy and Pesapallo.
News & Blogs
Another outstanding feature for punters that like to keep abreast of all the latest developments in the world of sports and sports betting, as well as news on impending offers, is with the Coral News and Blogs service. This is an extensive resource that offers a wide choice of news and blog items across a number of sports. Although it has to be said that there is a particular focus on football and horse racing news, as well as a casino and games section.
Coral Radio
If you are looking for an alternative to live streaming that may be easier to follow, especially when travelling, then Coral Radio may well be the ideal service for you. Coral Radio offers a number of different commentaries on a number of sports including horse racing, football, cricket and greyhound racing, plus there is also an extensive results service available to listen to, as well as all the latest sports news brought to you in a regularly updated bulletin.
Coral Connect
If you would like the chance to access your funds directly at ant of Coral's hundreds of betting shops across the UK, then you can both withdraw money from and add cash to your Coral account by registering for a Coral Connect card. This simple card allows you greater flexibility with how you use and access the money in your Coral account
The Racing App
How do you perform your racing betting research? Do you use Timeform? Or check how a horse has performed in its last few races? A stable in form, a jockey that is on a winning streak or a trainer that can seemingly do no wrong? Well how about being able to use complex software to run a "virtual" race between the runners to come up with a winner. If that sounds like something you would love to see, then you need to check out Coral Sport's The Racing App to gain access to this hugely powerful and useful racing betting utility.
Coral Acca Club
If you are looking for a great deal when it comes to accumulator bets then Coral have a fantastic promotion ongoing called the Coral Acca Club. All you need to do to become a member is to place one four-team (fourfold) football accumulator bet and when you do, as a welcome to Coral Acca Club, you will receive five free football accumulator bets to the value of your first accumulator bet (maximum of £20).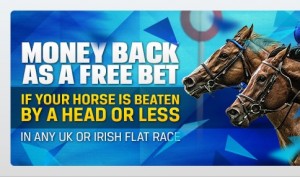 Coral Promotions
Of course, Coral also offers an extensive range of promotions on the site. There is a good mix of promotions that are available for the shorter term (such as on specific sporting events or tournaments) as well as a number of promotions (such as the Coral Acca Club offer outlined above) that are available over a longer term.
Cash Out & Partial Cashout
One of the newest developments in the world of poker, has been the ability of the punter to cash out a bet before the final results are known, or to partially cash out a bet, leaving part of the stake running on the bet. You can enjoy both Cash Out and Partial Cash Out on selected bets on five sports, Football, Tennis, Snooker, Darts and Boxing, with Coral Sports.