Did you know that if you bet at Coral Sportsbook or in its high street betting shops, then there is a product you can use that makes betting using both online and offline options so much easier?
That product is the Coral Connect card, and if you still visit shops as well as betting online, then this is something you should be taking a closer look at.
However, the question remains, what exactly is a Coral Connect card? How does it work and what benefits does it offer the typical punter over a standard online betting account?
In this article, we'll seek to explain these answers in a bit more detail and explore what the key Coral Connect terms and conditions are, how to get a Coral Connect and we'll also delve a little into the Coral Connect card app.
If you'd like to become an online customer of Coral, feel free to follow the link to learn more about the Coral UK bonus offer you get for making a new account at the website.
What is Coral Connect?
Coral Connect is a service that is accessed predominantly through a card, similar to a credit card or a loyalty card.
With the Coral Connect card, you can utilise all aspects of the Coral gambling service including mobile and online betting, plus betting in a shop, all by using the card.
Once you are registered with Coral Connect, you can continue to bet online using your laptop, PC or a mobile device as you would ordinarily and you can still access your funds by transferring them back to your bank account or credit card.
However, with Coral Connect, you now have another option where you can play online and then head to a Coral bookmakers shop, where you can present your card, enter your pin and claim your online winnings in cash direct from the shop.
However, you can also use your Coral Connect card to deposit cash into your online account.
Just visit a Coral Shop, present your Coral Connect card and pay your cash to the shop assistant.
Your online account will then be credited with the cash amount you have just paid in.
Essentially, the Coral Connect card works by allowing you the opportunity to bet online, via mobile or in a Coral shop and then collect your winnings in cash from the shop, as opposed to simply being able to transfer the cash into your bank account.
You can also pay cash into your account using the card. Coral Connect gives you the flexibility to use your Coral account in a similar way as you would a bank account.

BET365
BONUS CODE: BET247
Get up to €100 in Bet Credits for new customers at bet365
Bet365 Review
Min deposit €5
Up to €100 in Bet Credits
Bet Credits available for use upon settlement of bets to value of qualifying deposit. Min odds, bet and payment method exclusions apply. Returns exclude Bet Credits stake. Time limits and T&Cs apply. The bonus code BET247 can be used during registration, but does not change the offer amount in any way.

Deposit €5 on Signup
Get €20
New players only

Bet £10 get €30 in free bets
Credited as 2 x €15 bets
New Customers Only
How does Coral Connect work?
There are essentially two different types of Coral Connect accounts that you can register for with the company.
The first of these is the Full Coral Connect account, which allows you the full range of benefits afforded by the card.
This includes being able to bet in a shop, online, over the phone or via your mobile/tablet simply by using your Connect Card.
You can also withdraw winnings using your Connect Card, as well as authorising a withdrawal to any of your bank cards that you have registered online.
The second type of account is an In-Shop only account which allows you to bet in shop using your Coral Connect card without having to have the cash physically with you.
Any winnings can be paid into your Coral Connect account, or paid to you in cash. Without having to use cash, punters can place bets more speedily.
If you are a new customer who is considering joining Coral then it is easier to join online and then visit the shop to join the Coral Connect service as outlined above.
Read our extensive review of the Coral site to discover more about the company and its betting options.
The key benefits of Coral Connect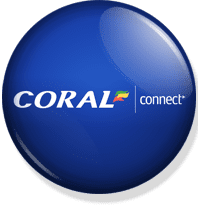 The key benefit of the Coral Connect account to a Coral punter is that it gives the user far more flexibility over how they can access, use, deposit and withdraw the funds they hold in their Coral account.
For example, let's assume that you have received £50 in cash that you have earmarked for your Coral Account to bet with.
Ordinarily, you would first have to pay in that £50 into your bank account, which may take a little time to clear.
You would then have to go to your Coral Account, log in and then transfer the £50 you paid in, into your Coral account.
This can be time-consuming.
With Coral Connect, you can simply visit a Coral Bookmakers shop near to where you are located and present your Coral Connect card to the shop assistant and hand over the £50 cash.
That cash is then instantly available in your Coral Account, allowing you to bet with it either in the shop, or on your mobile, or back at home on your PC, immediately.
The same situation is true for withdrawals, which can take a couple of days or more to process through the banking or credit/debit card systems.
However, with a Coral Connect card, if you have just landed a big win at the casino, on the poker tables or have just seen one of your bets come in a winner, then you can access that cash immediately using your Coral Connect card by visiting a Coral shop and withdrawing the money in cash using it.
Indeed, many people are now finding that the flexibility of the Coral Connect card allows them to open an account with Coral and bet with the company and complete all their transactions, without needing to register a bank card with the company.
This is ideal for punters who may be paid in cash and who want to have the flexibility of having a card-based account system, without having any withdrawals or other transactions visible on their bank account.
Another benefit is that the Coral Connect card can be used across a wide range of Coral betting options, including casino games, poker, lotto as well as sports betting.
You can also use the Coral Connect card to place bets over the phone.
Additionally, Coral has also developed a bespoke Coral Connect Card app, which allows you access to your Coral Connect card and your associated Coral betting account from your mobile device.
How to join Coral Connect
If you are an online customer with Coral and wish to join Coral Connect, all you need to do is follow the simple step-by-step guide below to join up:
Visit any of Coral's betting shops in the UK.
When in the shop, give your Coral.co.uk username to the shop assistant. You do NOT need to provide the shop assistant with your password and you should not provide this information.
The shop assistant will then enter your details on the system and provide you with a linked Connect Card and Personal Identification Number (PIN).
Once you have the card, you are now set up to enjoy all the benefits of a full Coral Connect account.
Coral Connect is a good way to give the user more flexibility with their Coral account.
Once you have a Coral Connect card, it is permanently attached to your account. There is no Coral Connect Card Sign In you need to complete in order to access it.
That's because your created Coral account acts as the Coral Connect card login too.
Coral Connect has limited use for someone who bets and completes all transactions via the Internet and is happy betting this way, but if you want to be able to get your hands on your cash and have a Coral shop nearby, then a Coral Connect card is a good way to give you more flexibility with how you wager.
Frequently Asked Questions
What is the Coral Connect Card?
The Coral Connect card is a card you can use to transfer funds from cash in your wallet into your Coral online betting account and vice versa.
Where is the Coral Connect Card Log In?
You can access your Coral Connect Card by logging in to your account with Coral. Or, if you prefer, there is a downloadable app you can access that gives you access to all your Coral Connect services.
What are the Coral Connect Terms And Conditions?
As you would expect from a card product, there are lengthy terms and conditions for its use and these can be found in the Coral Help section on the site.
How Do I Get A Coral Connect Card?
If you already have an online account, then you can get a Coral Connect card by visiting a Coral shop and asking a cashier to convert your account to a Coral Connect compatible account (a multiple channel account)
If you are wondering how to get a Coral Connect Card if you don't have an online account, then simply visit a Coral shop and speak to an assistant and they will be able to take you through the sign up and verification process to help you get one.
Is There A Coral Connect Free Bet?
No, at the moment there is no Coral Connect free bet offer available. However, Coral do offer a wide range of promotions all the time and they may decide to offer this type of promotion, or a similar one, at some point in the future.
Is There A Coral Connect App?
Yes, you can download the Coral Connect App on iOS and Android. This is arguably the easiest way to run your Coral Connect Card and check its status.
What Is A Multiple Channel Account?
A multiple channel account simply means that you can transfer funds into and out of your account in multiple ways. Such as online, over the phone and also in person Coral betting shops.
Your Coral Connect Card facilitates this and so you need the cashier to convert your account to a multiple channel account so you can use the card.
Is It Worth Getting A Coral Connect Card?
Yes it is, especially if you bet in shops as well as online and want to do so from a single account.
However, if you tend to bet online online, or in shop only, then the benefits of the Coral Connect Card won't be as obvious to you.