How do you select the bets you are going to make? Do you log onto the Coral sports betting site and simply browse through the options available in your chosen markets until you find a bet that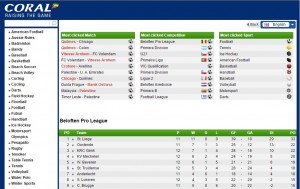 you have a hunch will come good?
Alternatively, do you have an idea about a bet based on your own knowledge, a friend or pundits tip, or perhaps just something that has been niggling away in the back of your mind?
Or do you follow the good old "British Housewives Grand National method "of getting a list of all the options available for your bet and then closing your eyes and selecting a bet at random to be your choice for that event?
Of course, the wonderful thing about betting is that you can enjoy a degree of success with all these three methods, although neither is likely to result in the customer making a reasonable profit over a sustained period of time and indeed, if you are a gambler who considers themselves reasonable, then this has to be your long term aim.
Instead, what you need to do as a punter is to thoroughly research your bets before you place them. Now there's no disputing that this can be time consuming, but it does help if your betting site has a couple of easy to access reference sections for you to peruse while on the site to help formulate your bets in your mind.
Fortunately for those punters who bet with Coral Sports, then there are a number of options available to you to help research a bet, ranging from the Results Service, Betting News and Coral Radio, but arguably the most valuable of all the research tools on the site is the Statistics section.
What are Coral Statistics?
The statistics part of the site is accessed via a pop-up second window, which you can manoeuvre around the screen to place in an optimum position so you can view your bet and the statistics pertaining to your delivery.
Inside the stats pack is a list of sports down the left hand side of the screen which Coral have up to date statistics available about. The list of sports is extensive and covers the following sports:
American Football, Australian Rules Football, Badminton, Bandy, Baseball, Basketball, Beach Soccer & Volleyball, Curling, Cycling, Darts, Field Hockey, Floorball, Football, Futsal, Handball, Ice Hockey, Motorsports, the Olympic Games, Pesapallo, Rugby (Union and League), Snooker, Table Tennis, Tennis, Volleyball, Water Polo and Winter Sports.
The amount of data covered for each sport does vary, with sports that have an extensive following globally, such as Football and Tennis each having a lot more statistical data for a wider range of teams from around the globe, than you would find for sports that are more regional in nature (such as Bandy, or Pesapallo) or that have a relatively small base of interested parties (such as Curling or Beach Volleyball).
However, what is astonishing is the level of detail you can find by browsing through the sites and for an example, we are going to take Football as our main area of interest.
In the Football section you can first sort your stats by the Geographical area where you are interest lies, Europe, North America, South America, Africa, Asia, Oceania or the rest of the world. Once you have clicked on an area, this brings up another list of countries from that area, in our example we are going to choose Spain from Europe's list.
As you click on the different options, the main window in the Stats section will update based on the options you select, so bringing up the Spanish data in this way will bring up a list of Most Clicked Teams, Most Clicked Player and Most Clicked Match.
Underneath is also data about each of the top two divisions in Spanish football, showing how many matches finish as a home win, a draw or an away win (expressed as a percentage), the number of goals per match on average this season across both divisions and the Goals Over/Under markets for Over/Under 0.5 goals, 1.5 goals, 2.5 goals and 3.5 goals.
Of course, this is all useful information but it by no means all the information you can gleam about Spanish football from the stats section. Scrolling down the page will reveal the latest results and fixtures from the two Spanish divisions (you can select which division you want information from using the blue selection box midway down the page).
Underneath the results and fixtures is the current league table showing each of the teams in the division.
Digging deeper for further information with Coral Statistics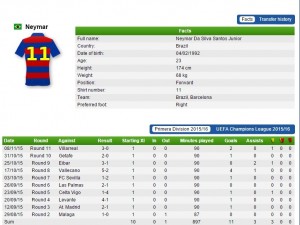 Now if you want further information about a specific team, all you need to do is find the team on the page and click on it. In our example, we clicked on Barcelona and this then brings up a whole host of information about that team.
Here you can track performances over the last six games in all competitions, see the teams home and away form for their last six matches, how they have performed in all the competitions that they have participated in this season. You can also see the top goalscorer for each team or sort this list to show the playesr who have earned the most yellow cards, created the most assists or who are injured. To the right of this is a full list of players in the Barcelona first team squad.
You can then click on individual players to learn more details about each player if you like, which is especially useful if you are fond of placing player-led bets, rather than match result or match incident bets.
The level of detail you get for player information is incredible, you get to see whether the player started the match (or was a substitute) whether they scored, how many assists they made, whether they got a yellow or red card or not, how many minutes they played on the pitch, if they were substituted and who they played against.
When you bear in mind that the similar details are available across a wide range of sports for a wide range of sporting professionals, the attention to detail in the Coral stats package is truly mind blowing.
What is without doubt is that Coral Sports offers an outstanding stats package which can be used by punters to research almost every aspect of a bet in as much detail as they would like. When used in conjunction with other Coral services, such as Coral Sports news and Coral Radio, it is an invaluable tool to help punters select stronger bets with more chance of success.
If you are prepared to invest the time and effort to research them of course,