The popularity of multi-table tournament (MTT) poker has never been greater. The resurgence of this particular form of the game stems back to the late 1990s when TV shows like Late Night Poker and films like Rounders first popularised the game of poker in more general terms.
This increased awareness of the game led to televised coverage of World Poker Tour and similar multi-table tournaments, with big money prizes on offer for the poker players with the skill and courage to win all the chips. The MTT was now very much an attractive option for the burgeoning population of online players.
Of course, the online arena is the perfect platform for multi-table tournament play and it is within this environment that the game thrives. On popular poker sites, some of the most popular MTT's can see thousands of players competing against each other for thousands of pounds on a daily basis.
The problem for the typical player is that to sit down at the final stages of a large-scale MTT will often involve a buy in that is far in excess of what a player of mid to lower bankroll levels can afford to easily pay. So to avoid creating a two-tier system of the poker haves and the poker have-nots, a solution was reached: Satellites.
Let's learn a little more about this type of poker tournament before we look specifically at the satellites regularly available for Sky Poker's MTT's (some of which we looked at here in a recent article).
Remember, if you haven't joined Sky Poker yet and want to play in the satellites outlined below, now is a great time to join to take advantage of the Sky Poker no deposit bonus of £10, plus a first deposit bonus of 200%.
Satellite events
Satellite poker tournaments are where a number of players play off against each other to earn a seat into the next round of that event. If you win through enough of these events then you can earn yourself a far more expensive seat in the final of the tournament, without having to pay the cost of the full Main Event buy in.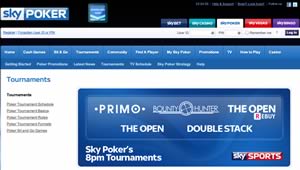 The number of satellites into an event can vary. In some smaller events there may just be one satellite before the main event. In some of the most prestigious and expensive events there may be two, three or more satellite events a player can work through in order to qualify for the main event.
The general rule of thumb is the later the satellite you buy into, the more expensive it is to play in. For example, a tournament may operate four levels of satellites before the player reaches the main event, each of a different buy in level. Players can choose which buy in level to play from (they do not have to start at the lowest level) but to play in a later satellite costs more.
To explain this, here is an example of a five-tiered satellite MTT starting at the cheapest tier.
Tier 1 – Buy in £1.15 – Top 10 Players receive a free buy in to Tier 2
Tier 2 – Buy in £7.50 – Top 5 Players receive a free buy in to Tier 3
Tier 3 – Buy in £30 – Top 2 Players Receive a free buy in to Tier 4
Tier 4 – Buy in £100 – Winner receives a ticket into the Main Event.
£100,000 Main Event – Buy in £500.
Players can start their attempt to win through to the main event at any tier they choose..
Of course, it is incredibly difficult to start at a Tier 1 satellite and win through to the main event and then score a big win, but it does happen. At the Sky Poker UK Poker Championships in February, 7th placed Deborah O'Connell satellited into the event for just £1 (winning £16,000) and 8th place Allan Graham satellited into the final for just £2.80 (winning £12,500).
Sky Poker's Top Satellite Games
Now that we understand how satellite events work and how they can be extremely profitable if you are good enough to work your way through the rounds, what do Sky Poker offer the player who wants to try and win big through satellites?
Fortunately, Sky Poker offers a number of daily and weekly satellites for a number of different tournaments with buy ins of all levels to suit even the micro stakes player. Here is our list of some of the best events to try out on Sky Poker.
£8,000 Bounty Hunter (every Saturday)
Each day Sky Poker hold a Bounty Hunter event with a guaranteed prize fund of £8,000. The buy in to this event is £33, however you can satellite into the event at a cheaper price.  Each day the site runs £8,000 BH Semi and £8,000 BH Sat (short for Satellites) events.
You can buy into the Semi for £7.20 and a place in the top two of that event will give you a free ticket for the main event. Alternatively, you can buy in to the Sat event for just £1.60 and 1 in 5 players will win a seat at that evenings BH Semi.
These events are very popular on Sky Poker and usually highly competitive.  The site also runs daily £2,000 Bounty Hunter, £1,500 Bounty Hunter, £400 Bounty Hunter, £250 Bounty Hunter and £300 Bounty Hunter events in a similar vein.
For some satellites in these other events, you can use your Sky Poker Rewards points and attempt to win a Freeroll satellite, rather than buy into an event using your cash.  These are the satellite events you will find available each day and every week of the year on Sky Poker and they make up the vast majority of satellite events players can enter.
Specialist Tournament Satellites
Sky Poker also run a very active and well promoted series of satellites when they are pushing a particular event, such as the UK Poker Championship in the months up to February or the Sky Poker UK Six-Max Championships in the months up to August.
When these specialist tournaments are announced, the site will run a number of satellite events which will allow players to buy in at different tier levels. The aim is to progress themselves through to the main event final, which is often held at a bricks and mortar casino somewhere in the UK, though occasionally, the main event final may be held online.
There are no specialist tournament satellites available at present on Sky Poker, though when they are available it is very difficult to miss them as they are announced across the site and gain extensive promotional support across all the Sky platforms.
In addition to progression through tournaments, satellites offer newcomers to poker a chance to experience the competitive nature of MTT poker, without having to spend a huge amount of money to do so.
As other Sky Poker players have proved, it can be possible to spend peanuts, yet win big money by using the satellites on Sky Poker to your advantage.
Image Courtesy of the NASA Goddard Space Flight Center Photostream via Flickr