This week sees one of the biggest sporting events in the world get underway as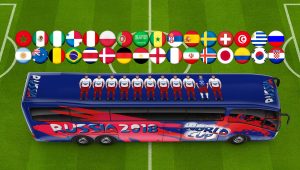 host nation Russia face Saudi Arabia in Group A of the 2018 World Cup Finals. Of course, such a massive sporting event, and perhaps only the Olympics will draw comparison, will also attract plenty of betting and we have gone through the opening phase of the tournament to bring you our best tips for each of the eight groups.
In order to fit this into a sensible sized article, we have split it into two, in this article we will focus on Groups A to D, while in the article published later in the week, we will take a look at how things could pan out in Groups E to H.
Both these articles deal extensively with the opening stage of the tournament, the group stage. Once we reach the knockout stage with the Round of 16, we will bring you a separate article previewing the rest of the tournament and who we are tipping to land the World Cup title.
Of course, you need a solid bookmaker to bet with online to enjoy the best World Cup betting and markets and we recommend Coral Sport for precisely that. You can sign up using any Coral bonus offer (Coral Vegas £10 no deposit bonus offer is as good as any, especially for mobile users) and once you have a Coral account with any site, you will be able to access the sports betting service to bet to your hearts content.
Brazil have won the tournament five times in their history, Germany and Italy four times each, Argentina and Uruguay twice each with France, Spain and England all winning it once. Will any of these teams triumph again (bar Italy, who missed out on qualifying) or will a new name be going onto the famous World Cup trophy in 2018?
Let's take a closer look and find out beginning with Group A, in all cases, the FIFA World Ranking of each team is shown in brackets. All odds shown are courtesy of Coral Sport.
Group A
Teams
Russia (66)
Uruguay (17)
Egypt (46)
Saudi Arabia (67)
Group A Matches and Predictions
Russia v Saudi Arabia – Russia Win 2-1
Egypt v Uruguay – Uruguay Win 0-2
Russia v Egypt – Russia Win 1-0
Uruguay v Saudi Arabia – Uruguay Win 3-0
Saudi Arabia v Egypt – Egypt Win 1-2
Uruguay v Russia – Draw 0-0
Group A Winner Odds – Uruguay 4/5, Russia 8/5, Egypt 11/2, Saudi Arabia 33/1
Summary
Group A Winner – Uruguay
Runner Up – Russia
Eliminated – Egypt & Saudi Arabia
Analysis
Mo Salah's fitness is a real worry for Egypt as with him fit, I could see them potentially causing a few problems, especially for Russia who are not in the best form at the moment. I think Uruguay are the class act here with four players in particular, Godin and Giminez in defence, plus Cavani and Suarez in attack, giving them the world star quality you need at World Cup finals. Salah's fitness will be key and if he isn't 100% I think Russia will sneak through in second spot, although I don't think this is the best Russian team I have seen and their defence is somewhat untried and tested at the top level.
Saudi Arabia are the enigma here but in their warm up games they haven't shown any qualities to suggest that they could surprise the teams in Group A. That said, they'll be well organised and tough to beat, but I think they'll likely end this group without a win or a point.
Key Player – Mo Salah (Egypt) – Liverpool winger Mo Salah carries Egyptian hopes on his shoulders, both literally and metaphorically as he struggles to come back from a shoulder injury sustained in the Champions League final. If he can get back fully fit for Egypt's first game then he could inspire them to really threaten for a spot in the second phase. Without him though, I think Egypt will struggle.
Group B
Teams
Spain (8)
Portugal (4)
Morocco (42)
Iran (36)
Group B Matches and Predictions
Morocco v Iran – Draw 1-1
Portugal v Spain – Spain Win 1-2
Portugal v Morocco – Portugal Win 2-1
Iran v Spain – Spain Win 0-5
Iran v Portugal – Portugal Win 0-2
Spain v Morocco – Spain Win 3-0
Group B Winners Odds – Spain 1/2, Portugal 2/1, Morocco 14/1, Iran 25/1
Summary
Group B Winner – Spain
Runner Up – Portugal
Eliminated – Morocco and Iran
Analysis
For me, Spain are the class act in this group even though Portugal have Ronaldo and also are the current European Champions (and ranked higher by FIFA). This Spanish team may lack the finesse of some of the great teams of the recent past and their lack of a genuine goalscorer is a worry against the top sides, but I think they'll have more than enough to win this group relatively comfortably.
I envisage Portugal joining them in the second phase by winning both their games with Morocco and Iran. Cristiano Ronaldo is their key man, but a younger group of players is coming through and with a very strong defence, which was the cornerstone of their success in France in 2016, they should have more than enough to qualify comfortably in second spot.
As for Morocco and Iran, I think they'll both be battling for the third spot in the group, and their opening clash will likely decide that, though I can't see either being strong enough to take anything from their games against the big two Iberian peninsula teams.
Key Player – Cristiano Ronaldo (Portugal) – The brilliant Portuguese star has an incredible 81 goals for his country in his career and he'll be hoping to add to that here. A tough start against Spain may end in defeat but Portugal should do well enough against Morocco and Iran in their remaining games to get through and once they reach the knockout phase, as they showed in Euro 2016, anything is possible with this team.
Group C
Teams
France (7)
Denmark (12)
Peru (11)
Australia (40)
Group C Matches and Predictions
France v Australia – France Win 4-0
Peru v Denmark – Denmark Win 0-1
Denmark v Australia – Draw 0-0
France v Peru – France Win 2-0
Australia v Peru – Draw 1-1
Denmark v France – Draw 1-1
Group C Winners Odds – France 3/10, Denmark 9/2, Peru 8/1, Australia 18/1
Summary
Group C Winner – France
Runner Up – Denmark
Eliminated – Peru & Australia
Analysis
For me, France are the class act in this group and I would be surprised if they do not win all of their games, although I have put them down for a draw against Denmark as I think if they do win their opening two games, Didier Deschamps will rest almost all his first choice team for that game, which does play into Denmark's hands a little.
The Danes will be I a real struggle for second with Peru and Australia but I think they have a better squad and certainly a more experienced squad at the highest level than either of the other two teams. Christian Eriksen will be key to their hopes and if he can inspire them, they should grab second.
Peru are interesting as they are in great form at the moment, but they never travel well to World Cup tournaments outside the Americas and as such, I think they'll likely fall foul of that here. They could even be eclipsed by the Aussies who are somewhat workmanlike but have performed well in recent tournaments.
Key Player – Antoine Griezmann (France) – Griezmann doesn't have the best goalscoring record for France and sometimes he does flatter to deceive, but while he isn't a great scorer, he is a scorer of crucial goals and he is the man who will score the decisive goal in narrow victories for France and as such, he will likely be the key player in this group.
Group D
Teams
Argentina (5)
Croatia (18)
Nigeria (47)
Iceland (22)
Group D Matches and Predictions
Argentina v Iceland – Argentina Win 2-1
Croatia v Nigeria – Croatia Win 3-1
Argentina v Croatia – Draw 2-2
Nigeria v Iceland – Iceland Win 0-1
Iceland v Croatia – Draw 2-2
Nigeria v Argentina – Argentina Win 1-4
Group D Winners Odds – Argentina 4/7, Croatia 12/5, Nigeria 9/1, Iceland 11/1
Summary
Group D Winner – Argentina
Runner Up – Croatia
Eliminated – Iceland and Nigeria
Analysis
This is without doubt the toughest group in the Russia World Cup and you can make a case for any of the four teams progressing quite comfortably. Argentina are the class act but have looked out of sorts of late, especially defensively and that is a real worry against three well organised sides. Argentina do have the ace of Lionel Messi however and in truth, how Messi goes, so to will Argentina's hopes.
It should be very close between Argentina and the two European teams Croatia and Iceland. These two also played in the same qualifying group (Iceland finished top, with Croatia qualifying via the playoffs) so the Icelandic side, who shone superbly at Euro 2016, cannot be overlooked. Croatia though have the better quality players and I think as such, will likely shade it on this top level stage.
Nigeria are a decent team and have a surprisingly good record against Argentina, but I think this is a relatively weak Nigerian team and I think they'll struggle against what are three very solid opponents in this group.
Key Player – Lionel Messi (Argentina) – What is left to say about Lionel Messi? He has achieved everything and more in the club game to have him down as the world's greatest ever player, but he is yet to add a major international victory to his belt. He could do a 'Maradona '86' for Argentina here, he is that good, and he may have to with the Argentinean defence being particularly porous at the moment. If Messi catches fire though, then Argentina could surprise a few and go all the way again.