Later this week, 32 of the top international teams across the world will begin their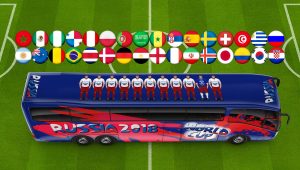 quest to become the 2018 FIFA World Cup Winners. Hosts nation Russia will get the tournament underway on Thursday afternoon as they take on Saudi Arabia in the first game of 64 matches that will ultimately decide who succeeds Germany as the current World Cup holders.
Earlier on this week, we looked at the prospects of the teams in Groups A to D in the first part of this article, so now we are going to continue with the second part of the article, which looks at the fate of teams in Groups E, F, G and H.
After the group stage of the tournament is completed and we know the 16 teams that will start in the knockout phase, we will then bring you a fresh article on how the knockout stage is shaping up and who we think will progress through it to be crowned the new World Cup winners.
As always, to enjoy a massive choice of betting on the World Cup, you will need a quality bookmaking service and for precisely that we recommend Coral Sport. You can sign up with any Coral site to get an account (mobile users may be interested in Coral Vegas £10 no deposit bonus offer available at present). Once you are signed up with any Coral site, you can use your same account log in to access Coral Sport to enjoy all the wide range of World Cup bets available on the site.
In the first article, we felt that things should pretty much go to form across the first four groups, with perhaps Group D being the only one where one of the bigger names could potentially be in trouble. How is the rest of the group stage shaping up? Let's take a closer look and find out.
Group E
Teams
Brazil (2)

Sweden (24)

Costa Rica (23)

Serbia (34)
Group E Matches and Predictions
Costa Rica v Serbia – Serbia win 2-0
Brazil v Switzerland – Brazil win 2-0
Brazil v Costa Rica – Brazil win 4-0
Serbia v Switzerland – Switzerland win 1-0
Serbia v Brazil – Brazil win 3-1
Switzerland v Costa Rica – Switzerland win 1-0
Group E Winner Odds – Brazil 2/7, Switzerland 6/1, Serbia 7/1, Costa Rica 18/1
Summary
Group E Winner – Brazil
Group E Runner Up – Switzerland
Eliminated – Serbia & Costa Rica
Analysis
For me, Group E isn't so much about who will win the group, Brazil will win the group at a canter I believe, but who out of the three remaining teams will claim the second place spot in the group to qualify for the Round of 16.
Assuming Brazil win all three of their games, it will be the three other matches between the other teams that prove crucial and looking at them, I think Switzerland will just about clinch it. Costa Rica's squad is somewhat ageing compared to the others and for me, I think this is one World Cup too far for their key players and as such, I think they'll likely finish bottom of the group.
Assuming Serbia and Switzerland can beat Costa Rica, but lose to Brazil, their match will then decide second spot and as you can see I've just gone for Switzerland. Serbia I feel have better individual players, but the Swiss team is experienced, works well as a unit and is capable of grinding out results when it matters, often against teams that on paper, look far superior.
Key Player – Neymar (Brazil) – After picking up a knock a few weeks back for club side Paris St Germain, Neymar's participation in Brazil was initially in doubt but he has made a superb recovery to get fit not just for the World Cup but also to star in Brazil's last two warm up wins over Croatia and Austria. In a team packed with talent throughout, Neymar is the shining light, but Brazil crumbled when he was injured in 2014 and they need to learn to play without him in 2018 if they are to be genuine contenders, just incase that injury recurs.
Group F
Teams
Germany (1)

Mexico (15)

Sweden (24)

South Korea (57)
Group F Matches and Predictions
Germany v Mexico – Germany win 2-1
Sweden v South Korea – Sweden win 1-0
South Korea v Mexico – Mexico win 3-2
Germany v Sweden – Germany win 2-0
South Korea v Germany – Germany win 3-0
Mexico v Sweden – Mexico win 1-0
Group F Winner Odds – Germany 1/3, Mexico 5/1, Sweden 7/1, South Korea 14/1
Summary
Group F Winner – Germany
Group F Runner Up – Mexico
Eliminated – Sweden & South Korea
Analysis
Rather like Group E, I think Group F will see one team dominate the group and likely win all three games and that is the current World Cup holders Germany. Although Joachim Low's team haven't been in top form heading into the World Cup, you can bet that once they are there, they will find their form and ease through what should be a relatively comfortable group.
South Korea may have stood a chance of qualifying here a few years ago, but I think this current team, while blessed with some great attacking talent, does have real issues in defence and I think all three of the teams in this group will likely exploit that to see them finish bottom of the group.
That leaves second spot in the group between Sweden and Mexico and it's a close-run thing. Sweden are decent defensively but do struggle for goals, whereas Mexico have some solid attacking talent, but their defence is rather porous at times. This really is a coin toss, but I just feel Mexico's greater attacking flair will be the deciding factor and they should just about make it through to the second phase.
Key Player – Manuel Neuer (Germany) – After missing almost the entire club season through injury, Germany will welcome the return to fitness of Bayern Munich goalkeeper Manuel Neuer. Neuer's presence in goal is a huge benefit to the German back line which does look less assured when he is not playing. His pace and ability on the ball make him one of the world's best 'sweeper-keepers' but there are question marks over his fitness, though as a goalkeeper, this should not be quite so pronounced as if he were an outfield player.
Group G
Teams
Belgium (3)

England (12)

Tunisia (21)

Panama (55)
Group G Matches and Predictions
Belgium v Panama – Belgium win 4-0
England v Tunisia – England win 1-0
Belgium v Tunisia – Belgium win 2-1
England v Panama – England win 2-0
England v Belgium – Draw 1-1
Panama v Tunisia – Tunisia win 2-0
Group G Winner Odds – Belgium 5/6, England 6/5, Tunisia 16/1, Panama 25/1
Summary
Group G Winner – Belgium
Group G Runner Up – England
Eliminated – Tunisia & Panama
Analysis
While I expect both England and Belgium to have qualification wrapped up before the two teams meet in the final group game, I don't think it will be as straightforward for either of the teams as the bookies are making out. However, if they do go into that final game with six points apiece, I do feel both managers will rest players ahead of the Second Round and as a result, you may have second-string teams competing in the game that will decide who tops the group, hence I've gone for a draw with Belgium's likely better goal difference being the deciding factor.
I do expect Panama to struggle in this company as they do not have the players playing at the highest levels week in week out and I think their quality is lacking compared to the other teams in the group, though I do expect them to be difficult to break down initially, but once they have conceded a goal, I think they'll struggle.
Tunisia however are far better than the bookies have them pegged. Until the last rankings update, they were ranked 14th in the world, just one below England and they are a well organised side, ranked the best in Africa. They will give both England and Belgium tough games and likely beat Panama in their final game too.
Key Player – Eden Hazard (Belgium) – Having picked up a worrying injury in their final warm up game against Costa Rica (a 4-1 victory), Belgium will be hoping their talismanic Chelsea attacking midfielder is fully fit for their opener against Panama. Hazard's brilliance alongside the power and precision of Kevin de Bruyne in midfield for Belgium is fundamental to their cause. As the third ranked team in the world, this golden generation is expected to go far in this tournament and to do that they will not only need Hazard fit, but also at his very best.
Group H
Teams
Poland (8)

Colombia (16)

Senegal (27)

Japan (61)
Group H Matches and Predictions
Colombia v Japan – Colombia win 3-1
Poland v Senegal – Poland win 2-1
Japan v Senegal – Senegal win 2-1
Poland v Colombia – Draw 2-2
Japan v Poland – Poland win 2-0
Senegal v Colombia – Draw 1-1
Group H Winner Odds – Colombia 5/4, Poland 9/5, Senegal 9/2, Japan 7/1
Summary
Group H Winner – Poland
Group H Runner Up – Colombia
Eliminated – Senegal & Japan
Analysis
This could be a very competitive group although I do think of the four teams, Japan are the weakest by a considerable margin. This isn't a stellar Japanese squad and I think that they may well end up bottom of the group without a win or a point following their three games, although they do have some talented individuals who can cause the top teams problems.
Senegal are an enigma. They have a very talented squad with some stellar players, but as a team they are yet to gel, their form leading into the World Cup is poor and shows no indication that they can get out of the group, but I feel that they could cause Poland and Colombia real problems, perhaps taking a point from one of those games.
The key match to decide this group for me though will be Poland v Colombia and while I have that down for a draw, I just fancy Senegal to nick a point from their match with Colombia which while being enough to see Colombia through, will see the Poles claim top spot in the group.
Key Player – Robert Lewandowski (Poland) – In what could be a very close group, perhaps decided by just a point or a goal one way or the other, goalscorers are key and Poland have one of the world's finest in Bayern Munich man Robert Lewandowski. One of the very best traditional number 9, Lewandowski is dangerous in the air and on the ground but his ability to set up others is often overlooked. If Poland are to get beyond this stage, then Lewandowski will likely play a key role in them doing so.
Check back later in the World Cup for our review of the Group Stage, preview of the Knockout Stage and which team we think will progress through to the final to win the World Cup itself.