As a beginner poker player, you'll likely only have a relatively small bankroll to facilitate your play and it is vital that you make that money work for you. One of the most common rookie mistakes to log onto a site like Sky Poker, join a Poker room and assume that within an hour, you'll have trebled your money and will have taken the first steps to riches beyond your wildest dreams as a poker professional.
The reality is very different.
With your limited resources, it is imperative that you target the right games to play on Sky Poker, at the right stakes, to ensure that you maximise your chances of keeping your bankroll longer and, hopefully, adding to it.
In this article, we will examine which are the games you should target as well as those to avoid if you want to keep playing more profitably for longer. There are three categories of poker games you can play on Sky Poker; Cash Games, Sit & Go and Tournaments and we'll look at the best options in each for a beginner below.
Before we do that however, there are five golden rules that I believe a beginner should follow regardless of the types of game they play. These rules will not only form the basis of a decent poker strategy, but also hopefully help you ease your bankroll into profit.
Stick with games that you know – It may sound obvious but only play the variations of poker that you are very familiar with and completely understand the rules of. You will need your focus to be 100% on your cards and your game, not trying to understand the rules at the same time. Use the Free Play section to help improve your knowledge of games and how they are played if you are unsure about any aspect. You'll be amazed how many people lose a lot of money as they bet heavily on their straight being ranked higher than a flush.
Play with the odds in your favour – As a rough guide; assuming a table of between 6 and 10 players, a beginner player should be folding their hand before betting between 70 and 80 per cent of the time. Only play the high ranked pocket cards that give you a chance of success. Don't be tempted to "stay in" a hand when it becomes too expensive and you are chasing just one or two cards. Play tight initially and play less frequently and when you do play, it massively increases your chances of turning a profit as you will only play the better cards.
Keep your stakes small – It's no use having a £25 bankroll and playing a £5/£10 stakes game as you could be out of the game after putting in three blinds within the space of a few hands. If you have a small bankroll, play the smallest stakes games you can find and try to build your bankroll slowly and steadily.
Don't chase your losses – Everyone has bad beats when the cards just do not fall for them and it can be frustrating to see "strong" hands end up losing because of a cruel twist of fate on the flop, turn or river. If you are on a losing streak, then don't try to chase your losses by betting more. No poker game is ever wasted as you have gained experience at the very least and throwing more money at a losing streak is unlikely to help matters. Log off and come back another day when hopefully the cards and fate will be kinder.
Remember bluffs WILL get called – The nemesis of every novice gambler is the ill-judged bluff. In fairness, a well-executed bluff at the right time and in the right circumstances (as I'll outline below) can be a useful tool for the novice player but it is absolutely crucial that you know when to do this to avoid being caught in a trap set by a more experienced player.  Bluffing at the wrong time is a sure-fire way for you to see your bankroll dwindle quickly. Keep bluffing to an absolute minimum and only used at certain times and never bluff with more money than you are happy to lose.
With these five rules firmly in place, let's look at the best games for beginners to target in each of the three Sky Poker categories which I believe offer them a greater chance of success initially. In each of the categories below, I would recommend that novice players stick to the version of the game they are most comfortable playing, which is usually Hold'em but may also be Omaha.
Beating Sky Poker Cash Games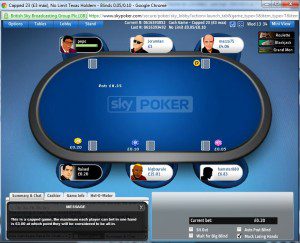 To gain experience, I recommend that all new users head to the free play tables before they spend a penny of their bankroll. This will show you exactly how a table looks when you have joined a game and if other players are online and playing, you can play a few hands for virtual points. Additionally, you will get a feel for how the gameplay goes in a typical hand as well as enabling you to set up your preferences (such as sound effects and volume, avatars on or off etc).
As a beginner, the cash game I would target initially are the Capped games. There are several types of capped games available (£3 up to £60) and this means that the maximum a player can go 'all in' with is the stated mount.
Capped games are a great way of limiting how much you can lose in any particular session, while still offering you the chance to win a considerable amount of cash from other players if you hit a good run of cards and play them well.
Once you feel confident having played capped games, then I would suggest you can move onto the smaller stakes regular Hold'em games. These are by far the most popular type of games to play on the site as you can see in the screenshot below and you can usually find several tables needing a player or two to begin playing quickly.
As a beginner, I'd avoid the Televised, Action, Pot Limit and Heads-Up games initially as these are either more specialised games and are often more expensive and attract the stronger players. However once you feel your skills have reached a sufficient level and perhaps when your bankroll is moving regularly towards the positive, then you can expand your game to include these options.
Sit & Go Tournaments at Sky
Without doubt the best Sit & Go games to target for beginners are the Double Your Money games. The reason for this is that there is a clear, achievable objective for victory.
Double Your Money games take place on tables of six with each player buying into the game for a set amount (as a beginner, start with the smaller stakes games initially, £1, £2 or £3 games are ideal) and each player sits down at the table with that same amount of money in chips.
The aim of the game is to then eliminate three of the six players and if you are one of the three remaining players, then you receive back double your initial stake.
This is a great way for a beginner to play and build a bankroll as they don't have to beat the entire table or win all the chips, or use their judgement when to leave a table having won or lost chips. The Double Your Money game has a simple goal and one that is not unattainable even for a novice player.
As a beginner, avoid playing the Speed, Turbo and Hyper games as they refer to the amount of time each player has to make decisions and also the speed at which the blinds increase. Double Your Money and Regular low stakes games are the best place to start.
MTTs at Sky Poker (Multi-table Tournaments)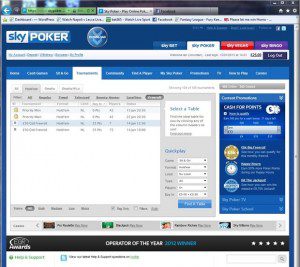 As a beginner, I wouldn't advise entering too many tournaments initially until you have a good grasp on the site and how the games work. However, once you have gained experience, getting experience of tournament play doesn't have to be expensive. Indeed, if you use your Sky Poker Points that you accrue alongside your 500 point bonus for joining, you can gain free entry into many tournaments.
Simply click on the Freeroll option  and you will see a list of competitions that you can enter for a stated number of Sky Poker points starting at just 10 points for entry.
Of course, the freeroll events are tournaments that attract many punters because they are free so you shouldn't be relying on winning prizes at these events in order to fund your playing. The sheer number of players mean that it is unlikely you will win.
However, you do stand a chance and more importantly, you'll gain invaluable experience of tournament poker play, which is different to playing for cash on a Cash Game. This will then enable you to play further tournaments, where you do pay for entry, with at least a bedrock of experience behind you.
In addition, as a new customer, once you have played a game of poker you will qualify for the next months New Player Freeroll, which is precisely that, a chance for all new players to Sky Poker to face off against each other for a cash prize.
By following this key advice, you can not only move from being a beginner, novice poker player on Sky Poker, but also achieve this, hopefully as profitably as possible avoid the many traps that eager rookie players can unwittingly fall into.

More Sky Poker Guides
How Sky Poker Points Work