One of the most appealing aspects of Sky Poker, if you are a player who can only play for a limited amount of time in each sitting, is that you can enjoy poker for as long or as short a time as you like by playing in the Cash Games section of the site.
Before you play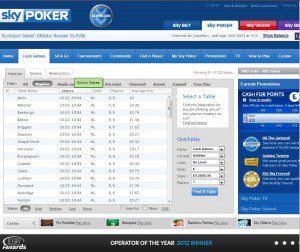 Before you start playing a cash game it is important to note the size of your bankroll and play a game which will ensure that you have enough cash to play for a decent amount of hands. For example, if you have a bankroll of £25, and you log in to play a £2.50 / £5 stakes game, then you may well find that after placing a few blinds, you are completely out of money.
Always ensure you have plenty of cash in your bankroll to fund your play for a decent amount of time. So in the example above, instead of playing a £2.50 / £5 game, play a 25p/50p match and your bankroll will, in theory, last you ten times longer.
It is also a good idea to check the "Average Pot" size for the game you are considering playing. Smaller average pots mean that players are playing more cagily, whereas bigger pots suggest games where larger sums of money are changing hands relatively rapidly. Of course, this may be exactly what you are after, but for a novice player I'd suggest small stakes, relatively low average pot games are the ideal place to start.
Cash Game Loading Screen & Pop Ups
Before we look at the different game options, it is important to note that when you register to join a cash game, the table loads up via a pop-up. Now, if your computer is set to block pop ups this can be problematic – In a couple of games I played, I forgot pop ups were blocked on my PC and as a result missed the first hand in the game I was playing.
As such, one little tip is to check your pop-up status and when the software asks if you want to allow pop ups from Sky Poker, click always allow. That way your games will automatically load up and appear on screen without you missing your first hand.
Sky Poker Cash Games: Options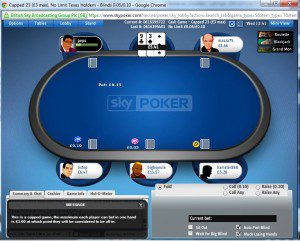 There are three types of poker cash games available on Sky Poker, Hold'em, which is by far the most popular on the site, Omaha and Omaha Hi Lo. I've found that 95% of people play Hold'em with just a few players of the less well-known Omaha. As such, and seeing as it is the most popular form of poker, I'd advise any new players to stick with Hold'em for the time being.
There's two reasons for this – you have a lot more games and people available to play at any one time and you therefore have a far greater selection in the amount of money you wish to stake as the big and small blinds.
That's not to say if you are keen Omaha player then you should avoid playing here. It is just that to enjoy the same number of options as Hold'em players, you may be better playing at busier times, when more tables are being used and there are more players playing Omaha than during quieter periods.
Types of Games Available
For each of the three Cash Games available, there are eight different types of game available, although the games listed in one section may appear in another (for example, TV Games that are played to Regular Hold'em rules will appear in both the Televised and Regular columns)
Regular – As the name suggests, these are regular games of Texas Hold'em or Omaha, with many different tables available and different stakes offered to suit any budget.
Heads-Up – If you are a fan of playing one-against-one for a variety of stakes then heads up is a good option for fast, frantic action between two players.
No Limit – These are tables that offer the most commonly played no limit betting, where players are free to bet what they like at any point during the game.
Pot Limit – Tables where a players bet is limited to what is currently in the pot.
Televised – The televised tables are those that are occasionally shown live on Sky Poker TV and they feature many different variants of the game including regular Hold;em and Heads-Up.
Action Tables – Action tables are where both the small and big blind are the same amount, so instead of a 5p/10p stakes game, you'd play a 10p/10p stakes game. This means more money is in each pot and hence, more action is likely to take place as players try to win the bigger pots more often.
Capped Tables – If you are a beginner then this is where I recommend you start practising your Cash Game play. Capped tables are where players sit down with a limited amount of cash for the table. This can range from just a couple of pounds, to considerably more. Playing this way restricts the total amount you can win, but also crucially, how much you may lose and if you need to eke your bankroll out to last, then capped tables are a great starting place.
Free Play – Dont fancy playing for real money? Then head to the free play tables to play a variety of two, six and ten player games for virtual cash.
Playing on the Sky Poker TV Tables
The TV tables are the tables that are featured on the Sky Poker TV channel during their programming. They will show selected highlights of action on the tables during their programming as well as tuning in to the live tables while the station is on air.
My experience is that the TV Games are a tad more expensive to play than other games and you will often find the same players playing on these tables. Play is generally very tight and the quality of players is probably slightly better than that at the non-televised tables, although there is a large variation within that and you do get novices trying their hand to win big at the tables (and more often than not failing to do so).
If you are an experienced player and fancy taking on the better Sky Poker players, then the TV tables are probably the place to head. If you are a novice player who wants a chance to appear on the channel, then try the lower stakes games (you can play for 10p/20p stakes – but the pots in these games can still get high very quickly) but be aware that you will likely be up against some very strong and experienced opponents.
Cash Games at Sky Poker: Conclusions
If you are an experienced player then there are plenty of options on Sky Poker to keep you playing at a variety of tables, for a variety of stakes and even in a variety of games for a long time. The standard of the opposition is variable, but the higher the stakes then the more you tend to find the better the player you will face.
As a novice player, then I'd strongly advise you begin playing in the smaller stakes Regular, No limit and Capped games. They won't eat into your bankroll quickly (unless you start to make silly bets or are incredibly unfortunate) and you'll often be up against other players seeking a bit more experience. Capped games are a great way to limit any potential losses and ensure your bankroll goes further, plus there is always a good chance that you'll increase your cash by winning a few hands.
Arguably the best thing about Sky Poker's cash games are their flexibility. They allow players to play for five minutes or five hours without penalty and with plenty of games and options to choose from, they are a great way to develop your poker skills still further.
But just remember to unblock those pop-ups before you start playing!
More Sky Poker Guides
How Sky Poker Points Work