Let's begin our look at some of the key features and long-term offers available at our top poker sites this week by taking a look at one of the long-standing offers from Sky Poker which offers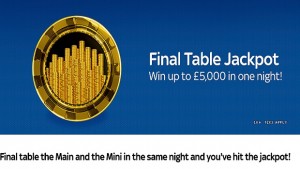 poker players the chance to earn a big bonus for just one night's play.
It's called the Final Table Jackpot promotion and it has been available every week on Sky Poker for almost a couple of years now and indeed, many players have already enjoyed a taste of success with this offer with just one player achieving the big jackpot win.
So if this bonus, which can be as much as £5,000 on top of your winnings, sounds like something you'd like to join, now is the perfect time to join. This is because you can get a fantastic Sky Poker no deposit bonus of £10 (in tournament tokens), plus a 200% first deposit bonus of up to £500 when you join
So if you've signed up and are ready to play, here's why the Final Table Jackpot is one Sky Poker promotion well worth a closer look.
How do I enter the Final Table Jackpot promotion?
To be eligible for the Final Table Jackpot promotion, you first need to enter the correct tournaments on Sky Poker. Every day, the site hosts two big poker tournaments each evening. The Main Event starts at 8pm UK Time with the Mini Event taking place at 8.30pm UK Time. These times are the same across each day of the week.
To have a chance at winning the Final Table Jackpot, you need to enter both of these events on the same night.  Which will mean that you will have to multi-table (play in both tournaments at once) in order to give yourself a chance of winning one of the available cash prizes.
Sky Poker can and will change the format of each type of Main Event and Mini Event throughout the week and when big tournaments are in progress, such as the forthcoming UKOPS event, then these Main and Mini Events will still run but may be incorporated into the tournament.
This means that one night a Main Event may be a Bounty Hunter type game and the Mini Event may be a Rebuy event, but on the next evening, the Main Event may be a Rebuy event and the Mini a Freezeout. Any combination of tournament types can be used by Sky Poker at their discretion for the tournaments each day.
In addition to the type of tournament being alternated, the amount you need to pay to buy into the tournament can also change. Some nights entry may be for smaller amounts (say £5.50 for a Mini Event and £11 for the Main) but when bigger events are scheduled, the buy in can increase markedly (up to £110 in some cases for the bigger Main Events part of a wider tournament).
I have entered the Main and Mini Events on the same night, what happens now?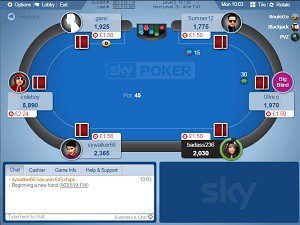 Once you have entered both the Main and Mini events on the same day, you need to log into your Sky Poker account for the 8pm start of the Main Event and also have a multi-tabling option available to play in the Mini Event when it starts at 8.30pm (provided you aren't eliminated before then of course).
Now it is important to note here that if you play Sky Poker from the app, you cannot as yet use multi-tabling via your smartphone or tablet. However, you can load up Sky Poker on your PC and play in one tournament while logging into your account on your tablet or smartphone and playing in the second tournament on there. Or you can multi-table on a PC by opening two separate tables, one for each tournament, if that is an easier option.
What you then need to do is to play through each tournament and earn yourself a place at the six-handed final table in both tournaments. This is by no means an easy task to do in just one tournament, let alone two, but it is possible (as the list of winners in this promotion will testify to).
If you can reach the final table in both tournaments in the same night then you guarantee yourself a payout from the Final Table Jackpot fund, which is paid in addition to any winnings you receive from each tournament.
How much will I win as a bonus for reaching the final table?
Once you've reached the last six of each tournament in the same night, then the amount of money you will win as your bonus will depend on what your final position is in each tournament.
Outlined below is a grid which explains how much money you'll earn for finishing in any of the top six positions in each tournament.
| | | | | | | |
| --- | --- | --- | --- | --- | --- | --- |
| Pos/Event | 1st Main | 2nd Main | 3rd Main | 4th Main | 5th Main | 6th Main |
| 1st Mini | £5,000 | £2,500 | £1,500 | £750 | £500 | £250 |
| 2nd Mini | £2,500 | £1,500 | £750 | £500 | £250 | £200 |
| 3rd Mini | £1,500 | £750 | £500 | £250 | £200 | £150 |
| 4th Mini | £750 | £500 | £250 | £200 | £150 | £100 |
| 5th Mini | £500 | £250 | £200 | £150 | £100 | £75 |
| 6th Mini | £250 | £200 | £150 | £100 | £75 | £50 |
Using the grid it is easy to look up the bonus amount you will receive depending on your finishing position. For example, if you finished 3rd in the Main Event and 5th in the Mini event, look up that amount on the grid and you find that you would earn a £200 bonus.
To win the top jackpot prize of £5,000 you would need to finish 1st in both events. A 1st and 2nd place finish in both events (regardless of which one you win) earns you the second top jackpot prize of £2,500, while a 1st and 3rd place finish, or two 2nd place spots, earns you £1,500.
Finish sixth in both events however and that bonus falls to £50.
This sounds like a tough proposition, are any of the jackpot prizes won very often?
Of course, reaching the final table of a big tournament, often with hundreds, sometimes thousands of players, is never easy so this is not a jackpot bonus that you can bank on winning every day, however if you are a very solid tournament player then it is possible to win this bonus.
Most months sees between one and three players earn some form of bonus from this offer and their details are shown on the Sky Poker promotions page for the Final Table jackpot promotion.
A good example of this is the player GSmith13, who won the £50 bonus on the 9th August 2015 and then followed that up just over a month later winning a £750 bonus on the 19th September 2015.
Only one player has ever won the £5,000 jackpot for winning both tournaments and that was player scotty77, who won both events on 9th April 2014 to take the only £5,000 top prize awarded thus far.
Will you be the next Sky Poker player to follow scotty77 into the record books as a top jackpot prize winner? Why not give it a try?