One of the most pleasing aspects about Sky Poker is that the site offers a great deal of support for the beginner poker player. From their videos on basic poker rules and strategy to the community section where beginners can post with experienced players to seek answers to poker issues and to get feedback on one of their games, Sky Poker is truly a resource.
There is the extensive how to play section which gives you all the details about how to play on the site either from a PC desktop or mobile device and it is from this section you can access the detailed Sky Poker Strategy video section which will show you some great examples of strategy and basics for learning the game of poker.
Without doubt, all these features in combination make Sky Poker an excellent site for the beginner but there is another aspect to the site which many beginners may well overlook.
This is a shame as it is arguably the most informative part of the site in terms of helping you improve your game and that is the Hand History section of the site. 
First and foremost: if you are just signing up for the room, be sure to arm yourself with another valuable tool – a free no deposit Sky Poker bonus bankroll.
Hand history – where to find it and how to use it
To find the details about your hand history, simply log into Sky Poker and click on the My Sky Poker tab. Of the two selections that appear, the My Hand History section is the second on the list. Select this to be taken to the My Hand History menu.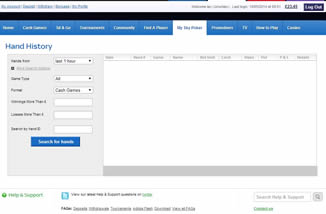 In the menu you need to set the parameters for the hands you are looking for.
You can select any hands you have played from the last hour to the last week of action. You can also further filter your selections by the game type (Hold'em, Omaha, Omaha Hi/Lo), format (cash games or tournaments), winnings more than a stated amount, losses more than a stated amount, or if you have the information to hand, the Hand ID itself.
Once you have selected the parameters for the search, you click the blue 'search for hands' button and this will bring up a list of hands that match your chosen search options.
You can then select each hand and sort them in a variety of ways using the tabs at the top of the box to find the hands you want to review.
How to use the hand history section and how it can benefit your Sky Poker game
So other than a historical record of the poker games you have played on Sky Poker over the past week or so, what is the benefit in using the Hand History tool for the beginner poker player?
The answer to that is simple: feedback, both from yourself and, if you wish to seek it, from other players on the site who may have a tad more experience than you.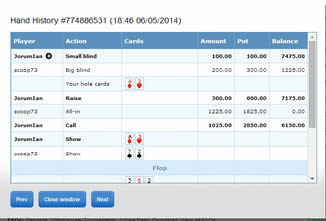 Feedback about how you are playing is absolutely critical in making valid judgements about whether or not you are improving as a poker player.
The frustrating thing about playing poker is that you can play well and still lose, yet you can play a game poorly and have good fortune on your side and cash out.
Therefore, how much money you win at a tournament is not really an indication of how well you are playing at any given time.
The best poker players in the world have all had bad beats when the cards have not gone their way and there are times when even the worst amateur player gets a lucky run with the cards and can find themselves cashing out unexpectedly.
What is vital if you are to develop as a player, is understanding that regardless of how much money you win or lose, is whether your game is improving and you can only do this by reviewing how you play.
And Sky Poker's Hand History tool is absolutely perfect for this vital task.
The good thing is that you don't need to review every hand. Just take a look at those hands where you lost chips, especially those where you lost a considerable amount of chips.
Now take a look at your play in this hand. Was there any clue at any point that your opponent had stronger cards than you?
Should you have bet fewer chips when you did, or do you think going in with a bigger bet earlier would have caused your opponent to fold?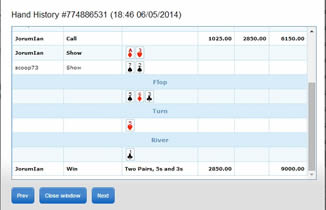 How did your opponent beat you? Did he play a strong pocket hand well, or hit a hand on the flop, river or turn, had you beat and then just stole chips from your pile by betting, or did you make it easy for them by betting too aggressively when you didn't have as strong a hand as you thought?
Also, take a look at the hands you won and review them in the same way. Why did you win a hand? Did you bet particularly well to make other players fold? Did you get lucky on the turn or river?
Then you can look at the hands you are winning and losing, and ask yourself if you are winning more hands than you are losing? How many hands are you contesting in a game?
All this feedback is crucial to help gauge a better understanding of your poker skills as you'll be able to identify whether you are playing too many or too few hands, betting poorly when holding certain hands, or not recognising the danger signs when other players hold the nuts and much, much more.
Asking the Sky Poker Community
Another great thing you can do with the information stored in your Hand History is to note down the hand number of a particular hand that you feel has left you puzzled and make a post in the Community section of the site, in the Poker Clinic forum, detailing the number of the hand in question and why it has you confused.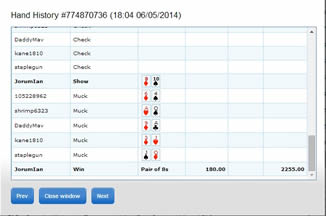 When you do, other more experienced players will review the hand and will give you their opinion on what you should have done, or what the problem is in the hand.
This feedback is great for a beginner player as often poker players will give contrary opinions as to what they will do and they will back up their answers with reasoning. This helps you ascertain what you can do the next time this situation arises.
And if you have made an elementary mistake, then the experienced players will quickly pick up on this and explain to you why you should have taken a particular course of action in the hand.
Conclusion
Reviewing your game is a hugely important part of becoming a better poker player. Remember, you need to be able to identify the mistakes you are making in your game before you can rectify them and the easiest way to do this, is by reviewing your hands through the Hand History section.
Just a few minutes each week reviewing key hands you have played can make a significant difference to your poker game.
Looking for other helpful in-depth Sky Poker guides? Check out our selection of comprehensive Sky Poker site guides.