There are several types of Multi Table Tournaments (MTT) that are available on the Sky Poker platform. You access the MTTs by clicking on the "Tournaments" tab after you have logged in.
Looking for information about Sit and Go's at Sky? Click here for our Sky Poker SNG Guide.
Sky Poker MTTs: Available Games
Multi-Table Tournaments are organised into three broad categories depending on the type of poker played – Hold'em, Omaha and Omaha Hi Lo (see the screenshot below where I have highlighted the available freeroll games in the Hold'em section). That said, the vast majority of tournaments run each day are Hold'em with fewer Omaha and Omaha Hi Lo games offered.
The games offered in each of the three variations of Poker are then further sub-grouped into different game types (in the image above, the types are prefixed with the word 'Filter'). This makes it easier for the player to find exactly the game of poker they want to play, for the buy in they are happiest with and at a variety of times throughout the day.
One nice feature of the site is that each column for each type of game can be sorted, meaning you can quickly sort the game you are interested in playing so you can see the number of players registered, the start time, or how much the buy in is for that game.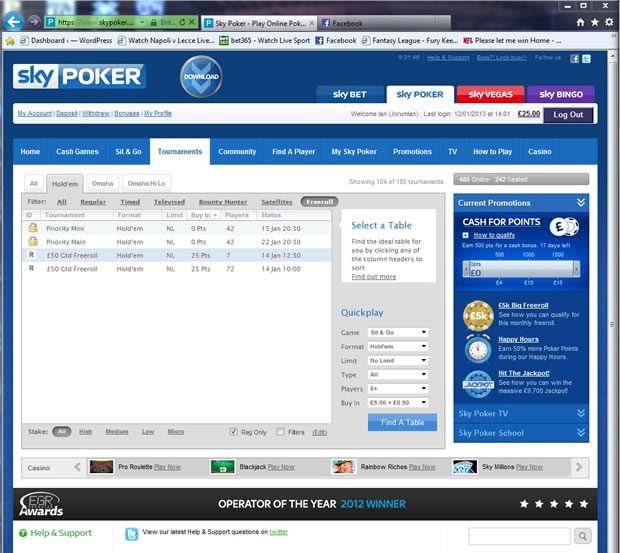 Sky Poker MTT Types
The different tournaments are organised into seven filtered categories:
All – This is simply a list of all the different Hold'em, Omaha or Omaha Hi Lo games running at present.
Regular – This is a list of the games of poker running at present that play to the more widely accepted rules of Hold'em, Omaha or Hi Lo. Most of the games covered by the Sky Poker platform are rated as "regular" games.
It is important to note that these first two categories are made up entirely of the games included in the following five, so a game advertised in the All or Regular filter, will appear in one of the following five categories.
Timed – Timed games run regularly throughout each day and usually there are enough players on the site to get going in a timed game relatively quickly (though on less busy times, you may have to wait). A timed game sees players buy in and receive an equal stack and play for a stated amount of time (usually 15, 30 or 60 minutes). The players remaining in the game at the end of that time win a portion of the guaranteed cash sum proportionate to the amount of chips they hold at the end of the game.
Televised- Games that are scheduled to be televised on Sky Poker TV are popular not just because they are televised but because they often have much greater rewards for the winners. As such, the buy ins for these tournaments tend to be higher, though you can enter tournaments with £30k prize money, for as little as £24.
Bounty Hunter – Bounty Hunter games see half of your buy in used for the tournament prize and the other half used for player bounties. Every time you eliminate a player, 75% of their bounty is paid to you with the remaining 25% added to your bounty.
Satellites – Satellite games offer the winners a chance to earn a seat at one of the big money tournaments run by Sky Poker, usually at the weekends. Buy ins range in price from relatively small amounts ($1.60) up to £24 or more for the larger bigger prize tournaments televised on Sky Poker TV.
Freeroll – When you play on Sky Poker you are awarded Sky Poker points when you play games or make a deposit. Sky Poker then allow you to redeem these points by using them as your Buy In to certain well-advertised events. These freeroll events are listed in this section and are an ideal way for new players to play the game and gain experience without using any of their real cash.
What is particularly appealing about Sky Poker's service is that there are a wide number of games available that suit the budget of different players. Novice players, or those on a small budget can select from plenty of lower priced buy in games in all categories, or play the freeroll tournaments, whereas those with more experience and more money to play with, can opt for the tournaments with bigger buy ins. Of course, using the right Sky promo code gets you free tournament entries, which doesn't hurt the appeal of the room.
New Player Strategy for Sky Poker Tournaments
In terms of actual gameplay, I've found that there is no massive difference between each type of games in terms of the ability of the opposition. It seems counter-intuitive that a free game would have equally good players as a game with a £100 buy in, but my experience is that the cost of the buy in for players bears little correlation with the ability of those playing.
In general though, as a novice player I'd stick with the freeroll and smaller buy in Timed and Bounty Hunter games initially as these offer, I believe, more chance of success for a smaller initial cost to you. Timed games are good especially if, as a good novice player should, you are keen to play a little more tightly and eke your stack out as long as possible as if you last until the timer ends, you win a proportion of the pot.
More Sky Poker Guides