One of the most appealing aspects of Sky Poker is the sheer variety of different game options there are available, within the broader grouping of Cash Games, Sit & Go and Multi-Table Tournaments. In this article, we'll examine what the different options available to those players who prefer Sit & Go tournaments.
The first thing to note is that when you click on the Sit & Go icon, you have a choice of which type of game you would like to play. There is regular Texas Hold'em, Omaha and Omaha Hi Lo. You can filter the games by clicking on the relevant tabs on the top, or have all types of poker game included on a single list.
It is worth noting here that Omaha and Omaha Hi Lo games are not always available to play at and that most of the time, the more popular Hold'em will be the only option available for players.
For each variation of Poker game listed above, there are seven types of Sit & Go games available (See image below).
Regular – Regular games are available for between two and ten people with different buy in options to suit your budget, as well as a Bounty Hunter version where the prize contribution from players is split between the prize pool and player bounties. This means if you knock out a player during play, you win the bounty placed on that players head.
Double Your Money – Double Your Money games are games where you can double your bankroll quickly simply by being in the top half of players who start the game. On Sky Poker, if you are in a game of six players, you only need to finish in the top three to double your stake money.
Heads Up – Heads up Hold'em is usually played between two people. As such the action can be fast and frantic with a lot more betting from both players involved.  Sky Poker offers several different versions of Heads Up poker, including Turbocharged and Supersonic, which offers heads up action at a quicker pace with faster increasing blinds, Four Player Heads Up games and the Russian Roulette game which is simply both players automatically being all in and the winner of one hand doubles their stake.
Speed – There are a wide variety of speed games available on Sky Poker including player bounty games like TKO, 4 Player Heads Up, Treble Up, Speed 8 (3 paid) Accelerator and Speed Scary. In this final game, blinds increase every three minutes and players have just 15 seconds to make their decisions.
Turbo – Turbo games include those shown in the Heads Up and Double Your Money.  These games differ in the amount of time it takes for blind to increase and also in the amount of time a player has to think about their betting options.The faster the game, the more quickly blinds increase and the shorter time players have to make their betting decisions.
Hyper – Hypercharged or Hyper games are a form of Turbo heads up play between 2 to 6 people, which are excellent for earning poker points in the Sky platform.  As with other speed variations of Poker, the game is fast-paced.
All In – All in Poker games are games of Hold'em consisting of just one hand for each player. Every player starts the game all in and then the hand is dealt and the winning player takes all the money staked immediately. You can play Russian Roulette (2 people) or All-In Treble Up (3 people).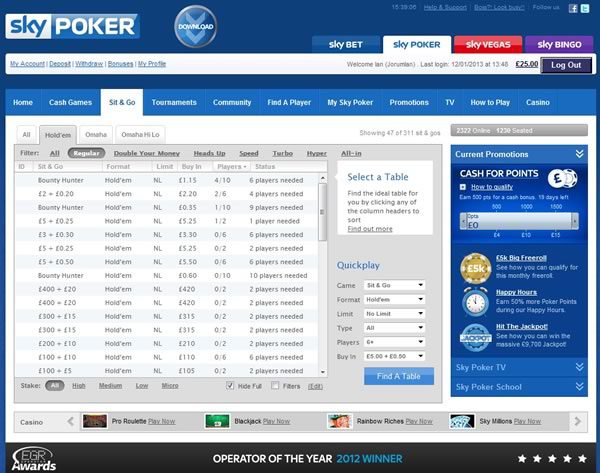 At Sky Poker, by far the most popular variations of the game are the Regular and Double Your Money games.
One handy hint is that at the bottom of the page, you can filter the games in each section by how much the stake is for each, so you can filter out those games that are either too expensive, or not expensive enough for you to consider playing in.
My personal experience with Sky Poker SNGs
I found the Sky Poker Sit N Go games a good place to start playing, especially since you can use your free sign up bonus at SNGs (use promo code POKER at signup). Double Your Money games are a great place to begin and if you are a half decent player, they offer a good way to quickly build up your bankroll. After that, playing in some of the regular games offers a good challenge, although the standard of play in the rooms does vary quite considerably at times.
More Sky Poker Guides
How Sky Poker Points Work