Over the past 12 months it is fair to say that Bet Stars has really been pushing the boat out when it comes to offering their customers some excellent value promotional items. A renewed offer for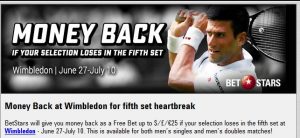 new customers now offers £30 worth of free bets when you deposit just £10, while there are long term offers available for football in the form of the Acca Insurance offer.
However, if there's one offer that has perhaps caught the eye of BetStars punters more than any other over the past few months it has been BetStars frequent Money Back offers.
You do need to be a BetStars member to enjoy these regular offers. Click here to sign up now and take advantage of the generous BetStars new player bonus.
What are BetStars Money Back offers?
One of Bet Stars competitor sites, Paddy Power, are arguably the most famous site associated with this type of promotion as the site has styled itself as the "King of the Money Back specials". The good news is that if you like what Paddy Power offers on their site for these offers, then BetStars are equally as good, if not quite as numerous in number.
Take this coming weekend for example. BetStars have another Money Back Special on offer for the forthcoming Formula 1 race at the Hungaroring in Hungary. Taking part in the promotion is very simple indeed, just place a single bet on who will be the Race Winner at the F1 Grand Prix of Hungary this weekend and if your driver doesn't complete the race, BetStars will refund your stake as a free bet (up to a maximum of £30).
As you can see these offers take the format of a very simple, but popular form of bet which will appeal to most punters, on a major sporting event taking place. The Money Back element is a form of insurance which means that if a certain event happens in your chosen sporting event, in this case the driver you back doesn't finish the race, then you get your stake money back as a free bet.
How often are these offers available?
At BetStars, there have been an increasing number of these Money Back Special offers over recent months and that is likely because they have proven extremely popular with punters. BetStars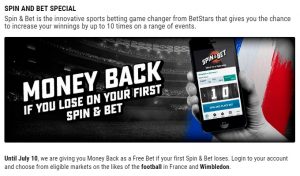 have made similar offers across a range of sports over the past few months including all the most popular sports, such as football, horse racing, golf, cricket, basketball and more.
The likelihood is going forward, there will be an equally diverse range of sports supported with their own Money Back Special offer in the forthcoming months. Usually you will see an offer of this kind at least once per week, although sometimes there are more than one of these offers available in a given week.
Are they good value?
Yes, these offers are good value for punters as it is essentially free insurance for your bet, should a certain trigger event happen. Of course, how valuable the offer is depends on what this 'certain trigger event' is, but in most cases, they are events that you would reasonably expect to happen in an event.
In the example above, your bonus is triggered if the driver you back doesn't finish the race. In other sports, it will be different of course. In football your bonus may be triggered if your team has a player sent off, or if a certain player scores for your team or the opposition. For golf it may be triggered if one player achieves a hole in one, or if one player reaches a certain score above or below par.
What the trigger is for the bonus is important as the more rare and generally unachievable it is, the lesser the value of the offer. However, if the trigger event is something that occurs generally frequently and has a good chance of occurring, then the value of the offer is increased.
Generally speaking BetStars have pitched their trigger events for this offer just about perfectly.
What do I need to do to participate in the offer?
When a Money Back offer is available on BetStars there is no need to opt in to the offer or place your bet in any different way to normal. Simply look at the description of the bet and specifically, the market you need to bet on, place your qualifying bet of up to £30 on that market and your bet will automatically be covered by the offer.
If the offer is triggered, your free bet will be in your account shortly after the completion of the bet and it is subject to the same terms and conditions governing other free bets or bonuses at BetStars.