It may have taken the company a little while longer than some of its contemporaries to move into the fledgling esports betting industry, but SkyBet do now offer a growing number of these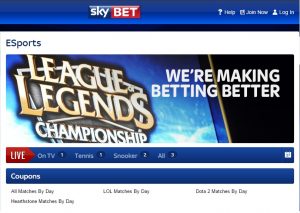 new betting opportunities on the site.
So if you are a SkyBet customer who has never heard of esports, or are generally confused about what esports betting actually is, in this article we will explain exactly what SkyBet offers its customers when it comes to this brand new, but rapidly-growing form of betting.
Click on the following link to learn how to activate your Sky no deposit bonus to ensure you sign up and can start enjoying this emerging form of betting.
What are esports?
The term 'esports' is actually short for electronic sports and essentially what this is, is high-level and in many cases, professional video gaming. What do we mean by that precisely?
Well, if you own a PC or games console such as PlayStation 4 or Xbox One, you will no doubt be aware that on all of these devices you can play games online against other players from around the world via the internet. Alternatively, you can put several machines together on a single network and play locally against other players.
What esports is, is essentially this, but featuring the very best teams and individuals who play a small number of the world's best multi-player online games. Although the industry is still emerging in the UK, it is a massive industry in South Korea and China in particular and there is a growing interest in these events across Europe, the Americas, the Far East, Australasia and indeed all parts of the globe.
So what am I betting on with SkyBet esports betting?
Having explained what esports is, many people often conclude that this industry is ripe for fraudsters and conmen as people can back any old match on any console and rig the game to make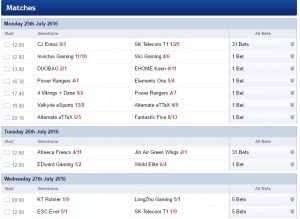 money. That is absolutely not the case. Indeed, esports at the highest level is as rigorously officiated and played within the rules as any sporting contest you would care to name.
With esports betting you aren't betting on little Ted taking on Dougal from school in a game of FIFA. Instead, you are backing one of the world's finest teams or individual players, taking on another top level team, most of which are fully professional, in a highly competitive, structured, competitive and officiated tournament.
Essentially, if you compared esports to football betting, you are not betting on the outcome of a local Sunday League game, instead you are betting on the outcome of top professional tournaments akin to the Premier League, Champions League and so forth.
How 'big' are esports in the UK and globally?
In the UK esports are very much still an emerging market, but it is clearly obvious that greater numbers of UK players and punters are taking an interest in esports gaming. The Twitch TV esports-exclusive streaming service has hundreds of thousands of followers in the UK and the number of betting sites offering esports betting is increasing.
It is fair to say that the UK is perhaps slower than other nations when it comes to the esports craze taking off. In the Far East, especially China and South Korea, esports enjoys a high profile, akin to soccer in the UK. In other countries in the world, across Europe, North and South America, Asia, Australasia and beyond, the esports industry is growing markedly too.
One thing is sure, while the esports betting industry isn't massive at the moment, given how popular esports is getting across the globe, it is certainly going to be a more prevalent market in the future.
What esports does SkyBet offer betting on?
Although the number of tournaments available on SkyBet for each sport does differ, with new tournament starting almost every week, there's always a healthy selection of esports bets available on SkyBet. However, the vast majority of betting on esports on the site tends to focus on just a small number of esports games.
League of Legends (LoL)
StarCraft 2 (SCII or SC2)
Counter Strike: Global Offensive (CSGO)
Defense of the Ancients 2 (DOTA 2)
Occasionally, SkyBet may also offer odds on other esports, such as Call of Duty, FIFA, Hearthstone or similar, but these are generally not as readily available as the four major esports listed above.
What betting markets are generally available?
The number of betting markets available for each of the different esports games available on SkyBet is entirely dependent on the game being played and also on the tournament that the contest is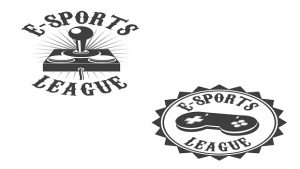 part of. Essentially, like any other sports bet, the more important the game and the higher the profile of the teams contesting it and the greater the importance of the tournament, then the more bets you will find available on that contest.
However, SkyBet offers a number of bets for almost every esports contest, such as betting on the winning team or individual in a contest.
Other bets are available depending on the esports in question. In some esports, you contest rounds over different maps, so the Map Score bet may be an option. Other esports involve the creation or destruction of certain key characters within the game, so you can bet on which team or player will be the first to kill some of these important characters.
It is fair to say that the potential markets available in esports betting has only scratched the surface of what could be available in 2-5 years time.
Does SkyBet offer In Play betting on esports?
The good news is that while there isn't a Live Streaming option (you can use Twitch TV for regular live streaming of a huge amount of esports events and there are other platforms where you can tune in and watch for free), you can bet In Play with Sky Sports on esports.
The site tends to offer In Play betting on only the major esports events each week, but given that there are usually several of these contests played each week you can find regular esports betting available via SkyBet's In Play service.
Can I make a profit esports betting?
In truth, when it comes to profitability, esports betting is no different to any form of betting when it comes to making a profit. You can do so if you make enough astute bets and avoid making poor bets. Researching your esports bet is a bit more problematic, but there are some excellent sites that allow you to do this.
In short, if you are good enough, you can make as much a profit on esports betting on SkyBet as you can on any other form of betting. Why not give it a try today?