If you are a mobile customer with Coral, then you will already know that the site offers a fine range of different options when it comes to casino gaming, with Coral Casino, Live Casino,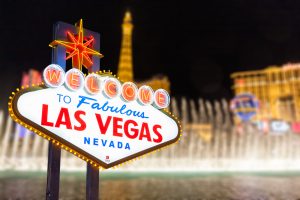 Games and Slots all offering a massive choice of games.
However, accessing all these games and more from your mobile with Coral has been a little hap-hazard at times and with new games becoming available all the time, Coral needed to simplify matters somewhat for their mobile customers. The result has been the development of an exciting and brand new mobile app.
That app is called Coral Vegas and it has just been released as a download in the App Store for both iPhone and iPad devices. Let's take a look at what this new software is and why it could be very useful to you as a mobile customer at Coral.
What is Coral Vegas?
Coral Vegas is essentially an app for mobile devices only that offers Coral customers the chance to play a wide range of casino games, including slots, direct from your mobile in one place.
What is different about Coral Vegas however is how it is presented. Unlike the other mobile apps which replicate the Coral Website in styling and presentation, the new Coral Vegas app takes a different approach.
This approach is more reminiscent of a site like Netflix in how it presents information but what is clever about the new app is that as you use it, it learns what the type of games and slots are that you want to play and as such, the app will change to present these preferences to you more readily.
In short, the new Coral Vegas app learns what you like and ensures that you are presented with more of the games you want to play more readily, rather than those that you don't.
So, if you are someone who prefers blackjack to other forms of casino gaming, then Coral Vegas will learn that and present more blackjack options, same goes for slots, or roulette or video poker.
Game selection
Of course, Coral Vegas has an outstanding selection of games you can play direct from your mobile. Currently there are a total of 16 games shown on the website that you can play although this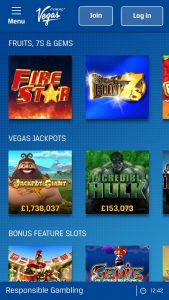 list does not include all the games available on the app:
Fruit-Full
Big Banker Slot
Coral Cash Shots
Premium Roulette Pro
The Magician Triple Pots
Blackjack
Jewel Dolphin Slot
Rainbow Riches
Fortune Dragons
Cashtros Voyage
Legends of Racing Jumps
Rainbow Riches Pick'n'Mix
Super Gold 7s
Centurion
Money Multiplier
Wild Times
However, Coral have revealed that as new slot games are released each month on any of their other casino sites, the games that are mobile-compatible will be showcased on the Coral Vegas app first. This means that if you have the Coral Vegas app on your mobile device, then you'll be one of the first people to play any new slot released at Coral.
Furthermore, once you have downloaded the Coral Vegas app onto your chosen device you'll see that there are many more games than the 16 listed above available through the app, including a number of progressive jackpot slots, free spins games, traditional fruit machines as well as a number of blackjack games too.
Will Coral Vegas be available for other mobile devices?
At the moment, there is only a downloadable app for Coral Vegas for Apple iPhone and iPad devices. However, given that Coral offers support for a number of different mobile devices across its range of other mobile services, it seems likely that once a compatible working app for Android and maybe other operating systems is devised, these too will be available for download.
Can I sign up to Coral through the Coral Vegas app?
If you are not yet a Coral customer and want to sign up, then the good news is that you can do so direct from the Coral Vegas app. The good news is, that the Coral Vegas new player deal is slightly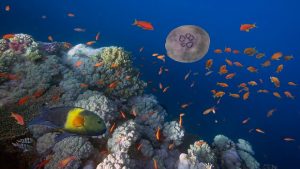 different to the Coral new player deal you can get when you sign up on another of its casino-based sites.
With this limited time offer from Coral Vegas, if you sign up today then you can receive a fantastic welcome bonus worth up to a huge £400. This comes in the form of the following deposit bonuses:
A 100% deposit bonus on your first deposit of up to £200
A 50% deposit on your second deposit of up to £100
A 25% deposit on your third deposit of up to £100
To maximise the bonus on offer to you, you would need to deposit £200, £200 and then £400 in order to earn the maximum £400 in bonus cash when you sign up.
Are there any other incentives for me to sign up with the Coral Vegas service?
Yes there are, in a move designed to attract more mobile customers to use the service, Coral have announced that not only will Coral Vegas have its own special bonuses and promotions, much like the new player offer outlined above, but that many of these offers will only be available to players who play  via a mobile through the Coral Vegas service.
This means that in order to get the best deals for mobile customers, from now on you should try to use the Coral Vegas app as your primary source for accessing the Coral platform.
However, remember you can still use a laptop or similar in order to access the other Coral sites and there are additional apps available for other Coral-based sites (such as Poker and Live Casino) which will allow you quick and easy access to them.
Coral Vegas is simply an addition for people who enjoy casino games, which utilises a new presentation system that is more intuitive to allow a user a more fluid gambling experience from their mobile. You can download Coral Vegas right now from the App Store.