There are an increasing number of punters that are switching from using a laptop or desktop PC, to the far more accessible mobile device as their primary means for placing bets and wagers.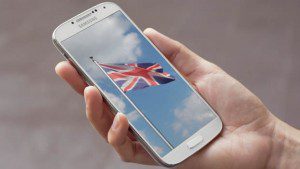 As such, many companies have been spending a lot of time and money researching and developing a number of apps, as well as mobile-compatible websites, that make it particularly easy for punters to bet with them in this way.
What started as a trickle of apps available just a few years ago, has led to a deluge of apps from a host of the top names in the sports betting, casino, poker and bingo industry and without doubt, Coral is one such name that has been rapidly improving its service for the mobile customer.
Before we take a look at the selection of apps currently available for Coral mobile customers, it is first worth pointing out that you would need to be a Coral customer to enjoy the benefits of all of the apps outlined below. Click here for the latest Coral sign up offer information across a wide range of its sites.
Let's now take a look at each of the six different apps available for Coral customers wishing to download apps to use via mobile.
Coral Mobile and Coral iPad
The first app you can download from Coral is the Coral Mobile app. This is essentially the app version of the Coral Sports website, with an additional 50 casino-based games also accessible from within the app for players who fancy trying their luck on these instead.
The app offers a huge selection of betting markets, including In Play betting, across a wide range of sports, indeed the service offered via the app is certainly no inferior to that you would receive from the website.
In addition to the extensive range of sports betting markets, you can also view a large number of sports via the Live Streaming option, which carries live streams from a wide number of events, available to view if you are a Coral casino customer free of charge.
Furthermore, if you place a bet of £1 or more on any horse race in the UK and Ireland, then you can also watch a live stream of that race direct from your mobile thanks to Coral's horseracing live streaming service.
You can manage all aspects of your Coral accounts from this app and in addition, the site will also offer special Enhanced Prices on selected betting markets, which are only available to Coral customers using the Coral Mobile app to access the site.
Yet that's not all, there are also a choice of 50 different casino games including roulette, blackjack and slots available all from within the app.
The Coral Mobile app is perfect for a mobile phone user and is available for both iOS (Apple) and Android users. However, if you own an iPad, then you should download the Coral iPad app instead, which offers a very similar service to Coral Mobile, only it has been optimised to ensure greater compatibility with this particular mobile device.
Coral Live Casino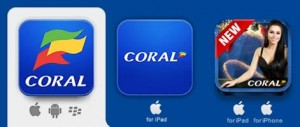 The Coral Live Casino app offers Coral customers the chance to enjoy some fantastic Live Casino gaming across a number of different games. Roulette, Blackjack, Baccarat and Hi-Lo.
Live Casino is the version of casino gaming where there is a live dealer operating the game in question and you can watch the events unfold via a webcam. Bets are placed in pretty much the same was as an automated game, but the outcome, such as the spin of a roulette wheel is done on a real wheel in real time.
The Live Casino app has been designed to be especially compatible with Apple products including the iPad, iPhone and iPod touch. There is currently no Live Casino app available from Coral for Android users at the moment.
Coral Spin Casino
Coral Spin Casino is another Apple-only app which is available for the full range of Apple devices and which features a number of different casino table games which the user can play for real money.
The difference with the games on the Spin Casino is that the software uses the Tilt and Swipe functionality of iPhone and iPads in order to play the game.
In addition to this, there are a good choice of different roulette games available to play where the user can set the ball speed and wheel spin direction on a roulette game for example. Players can also play a couple of different versions of blackjack too.
There are only six games at Coral Spin Casino but if you are a fan of these games and the novel way you can interact with them, then this is an app well worth downloading.
Coral Radio
Perhaps one of the more unusual apps from Coral is the Coral Radio app which brings a whole host of different sports commentaries, news and other items direct to your phone via the site's own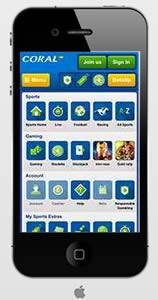 digital radio station.
The station covers a wide number of sporting events including:
Horse racing commentary on all UK and Ireland meetings each day
Football Commentary on all Premier League games, plus commentary on a host of other games from selected competitions including the Champions League, Europa League, La Liga, FA Cup, Capital One Cup and International matches
All the latest football results
Cricket Commentary on all England matches plus the Cricket World Cup
A full Sports News bulletin bringing customers all the key news and sports results.
This is a very useful sports app for researching bets, as well as keeping up to date with the latest sports news and catching commentary on a number of top events all on your mobile or tablet.  You can get the Coral Radio app for iOS and Android devices.
Coral Poker
After a stop/start history where Coral initially released a mobile version of their poker client, only to withdraw it a few days later, Coral have recently revamped their poker offering for mobile customers and the new app, which is far improved over the original, features a host of different poker games that you'd find on the Coral Poker website.
Speed Poker, Sit & Go, Cash Games, Multi Table Tournament and Twister Poker
In addition to this, there are tournaments each hour for beginner players as well as a number of exciting promotions you can participate in as a Coral Poker member over the course of the year. If you are a regular player then you can also track your own level in the VIP scheme to see what you could be earning from your play on the app.
The new Coral Poker app is a significant upgrade over the previous incarnation and it now offers Coral Poker players the same level of gaming as many of the top poker apps you can find with any top poker site provider. The app is currently available for just Apple devices only.
As you can see, Coral's mobile offering has improved markedly over the past couple of years and the company now offers extensive gaming and betting options for mobile players, especially those with an Apple device.