Placing an accumulator bet, also known by the colloquial term 'acca', is one of the most popular ways for punters to enjoy a bet on a wide range of sport. However, if you are new to Coral and the world of sports betting in general, you may be unsure what this type of bet is, or certainly how it differs from other multiple-selection bets.
In this article, we'll give you the complete guide to successfully starting acca betting on Coral, explaining what this type of bet is, how you can place one with Coral Sport quickly and easily and also we'll explain the key difference between an acca bet and some other popular multiple-selection bets.
Lastly, we'll round off the article by taking a look at Coral's extensive range of offers for Acca betting, which offer the acca punter great value across a range of different sports.
Let's begin with the basics by explaining exactly what kind of bet an accumulator is and how you can place this type of bet with Coral Sport.
What is an Accumulator Bet?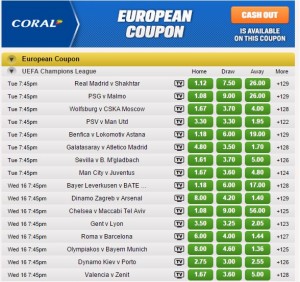 An accumulator bet is a single bet based on a number of different selections in any given sporting market (or occasionally across different markets). In order for the bet to win, all the selections you add to your slip to complete the accumulator must win, in order for your bet to be successful and for you to receive a return.
For example, if you looked at the Premier League fixture list for any given weekend and selected Manchester United to beat Arsenal, Everton to beat Crystal Palace and Liverpool and Chelsea to draw, then you would need all three of these results to occur in order for your accumulator bet to win.
In theory, you can add as many selections to your accumulator bet as you like, though some bookmakers cap an acca at around 20 to 25 selections. However, you have far greater chance of success with a smaller number of selections.
One thing to note regarding terminology is that bookmakers will call accumulator bets that contain two or three selections either a Double or Treble bet, with all other acca bets consisting of four selections or more named by the number of selections with the suffix '-fold', thus an accumulator consisting of six individual selections, would be a six-fold.
You can place an accumulator with Coral Sport across a wide range of sports, though they are most often used on football betting, tennis betting and horseracing.
How do I place an Accumulator Bet with Coral Sport?
The easiest way to explain how to place an acca with Coral Sport is by way of an example and for this purpose, I am going to use an example taken from bets on the Match Result market in the
Champions League in football. Although, it should be noted that the process is the same for whatever sport you wish to place an acca bet on with Coral.
The easiest way to place an accumulator bet is to navigate to your chosen market using the A-Z listing on the left hand side of the screen. Alternatively, if there is a coupon available on Coral, then these are a great way to list matches from the same competition in a single list to enable you to make your selections most easily.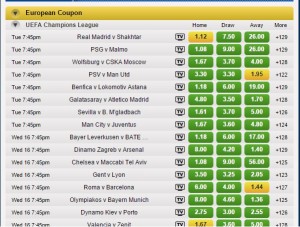 For this example, I clicked on the European Coupon, which lists matches to be played in the UEFA Champions League and Europa League competitions.
What I can then do is select which result from the matches I want to formulate my accumulator I want to add to my bet slip. This is done by clicking on the odds for your chosen selection (home team win, draw, or away team win).
Once added to your slip, the odds for the bet you have added turn yellow to indicate it is now on your bet slip. Simply add all the games you want to your slip by clicking on the results from other games. In this example, I have selected four games for a four-fold acca bet.
Now that you have added all the selections you wish to make, turn your attention to the Bet Slip on the left hand side of the screen. Here you will see the four selections listed under the Singles bet option, but instead we want to check out the Multiples section underneath and specifically the Fourfold acca bet listed atop the list.
All you then do is enter your stake in the box next to the Fourfold bet and then click the green Place Bet button at the bottom of the page. You have now placed an acca bet.
Of course, the options available under the multiple bet section will change with the number of selections you add to the bet slip. So if you add six selections, the acca you will want is a six-fold. Add ten, it will be a ten-fold and so on.
What's the difference between a Multiple Bet (such as a Patent) and an Accumulator?
The biggest difference between an acca bet and any other type of multiple bet listed in this section is that an acca is just one bet and as such requires the user to place just one stake.
Other multiple bets, such as Patents, Yankee or Lucky 15 bets, require the user to place many more lines to cover all the possible combinations. A Lucky 15 for example is called this because there are 15 separate bets covered in this multiple bet.
So a £10 accumulator bet on 4 selections would cost you £10 to place. A Lucky 15 bet with a £10 Unit stake would actually cost you 15 x £10, which is £150 to place.

Of course, with a Lucky 15 bet you can win cash back if not all your selections win (your additional bets cover the single bet, double bets, treble bets and one accumulator bet on all four selections) which does mean it is more flexible.
What Offers do Coral have for Acca betting?
Coral offer a wide range of accumulator-themed offers for punters on their site across a broad range of sports.
The Super Acca Insurance offer for football sees you receive back your stake (up to £25) as a free bet if one selection lets you down on 6 to 8-fold accas, two selections let you down on 9 to 10-fold accas or three selections let you down on 11+fold acca bets.
The Acca Insurance offer for Tennis sees punters offered their stake back (up to £25) as a free bet if one leg of any five-fold acca or better lets them down.
There is also a Golf Insurance offer which sees any punter who places a four-fold acca on a 3-ball or 2-ball match during the top golf tournaments each week, receive their stake back (again up to £25) if one of their selections loses.
That's not all though as Coral also run a Football Jackpot competition each week which sees a jackpot to be won each week if any customer can predict the result of 15 matches from the weekly coupon, which is a very similar process to placing an accumulator bet.
If you would like to join Coral to take advantage of any of the top acca betting offers outlined above, then check out our fantastic Coral welcome bonus page and join direct by clicking on the link.