With the League of Legends World Championships coming up in October, we'll leave our review of this most popular eSport until nearer that time and following on from our look at Counter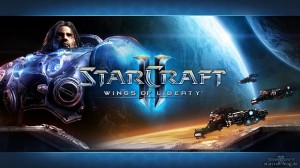 Striker: Global Offensive and the range of competitions in action this past week, we'll begin this week's article looking at another hugely popular game, StarCraft 2.
Set in the darkest reaches of space in the far future, StarCraft 2 is a real time strategy game developed by Blizzard Entertainment. The base game is called Wings of Liberty with an expansion pack Heart of the Swarm now also available and a third expansion pack Legacy of the Void to be released at some point late in 2015.
One of the most impressive features of StarCraft 2 is the ability to select from one of three races, Terrans, Zerg and Protoss each with their own distinct benefits and disadvantages. Players can select their team from a number of different units, build factories and bases for their squads to produce more units in game, and they then compete against another players team in a large battle arena.
What makes StarCraft2 different to other popular games is that this is a game more about successful team strategy, rather than simply outstanding gaming skills. It combines both elements into a game that has become one the most popular eSports across the planet with a host of top tournaments played around the world, especially in Korea where the game enjoys huge popularity.
The big event this weekend in the StarCraft galaxy is the final of the SK Telecom Proleague competition, where after months of competition, the final two teams remaining in the competition, KT Rolster and the hot, odds-on favourites SK Telecom T1 will face off to decide which team will officially be crowned as the best StarCraft2 team in the world.
Of course, you'll be able to bet on this massive StarCraft2 match up on Bet365 Sport with odds already available. SK Telecom T1 are the big 8/15 favourites, with KT Rolster an 11/8 outside chance of taking the title.
That's not the only Starcraft action coming up over the weekend as it is also Week 5 of the regular season in the Chinese StarCraft League.
Invictus Gaming head the table with 2 wins and one tie from their three games, with SoloAsR in second with two wins out of three. Brave Heart and Zenith of Origin are both unbeaten with one win and two draws from their three games, while Team LeiFeng are also unbeaten drawing all three matches so far.
Yoe Flash Wolves lie in sixth place with two draws and a defeat, while x_Team and TouHou Project have drawn one and lost twice to prop up the table.
Games this weekend see Brave Heart take on TouHou Project and Zenith of Origin take on X-Team on the 12th September, while on Sunday 13th September yoe Flash Wolves face leaders Invictus Gaming and Team LeiFeng taje on SoloAsR.
Another big event coming up this weekend in the StarCraft world is the 2015 WCS Season 3 Premier League playoffs. Eight individuals qualified from the second Group Stage of the competition earlier on this week to leave the quarterfinal draw as follows:
Sweden's Zanster will taje on Germany's GungFuBanDa in the first match up with France's Lilbow taking on South Korean ace Hydra. Two other Koreans clash in the third quarter final as Polt takes on ForGG and in the last game Aussie ace Petraeus takes on Polish based MaNa.
These four games will take place on the 12th September with the winners progressing into the semi finals and then the winners of the semi's contesting the final. Both the Semi Final and Final will be decided on Sunday 13th September.
It certainly is a huge weekend for StarCraft 2 fans with many top events taking place around the world, but there are plenty of other eSports you can bet on over the weekend too, in addition to Starcraft match ups.
This weekend sees the DOTA 2 based Alienware Summer's End Cup take place, with a prize pool of $10,000 up for grabs. Eight of the best DOTA 2 teams will participate in the competition which begins on Friday 11th September and continues until the finals are played on Sunday 13th.
The first two quarter finals take place on Friday 11th between Alliance and 4 Clove and Lepricoin and 5Jungz and Vega Squadron, while on Saturday the second two quarter finals between Team Empire and Golden Boys and Arcade Power Rangers and the wonderfully named Ninjas in Pyjamas will be contested.
The Semi Finals and Final will then be played over the course of Sunday and there should be plenty of betting available on this big event for DOTA 2 fans in particular.
As always, it is well worth checking back to Bet365 Sports eSports section throughout the week for further odds and bets available across a number of other eSports including League of Legends (we'll have a lot more on the forthcoming World Championships in Europe this October coming up in the next couple of weeks) and of course Counter Strike: Global Offensive too.