The football season is well under way and it is proving to be an exciting season in many leagues across Europe. The popularity of football both as a sport itself and also as a catalyst for betting has never been greater and of course, bookmakers want to entice you to bet with them on this massive betting market.
In order to do this, sports betting sites will often offer promotions on football matches in order to get you to bet with them. These promotions can take many forms. Some can be short term offers only available for a single game, others may be available of a certain period of time while some may be available all season long.
In this article, we are going to take a look at what we feel are the three best promotional offers you can find for the most popular forms of soccer betting. By that we mean offers that not just offer great value over a sustained period, but which also cover the most popular forms of bet, hence they will likely appeal to a greater range of football punters.
The three offers come from two sites, Bet365 Sports and SkyBet and you can join both by clicking the following links. Get the latest Bet365 bonus code here while you can claim the Sky no deposit bonus by following this second link.
3rd Place – Bet365's Bore Draw Money Back Guarantee offer

Details: Place a bet with Bet365 Sport on any football match on any of the following markets:
Correct Score
Half Time/Full Time
Scorecast
And if the match you have bet on ends in a 0-0 draw and subsequently your bet loses, Bet365 will refund your stake as free bet. If a bet has been partially cashed out, then the refund will only apply to the part of the bet that has been left running, not the part of the bet originally cashed out.
Positive Points – Available on almost any match Bet365 offer odds on from any league across the world. Very easy to follow and all qualifying bets are covered by the offer automatically and payouts are automatic if your bet qualifies for a refund. High probability of triggering the offer if you bet regularly on the qualifying markets during the season as between 7 and 12 per cent of matches in most top leagues end in a 0-0 draw.
Negative Issues – None
Potential value to customer –  8/10 – This is a great value offer which can be used on a massive choice of games throughout the year at Bet365. If you bet regularly on the qualifying markets, then about 10% of the time, you may find the offer comes to your rescue offering you a refund, rather than a lost bet.
2nd Place – SkyBet's Price Boost offer
Details: Head over to the SkyBet site and look for the yellow "Price Boost" box on a host of top football matches and other sporting events each day.
Every day, SkyBet will scour through its massive range of sporting bets, including many football games, and they will select certain individual bets to offer as a Price Boost bet. When this happens, SkyBet offers increased odds on this market, usually ensuring it is the best price available within the UK, meaning that if that bet wins, you will secure the biggest possible return on that bet.
There are a massive number of SkyBet Price Boost bets available every day both for football and other sports and they are all very easy to locate on the site by finding the Price Boost logo.
Positive Points – There's a huge range of bets covered by SkyBet's price boost every day for football matches and big matches often have several price boost options to pick from, giving you a wide selection of choices. Price Boosts are also available on other sports not just football. A price quoted on the offer is generally the best price you will find available in the UK on that bet securing the best possible return if your bet wins.
Negative Issues – The one issue with this offer is that SkyBet will decide which markets the Price Boost deals are offered on and sometimes, these markets may not match up with what a punter wants to bet on.
Potential value to customer –  9/10 – The sheer range of Price Boost offers available on football matches throughout the week on SkyBet is vast. Most top games will have several price boosts attached to them and you know if you back that bet, you are getting the best price available in the betting industry in almost all cases. With so many matches and so many bets covered by this offer during a season, it can prove to be great value time and time again.
1st Place – Bet365's Euro Soccer Bonus promotion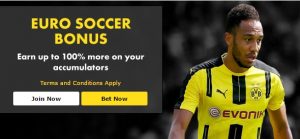 Head on over to Bet365 Sport and place an accumulator bet of three or more selections from the Full Time Result or Result/Both Teams to Score markets on matches taken from the following competitions:
Champions League
Italian Serie A
English Premier League
German Bundesliga 1
Spanish Primera Liga
Any winning accumulator of three selections or more placed with Bet365 Sport on matches from these markets will then be subject to the Euro Soccer Bonus, which is calculated as a percentage of your total winnings, paid on top of what you would have won originally. The percentage amount increases from 5% for a successful treble bet, up to 100% for a successful 14-fold or greater bet.
For example, if you land a successful 7-fold bet that would have seen you win £20,000, then if your bet met the criteria of the Euro Soccer Bonus, then you would receive a 30% bonus on top of your payout.  This means an additional £6,000 in bonus payments meaning you would receive back £26,000, not £20,000 for your successful bet.  The maximum bonus payment you can earn from this offer is £250,000.
Positive Points – Offers up to an incredible 100%, double your money, bonus on successful accumulator bets from selected leagues. Huge potential to increase the value of your win. Applies to the most popular leagues and competitions in Europe which attract the most bets. The extra bonus payouts often means you get by far the best value with Bet365 on these bets, even if they don't offer the best odds.
Negative Issues – Perhaps a few more leagues and competitions could be included alongside the ones already part of the offer. Such as the FA Cup, Europa League or Football League Cup for example.
Potential value to customer –  10/10 – The Euro Soccer Bonus offer from Bet365 has led the way for many sports betting fans over the last few years in terms of potential value. The ability to potentially double the size of your win, or at least earn a whopping extra percent on top of an already large win, on one of the most popular football bets you can make ensures this offer remains at the top of the table for football fans.