How do you select your bets? It may sound like a strange question but in truth, if you asked 100 different punters how they went about picking their bets you would probably receive 100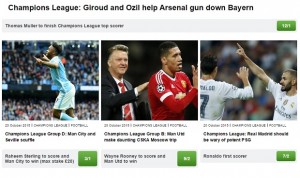 different replies.
Some may peruse the statistics and look at every available slice of data on a match, formulating the potential bets in their mind and then narrowing it down to the bet they believe stands the best chance of success. This method is heavy on the research but perhaps a tad lacking in other areas.
It's also not great if you don't have much spare time as you can easily get lost looking into the finer details of a forthcoming Manchester United v Arsenal clash and realise that half the day is gone and you are supposed to be doing some work!
For other punters, they choose not to use stats and bet using intuition. They may log into a site having no idea of what the competitors recent form is, how they have fared against each other in the past, whether they are showing tendencies towards one result or another. This punter ignores all this and places their bet on gut instinct alone.
It's not for me to say whether one way is more profitable than the other, although I firmly believe one lends itself to more accurate betting results than the other, but is there a way that you can combine these two elements?
Well of course, you can always pick a bet and then visit a few websites and do some research on it yourself, but that is time consuming and not everybody has time in a busy day to do that.
So what would happen if there was a place on a betting site where you could rely on betting experts to offer you bets at great prices, where they have completed all the research for you and where all you need to do is click on the price available to get the bet on?
If that sounds ideal, then you need to check out Coral Sports exciting Betting News section.
What is Coral Sports Betting News?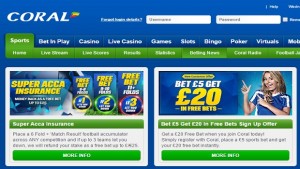 It's important to clearly identify what the Coral Sports Betting News section actually provides you with on the site. Yes, there are plenty of sports stories on the site, but the stories are also very strongly linked with different types of bets available at Coral Sports.
For example, when Manchester United played CSKA Moscow in the Champions League, there was a news item detailing some of the team news and a preview of the match ahead, but interspersed with this news were links to a number of different bets. A typical news item would therefore have a paragraph like below:-
"All four sides in this tight group currently reside on three points, after one win and a defeat each, and the Russian hosts pose a genuine threat to a hopeful United outfit, with CSKA 8/5 to cause an upset on home soil."
That process is the same across all the different sports available in the Coral Sports Betting section, which ranges from Football and Horse Racing, which are the sites two primary focuses, but there are also news items on several other sports, namely: Athletics, Boxing, Cricket, Cycling, Darts, F1, Golf, Rugby League, Rugby Union, Tennis and US Sports.
In addition to all the news articles, there are links to guest bloggers such as jockey Tom Scudamore and former England and Newcastle United striker Alan Shearer, plus a host of articles about Coral's large selection of casino and slot games available.
Why does Coral's Betting News Section make selecting bets easier?
So how can you use the information available on Coral Sports Betting News section to help you place bets more easily? Well the answer is quite simple in that by reading through the news items, you will read the thoughts of a writer who has researched the game and who has pinpointed some bets that they feel their research supports.
Alternatively, a writer may also alert the punter to a new offer that is available on a game, or an enhanced price that is available on a match, which can offer the punter great value and which makes the bet more appealing as a result.
In either case, there is a direct link from the article to your bet slip and all you need to do to add the bet is click on the odds. This adds that bet to your bet slip immediately and you can then place the bet in the usual way.
Using Coral Sports Betting News service is a great way to learn more about the race or match that you are interested in and the fact that the better value bets, or the ones that research tends to show are more likely, are all highlighted, means that you can simply click on the bet that appeals and have it placed within seconds.
With extensive articles about a wide range of sports every day, there's always plenty of great news and betting tips on these pages and that is a real boon for a punter who may not have a huge amount of time available to get their bets placed during the day.
Are there any other benefits from using Coral's Betting News?
The Betting News service also allows you to link to other useful parts of the Coral site. There is a link to the Coral TV section of the site where a number of tipsters, including former footballer and Sky Sports presenter Scott Minto, and Racing expert Mark Winstanley, provide you with video clips outlining their predictions for forthcoming key games and races.
The Press Room section brings you additional betting news from press sources and some of these stories may be about television and film (such as who will leave Strictly Come Dancing or X-Factor next).
And of course, there's strong links to Coral's other platforms, especially the casino, slots and games sites which are all available through that tab on the Betting News platform.
Coral Sports Betting News is a great way for punters to peruse the latest news and pick up some great tips for potential bets quickly and easily. It integrates across the full range of Coral sites very well and offers punters a wealth of information about sports betting markets in particular, that makes finding the right bet, even with a limited amount of time, very easy indeed.