One of the fastest growing sports in terms of viewing, participation and betting in the UK over recent years has been American Football. With Sky Sports showing the NFL and three games a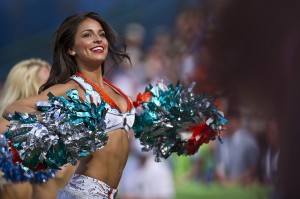 year in the International Series at Wembley Stadium, there is a huge thirst in the UK for Gridiron.
Of course that thirst extends into the hugely popular NFL, but also die-hard fans in the UK are also enjoying the massive College game in the US, with many fans in the UK having their own college team to support, alongside their favourite NFL team.
The great news is that if you enjoy betting on American Football, then PokerStars Sports now offers an extensive range of bets on the sport and in this article, we'll examine what types of bets you can find available on the popular new sports betting site.
PokerStars Sports American Football Betting Markets
The first thing to note is that there are two different types of bets you can place with PokerStars Sports on American Football at present. The first of these are Outright betting markets, such as which team are going to win the Superbowl at the end of this season.
These bets are highlighted at the top of the page and are very easy to find and locate, simply click on the banner to be taken to the NFL Outrights menu and all the different outright bets you can have on the season ahead.
This includes bets on which team will win each of the two conferences (AFC and NFC) as well as which team will end up as the overall Champion and Superbowl winner.
The second section of bets deals with the matches that are coming up over the coming week or so and there are three different types of bet you can make; Spread Bets, Money Line Bets and Total Points bets.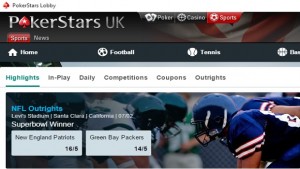 In Spread Bets, the bookmaker gives each team in the match a handicap based on the relative strength of that team against their opponents. Stronger teams are given a minus point handicap while weaker teams are given a positive points handicap. The aim is to give the punter an almost even money option between the two teams to bet on.
For example, next weekend's game between  San Francisco 49ers (weaker team) and Seattle Seahawks (strong team) sees San Francisco awarded a +6 point handicap and Seattle a -6 points handicap by PokerStars Sport. Both are priced as 10/11 options with that handicap.
What this means is if you back San Francisco to win then even if they lose by five points, your bet will win as their handicap of +6 would mean they would win the game and your bet would win. However if they lose by six points or more the bet is lost.
Similarly, if you backed Seattle to win at -6 points, if Seattle win the game by six points or less, your bet would lose. However if they win by seven points or more, then your bet would win.
You can bet on all NFL as well as many college level games using spread betting.
The Money Line Bet is simply a bet on the outcome of the match without any handicap applied, the same bet as you would bet on the Match Result market on a soccer match for example.
This type of betting on the NFL sees a greater discrepancy in odds between the teams. In the San Francisco – Seattle example we gave above, San Francisco are 11/5 to win the game, while Seattle are the 2/5 favourites.
The final bet you can place on NFL and college games is the Total Points bet. In this bet the sports book estimates how many points the game is likely to see scored and sets the average at that level. In the San Francisco – Seattle game, PokerStars Sport have set this as 42 points.
Punters can then bet on whether there will be Over 42 points or Under 42 points in the game with both options being very similar or the same price (in this case, in our game both options are 10/11 shots with PokerStars Sports).
During the American Football season, which runs from around September through until January/February each year, there are a large number of NFL and College games you can bet on across all these markets and you can even put several selections together into an accumulator bet.
So if you enjoy a flutter on the Gridiron, why not check out what is available at PokerStars Sports, you get easy to understand betting on the NFL and more, with great odds and all in one easy to find and follow place.