One of the best things about Sky Poker is that it is certainly one of the most innovative poker sites in the UK when it comes to promotions and offers for players. Almost every week, the site comes up with something new to offer its players and this week is no exception with news of a promotion for October, plus a brand new feature on the site.
We'll take a closer look at each of these additions individually below, starting with the big promotion for October.
Sky Poker Prize Boosts in October
The first big offer this October has already started and sees Sky Poker boost the value of four of its big tournaments throughout the month by increasing the guaranteed prize fund available for each event.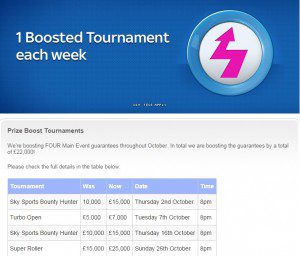 Last Thursday saw the first of these events played with the Sky Sports Bounty Hunter event boosted from a guaranteed prize of £10,000, up to a £15,000 prize.
Tuesday 7th October sees the second Prize Boost offer of the promotion with the Turbo Open seeing its guaranteed prize fund boosted from £5,000 up to £7,000.
Then on Thursday 16th October, the second Sky Sports Bounty Hunter event of the month with a guaranteed prize boost takes place, with the prize once again increased from £10,000 to £15,000.
Lastly, on Sunday 26th October, why not celebrate the end of the month in style by taking part in the Super Roller, which has seen its prize fund boosted hugely from £15,000, up to a massive £25,000.
Every event kicks off at 8 in the evening (as all Sky Poker main event promotions do) and registration for each event is open in the days preceding it and there is usually the chance to satellite your way into the main event, if a direct buy in is a little too expensive for your bankroll.
This means that throughout October, Sky Poker is offering £22,000 more in guaranteed prize money for these four tournaments alone, and with the Punta Cana promotions still in full swing, as well as a host of other offers and promotions on the site, then this is a good time to consider joining Sky Poker.
Especially when you consider you can take advantage of the £10 Sky Poker no deposit bonus on offer for new customers to the site.
Remember, thanks to the developments made to the Sky Poker app, you can now also participate in all of these top quality tournaments direct from your mobile device, as well as on a desktop or laptop PC. This means that even if you are not at home, you can still participate in what are fast becoming some of the best weekly poker events you can play in the UK.
And remember, if you reach the final table of the Main Event in any one night and also make the last six in the Mini event, you could also win the Final Table Jackpot , which could be worth as much as £5,000 in addition to your winnings if you win both Main and Mini in the same night.  With the smallest amount available to win being £50 if you finish in 6th place in both events.
So make a date in your diary for Sky Poker's boosted events, but also remember there's lots of other ways you can earn yourself a great bonus this October on Sky Poker.
Sky Poker introduce the Wall of Fame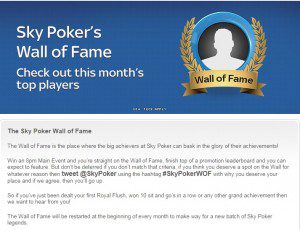 In the famous Cavern Club in Mathew Street, Liverpool. There is a Liverpool Wall of Fame. A lasting testament to the famous musical acts from the famous City that have had number one hits.
And now, you have something similar available for al you poker enthusiasts!
Have you ever achieved something you are proud of when playing Sky Poker? Have you just been dealt your first ever Royal Flush? Have you won several Sit & Go games in a row, or perhaps even taken down the opposition at one of the site's big daily tournaments?
Well, if you have then wouldn't it be nice to have these achievements recognised in a greater way than simply a burgeoning bankroll? Wouldn't you like a formidable reputation to go before you as you play your way around the site?
Well thanks to Sky Poker's new monthly Wall of Fame, now you can.
Each month Sky Poker will be asking its customers to get in touch with them via Twitter with any noteworthy achievements that they have achieved. This doesn't have to be winning a big tournament, it can simply be something that you are proud of, or that you received a hand (such as a Royal Flush) for the first time.
Sky Poker have not stipulated that a specific type of achievement must be met in order to qualify for a place on the Wall of Fame, simply that you need to be proud of it and communicate to Sky Poker the reason you feel your achievement should be hanging on the wall for other Sky Poker players to read about.
Simply Tweet @SkyPoker using the hashtag #SkyPokerWOF and explain why your achievement deserves its place on the Wall of Fame for this month.
Once you have Tweeted your achievement through to Sky Poker, a team of researchers will review the tweets received and select which ones are suitable for a place on that month's Wall of Fame.
At the end of each month, the wall will be restarted, allowing a new batch of Sky Poker customers the chance to have their poker achievements showcased on the site.
Already on the October Wall of Fame are:
LiamGod92 who won £1717 in the £6,000 Rebuy Open on Wednesday 1st October.
DJ Barney who won £2688 in the Sky Sports Bounty Hunger on Thursday 2nd October.
Shaz87 who won £2015 in the £10k Bounty Hunter on Saturday 4th October and
RossMc who won £4968 in the £15,000 Super Roller on Sunday 5th.
This is a great addition to the site as often many customers are unaware of which players have won tournaments that they have played in and this gives users some well-deserved recognition for their achievements on the Sky Poker site.
Can you get your name on the Wall of Fame at some point in 2014 and beyond?