One of the most popular forms of gambling people indulge in from all over the globe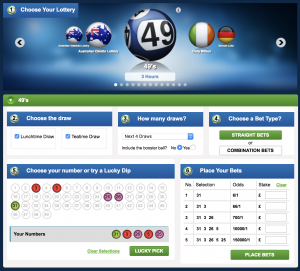 over the course of a typical week is buying tickets for a lottery game. In the UK we have a couple of big lotto games including the National Lottery, Euromillions and the new Health Lottery.
Since these games were first released they have awarded hundreds of millions in prizes out to lucky winners and although participation in them isn't quite as high as it once was back in their heyday, they still remain a massively popular part of our culture.
Part of the fun of playing these games is that they are so simple to play. There's no skill involved in the process (not unless you believe you can predict the future) and the results are published across the country.
So lottery style games are here to stay, but for the vast majority of players, even winning one of the smaller prizes is sometimes a futile experience. Hitting three numbers on the National Lottery in the UK for example from a selection of six numbers picked will reward you with £20 for a £2 stake. That is pay out odds of 10/1.
They seem like great odds until you realise that your chances of winning any prize on the National Lottery, even the small prizes are approximately 54/1. Suddenly, that doesn't seem like such a good bet.
Now while many people in the UK are happy to accept those odds in the hope that one day all six of their numbers will come up and they'll take home the multi-million pound jackpot top prize, more financially astute punters have realises that those odds don't favour the player at all and that there may well be another way to enjoy a flutter on the lottery that offers players odds more in their favour.
This is where Coral's LottoBet option comes in. As a Coral customer, which you can be if you have signed up with this Coral No Deposit Bonus linked to here, you can use your account to access the LottoBet section of the site and explore all about how Coral will let you bet on a wide choice of different lottery games.
What is LottoBet?
As the name suggests, LottoBet is a way you can bet on a number of different lotteries from all around the world, without actually entering the lottery itself. Of course, people will now ask if they can't win the big top prize in the lottery, what is the point of betting on it and the answer to that is that the odds offered by Coral for your bets with LottoBet are far more favourable for the player than your standard odds from any of the main lotteries.
So yes, you may not be the 1 in 45 million who strikes it lucky to land the jackpot in one draw, but with LottoBet, if you pick three numbers successfully, you can win at odds of around 700/1. For a £2 stake the same as the lottery, that is a return of £1402. That compares rather favourably with the £20 return you get for landing three numbers in the National Lottery.
Yet that is not all, if you hit one or two numbers in the National Lottery in the UK, then you do not win any cash prize at all. However, if you pick one successful number on some forms of LottoBet, then you will win at odds of around 6/1 and if you successfully hit two numbers then those odds increase markedly to 66/1.
As you can see, the returns from these bets are vastly superior to the amounts you would receive in the Lottery for selecting that many numbers in any given week and it is because of this that LottoBet has proven to be so successful with Coral punters.
What Lotteries can I bet on with LottoBet?
One of the most pleasing things about LottoBet is that it is not just available on the few times a week that the National Lottery Main Draw is made, or the EuroMillions draw is conducted. With LottoBet, there are a massive number of lotteries available to bet on from all over the world and some of these take place every few hours, meaning you don't have to wait too long for the result of your LottoBet wager to come.
Currently with LottoBet you can bet on the following lotteries, each lottery is shown below together with how often the draw for that lottery is made.
49s – Twice Daily Draw (49 numbers)
Daily Million – Four Draws Daily (39 Numbers)
German Lotto – Two Draws Per Week on Wednesdays and Saturdays (49 numbers)
French Lotto – Three Draws Per Week on Wed, Sat and Monday (49 numbers)
Irish Lotto – Six Draws per week 3 on a Wed, 3 on a Sat (47 numbers)
New York Lotto – Two Draws per week Thu and Sun (49 numbers)
Singapore Lotto – Two Draws per week Thu and Mon (49 numbers)
Hong Kong Lotto – Three Draws per week, Thu, Sat and Tue (49 numbers)
Spanish Lotto – Two Draws per week Thu and Sat (49 numbers)
Euromillions – Two Draws per week Fri and Tue (50 numbers)
Australian Tattslotto – One Draw per week on a Saturday (45 numbers)
Australian Ozlotto Lottery – One Draw per week on a Tuesday (45 numbers)
UK Health Lottery – Two Draws Per Week Wed and Sat (50 Numbers)
How do I bet on the lotteries with LottoBet?
Betting on the Lotteries listed with LottoBet is very simple and is rather like entering the lottery itself. Head on over to LottoBet and select which lottery you want to bet on and the details for that lotto will load up on screen. You then complete the coupon by following the steps below:
Select which draw you want your bet to be made on (you can select more than one draw if you are willing to wager more than one stake).
Then state how many draws you want to bet on. You can bet on multiple draws over several days or weeks with your bet if you are happy to stake the required cash. In this section you can also indicate whether you wish to include the Booster ball or similar if it is available in your chosen lottery.
Now choose your bet type, which can be a Straight Bet (a single line bet on your choices) or a Combination bet (where you can perm your numbers from more selections but have to cover more lines with each bet you make, thus making the bet more expensive).
Now you can select your numbers for the lottery from the card shown. You can do this manually, or use the Lucky Pick option to randomly select the numbers for you.
Once all this is done you can now finally decide which of the bets you want to place. You can place bets on landing, 1, 2, 3, 4 or 5 numbers from your selection and the odds available depend on the lottery selected.
Once you have done this simply click Place Bets to make your bet and you can then find out how you get on when the results of your chosen lottery are in.
With such great odds for smaller selections of correct numbers, it is easy to see why many savvy punters are enjoying LottoBet, will you be the next one to land three numbers and take home a 700/1 payout, rather than your £20?