Since its release, PokerStars Sports has started to develop into a decent sports betting site. Although initially released with  just six sports available, there are now considerably more available, with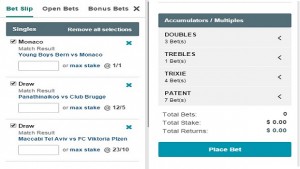 more set to follow and as the number of sports increases, so does the number of betting markets and bets available.
In this article though we are going to focus on what types of multiple bets you can place with PokerStars Sports and how easy, or difficult, it is to place that bet on the site.
If you haven't tried the new PokerStars UK sports betting site, what are you waiting for? You'll get a PokerStars Sport welcome bonus when you join, so there's no reason not to.
What is a Multiple Bet?
A multiple bet is when a punter picks more than one selection and then decides how they want to back the selections they have. They can do this by backing any number of combination of selections. Each of these combinations is a single bet and several of these single bets form the multiple bet.
For example if a punter selected four teams to win their respective matches they could back them as four singles, six doubles, four trebles and one four team accumulator. Or they could opt to back all of these bets. This is an example of several different multiple bets.
How to place a Multiple Bet on PokerStars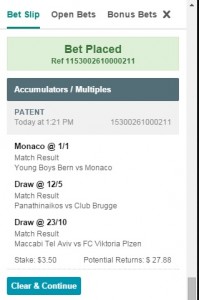 The great news for novice punters is that placing this type of bet is very easy to do on PokerStars. Simply make your selections for the bet as you would any other bet. In the example, I have picked three football matches. I have backed Monaco to win against Young Boys Bern, and two other matches to end in a draw.
Underneath the selections, you will see the different types of Accumulators and Multiple bets available (I have listed them next to the selections for convenience in the snapshot top right of here).
All you need to do is select which of the multiple bets (in this example, doubles, trebles, Trixie or Patent) that you wish to back.
In this case, I want to back the Patent option, which is a multiple bet consisting of seven different selections – 3 single bets, 3 doubles and a treble. Simply click on this to bring up the stake box. Here you enter your stake (remembering that the total bet will be 7 times this amount). In this case, I have bet £0.50 per line, for a total bet of £3.50.
Once you have done that, simply click the Place Bet button and your bet is then placed.
When placed you will get your bet confirmed and you will also be able to view it in the Open Bets section of the bet slip, until the matches are played and the outcome of the bet is decided. Remember though, PokerStars Sport does offer a Cash Out option, so you can cash out some bets early if you choose to do so.
One important thing to note is that when you are placing a multiple bet, the calculator that PokerStars Sports uses to calculate your possible maximum return may not always work. This is a tad annoying if you want to clearly see how much you stand to win from your bet before you place it, but the good news is that once you have placed the bet, you can clearly see your potential returns at this point.
The great thing is the more selections you make, the more options you have with PokerStars Sports when it comes to multiple bets. Make ten selections for example and you have a huge choice of Doubles, Trebles, Fourfold, Fivefold, Sixfold, Sevenfold, Eightfold and Ninefold bets to select from. Back as few, or as many of these bets as you like.
Multiple betting is very easy to follow on PokerStars Sports across a wide range of sports and it is certainly a good way to explore the site and enjoy a little extra value on your betting.